White House Sees No FBI Meddling as Clinton Allies Attack
By , , and
Clinton supporters hit FBI chief over disclosure of review

Justice Department tells Congress it will move 'expeditously'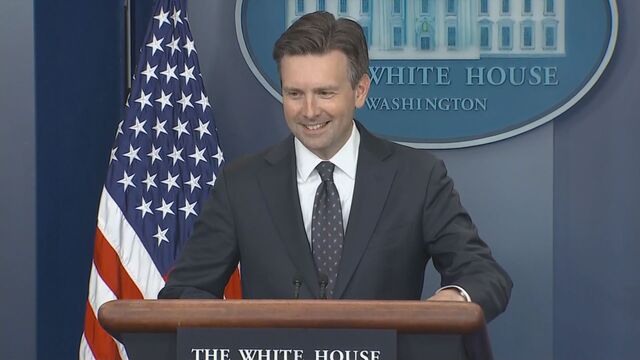 As Hillary Clinton's allies went on the attack against FBI Director James Comey, the White House pushed back against accusations from some Democrats that the agency chief is purposely interfering with the presidential election.
President Barack Obama's spokesman, Josh Earnest, said Monday that he will "neither defend nor criticize" Comey's decision to disclose a review of newly discovered e-mails that might be related to the investigation of the former secretary of state's use of a private server.
But he said there's no reason to believe Comey is "secretly strategizing to benefit one candidate or one political party. He's in a tough spot."
The revelation by Comey that the agency was investigating e-mails found on a computer belonging to Anthony Weiner, the estranged husband of close Clinton aide Huma Abedin, jolted the presidential race between Clinton and Republican Donald Trump a little more than a week before Election Day. It was disclosed in a brief letter Comey sent to lawmakers on Friday, and there's been little information about what the files contain or how they might bear on the earlier investigation into Clinton's use of a private e-mail system while she was secretary of state.
Democrats are starting to fret openly that the outcome of the presidential and congressional races could be affected by Comey's disclosure and have mounted a concerted effort to contain the political damage by questioning Comey's motives.
For a QuickTake Q&A on Hillary Clinton's e-mails, click here.
The Justice Department sent a three-paragraph letter to lawmakers Monday afternoon that offered no new details in response to demands to explain the new investigation and Comey's decision to go public with it over objections from the department.
"We assure you that the Department will continue to work closely with the FBI and together, dedicate all necessary resources and take appropriate steps as expeditiously as possible," Assistant Attorney General Peter Kadzik wrote. "We hope this information is helpful."
Drawing in Trump
Elijah Cummings, the top Democrat on the House Oversight Committee, said Monday that Comey hasn't been forthcoming about whether the bureau is investigating Trump associates and former campaign aides for purported links to Russia, as several media outlets have reported.
"I do not know how Director Comey will justify his decision to withhold information relating to Trump while publicly announcing ongoing investigative steps against his opponent just days before the election," Cummings said.
Separately, Harry Reid, the Senate's top Democrat, delivered an unusual rebuke to the FBI chief in a letter Sunday that said Comey may have broken a law against public officials using their position to influence electoral politics by revealing the review so close to the election. He also suggested the agency is sitting on potentially damaging information about the Republican nominee.
Comey disclosed the probe in a brief letter to the heads of key congressional committees on Friday. It said the "FBI cannot yet assess whether or not this material may be significant." The lack of details raised concerns even among some Republicans.
Call for Disclosure
"While I disagree with those who suggest you should have kept the FBI's discovery secret until after the election, I agree that your disclosure did not go far enough," Senator Charles Grassley, an Iowa Republican who is chairman of the Judiciary Committee, wrote in a letter Monday to Comey. "Without additional context, your disclosure is not fair to Congress, the American people, or Secretary Clinton."
After hitting back at Comey on Friday and Saturday, Clinton moved on to reiterating her campaign's themes, leaving the attacks on the FBI director to her proxies. On Monday she was in the swing state of Ohio, where she focused on encouraging early voting and telling supporters to ignore the "noise" of the campaign.
"If we turn my vote out we'll win," Clinton told voters at Angie's Soul Food Cafe in Cleveland. Trump's "whole strategy is to suppress the vote. Lots of noise. Lots of distractions. Throwing stuff at me. And we've got to keep people up, moving and voting."
'No Case'
She briefly addressed the latest e-mail controversy during a rally at Kent State University, telling her crowd that they may be "asking what this new e-mail story is about and why in the world the FBI would decide to jump into an election with no evidence of wrongdoing with just days to go."
She said the agency should "by all means" look at the new batch of e-mails, adding that she's sure investigators will reach the same conclusion they reached in July: "There is no case."
For Trump the FBI review was a chance to reset his campaign after weeks of stumbles and falling poll numbers. He renewed his assault on Clinton's trustworthiness and found a new cue for his crowds to chant "lock her up" as he ramped up his campaign pace.
"I have to give the FBI credit. That was so bad what happened originally, and it took guts for Director Comey" to keep the investigation going, Trump said in Grand Rapids, Michigan. The candidate, who criticized the FBI chief's decision in July not to pursue prosecution of Clinton, said Comey has "got to hang tough because a lot of people want him to do the wrong thing. What he did was the right thing."
Trump Strategy
A Trump adviser, who discussed strategy on condition of anonymity, said the Republican will try to let the e-mail story consume Clinton in the final days of the campaign and avoid statements or gaffes that would make him the center of any story. His aides are urging Trump to simply "be presidential" as they seek to capitalize on an unexpected chance to get a second look from independent and undecided voters.
The new investigation also has opened up a rift between the FBI and the Justice Department. Justice had urged Comey to abide by department policy not to do anything significant with a major investigation so close to an election if doing so could swing the results, according to a U.S. official familiar with the matter.
The Clinton campaign highlighted an open letter signed by almost 100 former federal prosecutors and high-ranking Justice Department officials from both parties that questioned Comey's decision.
"We cannot recall a prior instance where a senior Justice Department official -- Republican or Democrat -- has, on the eve of a major election, issued a public statement where the mere disclosure of information may impact the election's outcome, yet the official acknowledges the information to be examined may not be significant or new," the letter said. "Director Comey's letter is inconsistent with prevailing department policy, and it breaks with longstanding practices followed by officials of both parties during past elections."
In an internal memo to the FBI's staff on Friday, Comey wrote, "We don't ordinarily tell Congress about ongoing investigations, but here I feel an obligation to do so given that I testified repeatedly in recent months that our investigation was completed."