Christie Bashed Before Jurors Weigh Evidence in Bridge Case
By and
Governor lied to protect White House bid, defense lawyer says

Kelly, Baroni accused of plotting traffic jams to punish mayor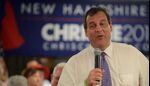 Jurors began deliberations in the George Washington Bridge trial Monday after hearing final arguments from a defense attorney who claimed New Jersey Governor Chris Christie lied about his knowledge of the scheme to protect his White House ambitions.
The panel deliberated for an hour Monday and will resume Tuesday, as the jurors sift through six weeks of evidence from 35 witnesses and hundreds of e-mails, texts and phone logs. The trial has provided sensational, and mostly unflattering, glimpses into the inner workings of Christie's administration.
In a searing attack on Christie and the government's case, defendant Bridget Anne Kelly's attorney belittled prosecutors for failing to call the governor to rebut testimony. Kelly testified she told the governor about the plan to close lanes near the bridge before it occurred in September 2013 and while it was happening.
"Chris Christie knew about it in August. He knew about it in September. He knew about it in December, and he lied. Plain out simple lied. Because it would affect his presidential nomination," Michael Critchley told federal jurors in Newark before they began deliberations.
Kelly, Christie's former deputy chief of staff, is on trial with Bill Baroni, the former deputy executive director of the Port Authority of New York & New Jersey, which runs the bridge. They are accused of helping in a plot to create traffic jams in Fort Lee to punish the borough's mayor for refusing to endorse Christie's re-election.
Christie has denied prior knowledge about the lane closings or the plan to punish the Fort Lee mayor.
'Coterie of Cowards'
Critchley branded Christie and David Wildstein, the admitted mastermind of the traffic scheme who pleaded guilty, as self-interested liars who wanted to protect the governor's 2016 run for the White House. Kelly became a scapegoat as the bridge crisis spiraled out of control, her lawyer said.
Critchley hammered on Christie and his inner circle for not testifying, calling them a "coterie of cowards."
"They want that mother of four to take the fall for them," Critchley said. "She challenged one of the most important men in the country. She dared him. He failed. And their case failed with it."
Both Kelly and Baroni testified they were duped by Wildstein into believing the lane closings were for a traffic study, not a political plot. 
Critchley repeatedly attacked the credibility of Wildstein, who was Baroni's right-hand man and served as Christie's enforcer at the Port Authority. Critchley said Wildstein's lies during his eight days testifying as the government's star witness were pervasive, likening him to the "Bernie Madoff of New Jersey politics."
"It's almost like the New Jersey Lottery," he said. "At least with the New Jersey Lottery, it's an honest gamble, you know what you're getting into."
"You have no idea what you're getting into With David Wildstein,"Critchley said. "All you know is he is driven by his own self-motives."
For more on the traffic scandal, click here
Federal prosecutors got the last word. Assistant U.S. Attorney Vikas Khanna said Critchley focused so much on Christie and his inner circle "because the evidence against his client is overwhelming," including seven witnesses who contradicted portions of her testimony.
That evidence, he said, buttresses the account of Wildstein, a former political blogger and small-town mayor who admitted to a lifetime of dirty tricks. Wildstein faces as long as 15 years in prison, and he seeks leniency at sentencing by cooperating with prosecutors.
"We are not asking you to convict Bridget Kelly and Bill Baroni based solely on David Wildstein's word, although what he told you is enough," Khanna said.
Khanna mocked Kelly's testimony about several e-mails and texts, in which she offered innocent explanations for her infamous "Time for some traffic problems in Fort Lee" e-mail, and another in which she told Wildstein she was smiling about school children stuck in traffic.
"Don't let them whitewash it," Khanna said. "It's as outrageous as it sounds. He's talking to her about the lane reductions in despicable, outrageous political terms. Why would he do that if he's trying to dupe her? He wouldn't. The evidence is as it appears."
The case is U.S. v. Baroni, 15-cr-00193, U.S. District Court, District of New Jersey (Newark).
(An earlier version of this story corrected a reference to Baroni.)
(
Updates with possible sentence in 14th paragraph.
)
Before it's here, it's on the Bloomberg Terminal.
LEARN MORE