Polls Show Clinton Support Slipped After FBI Letter
By
Race against Trump now a toss-up as Election Day nears

Some voters take wait-and-see attitude on latest e-mail news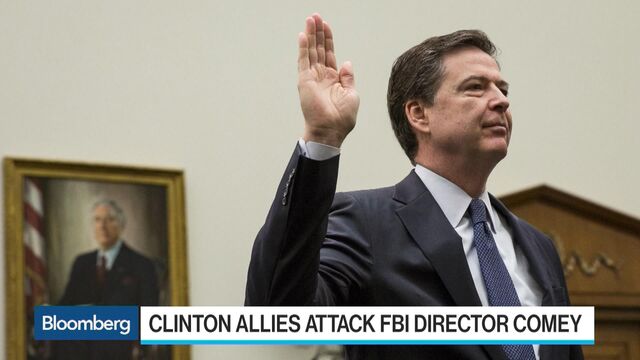 Polls taken since FBI Director James Comey said the bureau had discovered a fresh trove of e-mails that may pertain to its investigation of Hillary Clinton suggest that the Democratic presidential nominee is losing some support in a race that could come down to the wire.
An ABC/Washington Post tracking survey released Sunday, conducted both before and after Comey's letter was made public on Friday, found that about one-third of likely voters, including 7 percent of Clinton supporters, said the new e-mail revelations made them less likely to support the former secretary of state.
The poll found that Clinton received support from 46 percent of likely voters to Trump's 45 percent, suggesting the race is a toss-up. That contrasts with the 12-point advantage that Clinton held in the same poll a week ago. Trump's numbers have crept up, in part, as more Republicans have gotten behind their candidate.
A CBS tracking poll of likely voters in battleground states -- the 13 states that could swing the Nov. 8 election -- released on Sunday found that among voters overall, 71 percent say it either won't change their thinking, or in some cases, they had already voted.
Damaging Revelations?
The FBI news sent Democrats and Republicans to their respective corners: 52 percent of voters in battleground states expect the e-mails to contained "more of what we already know." Of the 48 percent who think more will be revealed that's damaging to Clinton, most were Republicans.
The developments may motivate some Clinton voters. Although 5 percent of Democrats said they would be less likely to support the former first lady, 13 percent said they would be more likely to back her.
In a rash of polling as Election Day nears, a New York Times poll showed Trump had support from 46 percent of likely voters in Florida to Clinton's 42 percent, a change from a month ago when the Democrat had a small lead. Separately, an NBC/Wall Street Journal survey showed Clinton up by a point in Florida. Trump would almost certainly have to win the Sunshine State to win the election.
Clinton faced pressure last week from news of a spike in Obamacare health insurance premiums for 2017, which Trump discussed at length in campaign appearances. There were also revelations about husband Bill Clinton's business practices arising from the leak of e-mails purported to have been from the account of campaign chairman John Podesta. The e-mails, about 37,000 of which have been released in the past month by WikiLeaks, haven't been authenticated.
Looking to rebound, the Clinton campaign has attacked Comey for what it termed flouting Justice Department protocol around elections.
Polls contain glimmers of hope for Clinton: Prior to the Comey's letter, she had an 8-point lead in Pennsylvania in the CBS poll released on Sunday. If she wins the Keystone State and holds those that are likely to vote for her or leaning toward doing so in the latest RealClearPolitics ratings, Clinton would have more than the 270 electoral votes necessary to win.
She also continues to lead Trump, the real-estate developer and former reality television star, on attributes like qualification to be president in polls taken before the announcement.
A rolling average of national surveys by RealClearPolitics shows Clinton with a 4.3-point lead nationwide in a head-to-head matchup against Trump, and a 3.4-point lead when third-party candidates are included.
(A previous version of this story was corrected to show that 71 percent of overall voters' thinking is unchanged.)
Before it's here, it's on the Bloomberg Terminal.
LEARN MORE