politics
Reid Says Comey May Have Broken the Law by Disclosing Probe
By , , and
FBI chief showed a clear double standard: top Senate Democrat

Letter dramatically escalates tensions ahead of election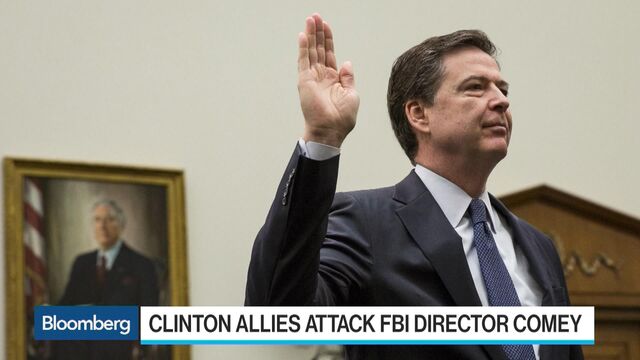 In a blistering letter, Senate Democratic leader Harry Reid said FBI Director James Comey may have violated the law by disclosing a revived investigation into Hillary Clinton e-mail practices as millions of Americans are already casting ballots in the presidential election.
Reid said Comey failed to disclose "explosive" evidence of "close ties and coordination" between Republican Donald Trump, his advisers, and the Russian government, yet rushed to disclose "innuendo" about the Democratic presidential nominee "in the most negative light possible" 11 days before the election.
Comey's "disturbing double standard' appears to be "a clear intent to aid one political party over another," Reid wrote. "My office has determined that these actions may violate the Hatch Act." That statute bars FBI officials from using their authority to influence an election.
Reid's letter dramatically escalates three days of attacks on Comey from Clinton allies. It's a rare public criticism by a top congressional leader of someone in his own party's administration.
While Reid told Comey he now regrets helping him get confirmed to his post, it's not clear yet if any action will be taken. Reid's letter was reported earlier by the Wall Street Journal.
Lawmaker Briefing
Comey has indicated he may have nothing more to say on his agency's renewed investigation into Clinton-related e-mails before Election Day, Nov. 8.
The FBI head briefed the top Republican and Democrat on the House Judiciary Committee Saturday and was pressed to clarify a number of questions, including whether the bureau is certain the newly discovered e-mails contained classified information. To most of the questions, "he did not give us any response in terms of what more he could say," said Bob Goodlatte, the Virginia Republican who chairs the committee, on ABC's "This Week with George Stephanopoulos."
Comey's reticence further inflamed criticism, including some from Republicans, as voters try to weigh how seriously to take a renewed probe with uncertain relevance to the investigation into how Clinton handled national security information over e-mail when she was secretary of state.
An ABC News/Washington Post tracking poll released Sunday showed 46 percent of voters supporting Clinton and 45 percent supporting Trump, although Clinton still appeared to have the clearest path to the 270 electoral college votes needed to win the presidency. A week ago Clinton had a 12-point lead in the same poll.
Information Void
The information void has been filled since the disclosure by a series of anonymous leaks regarding the new batch of e-mails found on a computer belonging to Anthony Weiner, the estranged husband of close Clinton aide Huma Abedin, and which prompted the FBI to renew its probe. The FBI on Sunday obtained a new warrant to review the material on Weiner's computer to determine if any belonging to Abedin were unknown to the team investigating Clinton and whether they contain classified information, according to a person familiar with the matter.
Comey's decision to review the impact of the e-mails quickly became public on Friday after he informed lawmakers in a brief letter.
That left commentators on several Sunday morning political shows arguing over the most basic of facts, including whether agents have yet read any of the e-mails, whether they need a court order to examine them further, how long the agents knew about the e-mails, or whether the e-mails are known to involve any classified material.
Goodlatte said Comey told him agents don't know if there is any classified information contained in the e-mails. Lawmakers are also seeking to talk directly with Attorney General Loretta Lynch about the case, but no meetings have taken place so far, according to Justice Department sources.
The one thing most Democrats and Republicans seem to agree on is that both sides want more information. Comey informed Congress last week that the new batch of e-mails, which agents stumbled across during an investigation into sexting by former Representative Weiner, "appear to be pertinent" to its investigation.
Questions Pile Up
Infuriated critics later seized on that language after leaks suggested that the e-mails had yet to be examined by agents and that they in fact may need a court order to do so. It's also unclear how many e-mails were found, with some media reporting thousands and others tens of thousands.
It wasn't immediately clear what mix of personal correspondence, previously disclosed federal records and new government work messages were on Weiner's laptop. Abedin was unaware of any of her own e-mails that might have been on the device, according to a person familiar with the investigation but not affiliated with law enforcement.
The Wall Street Journal reported on Sunday that agents found 650,000 e-mails on the device, and that "thousands" may have been sent to or from the private e-mail server Clinton used while she was secretary of state.
Metadata Used
The Journal's report contained another key detail: The paper cited people familiar with the matter who said that links between the new e-mails and Clinton's private e-mail server come from metadata. Because metadata may contain the Internet Protocol addresses of the computers sending and receiving the e-mails, it could explain how the FBI determined the communications were relevant to the Clinton investigation before agents had even read them.
However, that still leaves the question of whether all or some of the e-mails are copies of those already in the agency's possession after its long-running probe. Comey on July 5 said he wouldn't recommend charges against Clinton for her use of a private e-mail server while secretary of state.
Both the Journal and the Washington Post reported that FBI agents have been aware of the new batch of e-mails for weeks. Comey said he was only briefed on the matter on Thursday, and the delay may raise questions about why agents didn't go to their boss sooner.
High Road
"This investigation has been bungled from the start," Wisconsin Republican Ronald Johnson, chair of the Senate Homeland Security Committee said on Fox News Channel's "Sunday Morning Futures." Johnson is in a tight re-election right against Democrat Russ Feingold.
After criticizing Comey on Saturday, Clinton, 69, took the high road during a campaign stop in Wilton Manors, Florida, on Sunday. She focused on Trump's shortcomings and her own policy promises, leaving surrogates to keep battling.
Her running mate, Senator Tim Kaine of Virginia, speaking on ABC, offered sharp criticism of Comey after spending several weeks defending his judgment and the decision to close the e-mail case in July. "You can't break both of these protocols and then leave it just kind of up in the air with a question mark," Kaine said, referring to guidance Justice Department officials gave Comey prior to sending the letter.
Hatch Act
The FBI director was advised by the Justice Department that his move would violate long-standing protocols to refrain from discussing on-going investigations and not to take major investigative steps that could be perceived as political interference, according to a U.S. official familiar with the matter.
Richard Painter, who was chief White House ethics lawyer in the Bush administration from 2005 to 2007 and is now supporting Clinton, wrote in the New York Times on Sunday that he'd filed a complaint against the FBI for a possible violation of the Hatch Act, which bars the use of an official position to influence an election.
Over the past two days, several former Justice Department officials said Comey, 55, a former George W. Bush appointee to the Justice Department known for his independent streak since being appointed by Barack Obama to head the FBI in 2013, is now operating without a playbook altogether, making it hard to say what he may do next.
Among the options for Comey are providing additional new details to clarify the investigation prior to Election Day, including whether or not the FBI has obtained a court order to review the e-mails, how long that review is expected to take, and whether any of them are from the Democratic candidate herself.
Or he could do nothing at all.
"I just have no way of understanding these actions," Kaine told Stephanopoulos. 
At least one person seems happy for the mystery of the e-mails to linger. Trump, seeing an opening, intends to campaign hard in the final stretch with as many as five rallies per day, his campaign aides say.
On Saturday, at a rally in Phoenix, Trump said that Comey's actions show "very, very serious things must be happening and must have been found. Very, very serious. Very, very serious."
— With assistance by Ben Brody, and Chris Strohm
(
Updates with warrant obtained for e-mails in 10th paragraph.
)
Before it's here, it's on the Bloomberg Terminal.
LEARN MORE