Clinton Says Comey E-Mail Move 'Unprecedented' as Trump Pounces
By , , and
Renewed FBI investigation is October surprise of first order

Democrat says voters need 'full and complete facts' from FBI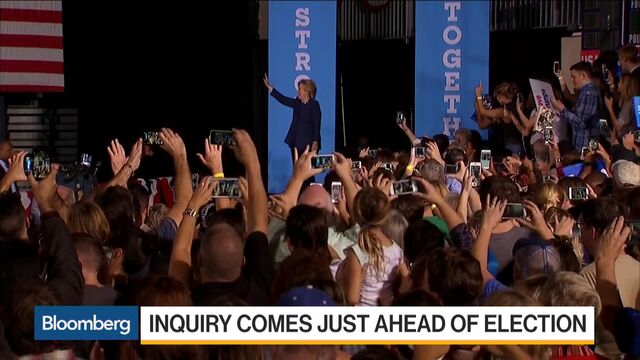 Hillary Clinton attacked FBI Director James Comey's decision to inform Congress it was reviving an investigation into her use of a private e-mail server as Donald Trump's advisers urged him to use the development to seize momentum 10 days before the election.
"It is pretty strange to put something like that out with such little information right before an election," Clinton said of Comey's actions at a campaign stop in Daytona Beach, Florida. "In fact, it's not just strange, it's unprecedented and it is deeply troubling. Voters deserve to get full and complete facts."
Saturday's remarks were Clinton's second response within 24 hours following Comey's letter to lawmakers about newly discovered e-mails that may relate to its earlier investigation of Clinton and her use of a private e-mail server while secretary of state. Comey's letter was quickly made public by, among others, Representative Jason Chaffetz of Utah, chairman of the House Oversight Committee.
"We've called on Director Comey to explain it right away and put it all on the table," Clinton said in Florida. Trump, she added, is "making up lies" about the issue. "It's time for Donald Trump to stop fear-mongering," Clinton said.
The Democrat's new struggle was a fillip to the struggling Trump campaign less than two weeks before Election Day.
Trump's aides advised him to keep the focus squarely on Clinton -- and, separately, on steep cost increases projected for Obamacare -- rather than becoming distracted by the tempting target of Anthony Weiner, the estranged husband of long-time Clinton aide Huma Abedin.
Security Threat
Trump had criticized Weiner years before e-mails found on a computer used by the former congressman and Abedin prompted the Federal Bureau of Investigations to revive the Clinton probe, which seemed to have ended over the summer. The FBI found the trove during an unrelated investigation into text messages from Weiner to an underage girl in North Carolina.
In August 2015 Trump called Weiner a potential national security threat, citing Abedin's knowledge of Clinton's private e-mails. He also said in 2013 that Abedin should "dump the sicko Weiner" after lewd online behavior that caused the New Yorker to resign from Congress in disgrace in 2011.
During a speech in Golden, Colorado, on Saturday Trump stayed largely on message, but mentioned Weiner twice. At one point he shuddered and called Weiner a "sleaze bag."
As for Clinton, she has "nobody to blame but herself for her mounting legal troubles," Trump said. "Her criminal action was willful, deliberate, intentional and purposeful."
Trump is giving another speech in Phoenix on Saturday and has events in Nevada, Colorado and New Mexico, on Sunday, as some polls suggest the presidential race was already tightening before the latest FBI action.
Unexpected Find
Comey's announcement on Friday reopened a sore that's dogged Clinton's campaign for months, and her return to the topic in Florida contrasted with her reticence on the subject of e-mails for much of the campaign.
The Daytona remarks followed a press call earlier Saturday with top Clinton aides Robby Mook and John Podesta that made Comey, a former Republican, the target. Podesta later sent a fundraising e-mail that referenced Comey's "bewildering letter."
A campaign aide said Clinton took Friday's news "like a champ" and was in a positive frame of mind because she had expected some kind of October surprise before the election.
Kept in the Dark
Still, recent staff e-mails released by WikiLeaks -- the authenticity of which hasn't been confirmed by the campaign -- show that even top aides may have been kept in the dark about how much damage the story could cause.
Podesta purportedly asked Mook, after Clinton's use of a private e-mail server while at the State Department became public in March 2015, if he had "any idea of the depth of this story." "Nope," Mook responded. "We brought up the existence of e-mails in reserach [sic] this summer but were told that everything was taken care of."
Even as Clinton in the following months insisted she'd done nothing wrong, aides and surrogates, particularly Center for American Progress President Neera Tanden, appear to have urged a more forthright explanation and apology.
"Everyone wants her to apologize. And she should. Apologies are like her Achilles heel," Tanden purportedly wrote to Podesta. The message was penned after Clinton said in an interview with NBC News, six months after her e-mail use became public, that she was "sorry that this has been confusing to people."
— With assistance by Ben Brody
Before it's here, it's on the Bloomberg Terminal.
LEARN MORE