FBI Shocker on Clinton Fuels Criticism of Comey's Tactics
By and
It's 'hard to have confidence' in FBI, former official says

Republicans and Democrats demand additional information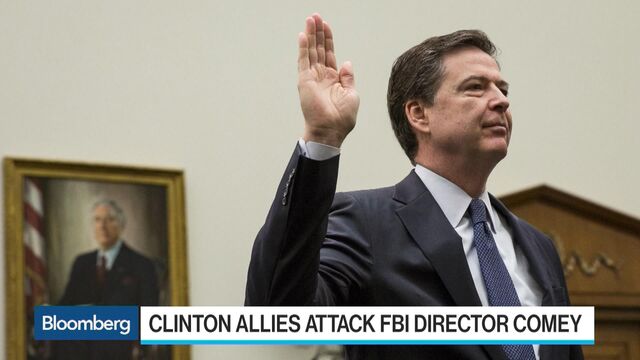 FBI Director James Comey faces extraordinary pressure to explain himself after dropping a bombshell on Hillary Clinton's campaign 11 days before the presidential election.
Comey revealed that he was reviving a previously completed investigation into Clinton's e-mail practices in a three-paragraph letter Friday to congressional leaders that offered few specifics. Former prosecutors and lawmakers from both parties expressed shock and dismay at Comey's decision, which flouted decades of legal custom that call for avoiding taking actions that could affect the outcome of an election.

"It's really hard to have confidence in the integrity and nonpartisan nature of the FBI," said Anne Weismann, a former Justice Department official who is executive director of the Washington-based Campaign for Accountability. "Unless you're facing like a statute of limitations problem or something, you just don't act" this close to an election, she said.
Comey informed lawmakers of the FBI's revived inquiry over the objections of Attorney General Loretta Lynch, according to a U.S. official who asked not to be identified discussing internal matters. He also acted despite a Justice Department policy against doing anything significant in a major investigation so close to an election if doing so could affect the results.
The actions shed light on Comey, 55, an imposing former Republican who stands six feet, eight inches tall. He came to the job as FBI director in 2013 with a reputation for fierce impartiality and a proven willingness to take on his superiors if he thought he was right.
Comey, a University of Chicago-trained lawyer, served as acting attorney general in 2004 at a critical juncture in President George W. Bush's administration. Bush's White House advisers were attempting to persuade the ailing Attorney General John Ashcroft to reauthorize a warrantless surveillance program.
Comey went to Ashcroft's hospital room to intercept the White House aides seeking Ashcroft's approval. Ashcroft said he had concerns about the legality of the plan and deferred the decision to Comey, who refused the request. Comey and other top Justice Department officials threatened to resign if the program was reauthorized without their signature, and it was revised.
Now, some of Comey's actions as FBI chief have left him increasingly isolated and even his boosters puzzled.
Dead Terrorist
Early this year he brought a court case seeking to compel Apple Inc. to hack into an iPhone used by a dead terrorist, saying that was law enforcement's only option in the case. The bureau later managed to buy a tool to help it get access to the phone, and the case was dropped.
In July, when the FBI investigation of Clinton was winding down, Comey held an unusual press conference where he said the former secretary of state and her aides had been "extremely careless" in handling classified information but added that "our judgment is that no reasonable prosecutor would bring such a case." That comment went beyond what many observers expected because a final decision on whether to pursue a case is normally left to the attorney general.
Comey's pattern of providing what the Federal Bureau of Investigation called as much "transparency" as possible on its inquiry into Clinton may have locked him into disclosing the new development on Friday.
"We don't ordinarily tell Congress about ongoing investigations, but here I feel an obligation to do so given that I testified repeatedly in recent months that our investigation was completed," Comey said in an internal memo Friday to the FBI staff.
"I also think it would be misleading to the American people were we not to supplement the record," Comey wrote. "At the same time, however, given that we don't know the significance of this newly discovered collection of e-mails, I don't want to create a misleading impression. In trying to strike that balance, in a brief letter and in the middle of an election season, there is significant risk of being misunderstood, but I wanted you to hear directly from me about it."
The lack of specifics or time lines in Comey's letter to lawmakers generated much of the bipartisan criticism Friday from lawmakers, who demanded briefings from FBI officials. None of the details about the e-mails were publicly released by the FBI, which refused to comment beyond the letter, but surfaced through a series of leaks to the media.
Comey said he can't say how long the review will take -- raising the possibility that Clinton could go into Election Day on Nov. 8 with the new probe still hanging over her campaign.
'No Business'
Comey "has no business" making this decision so close to the election while saying he doesn't know if the e-mails are even relevant to the earlier Clinton investigation, said Nick Akerman, a former federal prosecutor who is now a partner at Dorsey & Whitney LLP.
That "is exactly the reason why we keep our investigations out of public view until they're completed," Akerman said. "I've never seen this before, not even J. Edgar Hoover," he added, referring to the longtime FBI director criticized for wide-ranging investigations of Martin Luther King, Jr. and other civil rights activists.
Comey acted after investigators unearthed thousands of e-mails during a separate probe of Clinton aide Huma Abedin's estranged husband, former Representative Anthony Weiner. The bureau is investigating illicit messages that Weiner allegedly sent to a 15-year-old girl in North Carolina.
That inquiry gave it access to a laptop computer believed to have been used by both Weiner and Abedin, according to a second U.S. official who asked not to be identified discussing a pending investigation. Now the FBI is looking into whether Abedin's e-mails are work-related and whether they contain classified information. It's not known whether any of the e-mails involved exchanges with Clinton or whether they were duplicates of those she turned over or the FBI found in its earlier investigation.
'Lock Her Up'
Republican Donald Trump cheered the move from the campaign trail, where most national polls have shown him lagging behind Clinton ahead of the Nov. 8 vote.
"This is bigger than Watergate," Trump said Friday to a crowd of supporters in New Hampshire who began chanting "lock her up" after he told them about the probe.
"I have great respect that the FBI and Department of Justice have the courage to right the horrible mistake that they made," Trump said. "This was a grave miscarriage of justice that the American people fully understood."
Other Republicans, and Democrats, made clear that they had serious questions about Comey's decision.
"The letter from Director Comey was unsolicited and, quite honestly, surprising," Senator Chuck Grassley, an Iowa Republican, said in a statement. "It's left a lot more questions than answers for both the FBI and Secretary Clinton. Congress and the public deserve more context to properly assess what evidence the FBI has discovered and what it plans to do with it."
California Senator Dianne Feinstein, the top Democrat on the Senate Intelligence Committee, said she was "shocked" by Comey's move, which she said benefited Trump.
'Appalling' Decision
"The FBI has a history of extreme caution near Election Day so as not to influence the results," Feinstein said in a statement. "Today's break from that tradition is appalling."
Clinton, after not discussing the news during two campaign events in Iowa, told reporters Friday evening that she hadn't been contacted by authorities and that she's "confident" the investigation won't change the bureau's decision in July to end its investigation.
"We don't know what to believe" about the FBI's move, she said, adding that it's "incumbent on the FBI to tell us" what the investigation is about. "The American people deserve to get the full and complete facts immediately."
John Podesta, Clinton's campaign chairman, said on a press call Saturday that "no one can separate what is true or is not because Comey has not been forthcoming with the facts."
Benjamin Wittes, a senior fellow at the Brookings Institution, said investigators probably learned something new during the Weiner probe that may have called into question Comey's previous findings.
"If you're inclined to be angry with Comey over this, imagine that he had not said something and it emerged after the election that, having testified that the investigation was complete, he authorized additional investigation of a new trove of emails," Wittes wrote on the legal blog Lawfare. "Comey and the FBI are in a terrible position here, one in which they would be accused of playing politics whatever they ended up doing."
Ultimately, the uproar over the FBI's handling of Clinton's e-mails could affect Comey's future at the agency. FBI directors typically serve a 10-year term intended to shelter them from the changing of the guard from one presidency to the next. But Wittes said in an interview that an FBI director can be removed if a president decides to fire him or, less likely, Congress acts to impeach him.
— With assistance by Ben Brody, Jennifer Epstein, Steven T. Dennis, Andrew M Harris, and Tom Schoenberg
Before it's here, it's on the Bloomberg Terminal.
LEARN MORE