Whose Rebels Will Fight for Raqqa Deepens U.S.-Turkey Divisions
By and
U.S. says it must move on Syrian city as Mosul fight continues

Kurdish forces are part of U.S. plan over Turkey's opposition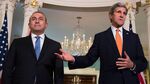 With the battle for the Iraqi city of Mosul barely begun, the U.S. and its allies say they need to move within weeks on the other remaining Islamic State stronghold, Raqqa in Syria. The trouble is that no one can agree on who should do the actual fighting.
The U.S. commander of the campaign against Islamic State says the only group capable and ready for such a battle is the Syrian Democratic Forces, made up largely of Kurdish fighters. Turkey, however, wants to keep the Kurds out of the fight to prevent them from connecting their autonomous areas in Syria. It's backing a separate Syrian rebel group, the Free Syrian Army's Brigade 51, which says it will be on the march soon.
"We're prepared for this," Colonel Haitham Afisi, the brigade's commander, said in a phone interview from the Syrian frontier in Aleppo province, where it's been pushing the jihadists from territory bordering Turkey. "It will be a tougher war than the one in Mosul because there will be a concentration of Islamic State there and eliminating them will be harder. But the coordination between the Free Syrian Army and the coalition will be greater."
For a QuickTake explaining Syria's divisions, click here.
Afisi's comments reflect the growing belief, shared by top U.S. officials, that the fight for Raqqa must begin soon to prevent Islamic State from consolidating its forces as they're pushed from Mosul. The U.S. military says the militant group is planning overseas attacks coordinated from Raqqa, increasing the need to move.
Turkey Concerns
Raqqa, which is on the banks of the Euphrates River and about 350 kilometers (218 miles) northeast of the Syrian capital Damascus, became the first provincial center to fall to the opposition in 2013. Islamic State captured most of the province from other rebel groups early the following year and turned the city into its de facto capital.
The main challenge in retaking Raqqa has always been who will lead the fight on the ground, with support from U.S. and allied advisers and air power, and whether those forces can be trained quickly enough. Speaking to reporters from Baghdad Wednesday, Lieutenant General Stephen Townsend, commander of the U.S.-led coalition fighting Islamic State in Iraq and Syria, said the only group "capable on any near frame" is the Syrian Democratic Forces, which includes the Kurdish YPG.
Turkey considers that group an offshoot of the separatist PKK, which the U.S. and the European Union have designated as a terrorist organization. Turkey has battled the PKK, an armed group that's fought for autonomy in the country, for three decades. The conflict has left about 40,000 people dead.
"We're negotiating, we're planning, we're having talks with Turkey and we're going to take this in steps," Townsend said. He said another big chunk of the Syrian Democratic Forces consists of Arab fighters from the region around Raqqa.
Turkey's President Recep Tayyip Erdogan said he told U.S. President Barack Obama in a phone call Wednesday that his country could rid Raqqa of Islamic State all by itself. Obama underscored to Erdogan the need for efforts against Islamic State to be "effectively integrated with the operations of other members of the coalition," according to White House press secretary Josh Earnest.
'No Kurds'
One solution could have the Kurds play a leading role in the push toward Raqqa while the U.S. and its allies beef up the Arab presence -- perhaps using FSA units currently involved in the Turkish-backed offensive farther north -- before a final push into the city itself, said Rashad al-Kattan, a political and security risk analyst who's a fellow at the University of St. Andrews in Scotland. That would echo plans in Iraq, where Shiite militias and Kurdish forces that are currently involved in the push toward Mosul are expected to be kept out of the fighting once it reaches the Sunni-dominated city.
"The Turks' main aim is to derail any plans from the Kurds to have an autonomous region in Syria," Al-Kattan said. "Turkey wants to have a stake in what's going on in Syria."
Turkey's Defense Minister Fikri Isik, speaking from Brussels, suggested on Thursday, though, that his country is adamant in its opposition to any major Kurdish role. Turkey can prepare a force to retake Raqqa as quickly as possible if coalition countries agree to prevent Kurdish forces from participating, he told state-run TRT television.
'Matter of Weeks'
The Mosul campaign, which began Oct. 17, has seen advances by Iraqi government forces and Kurdish fighters, though Islamic State has put up fierce resistance and American officials still aren't willing to say when the city is likely to fall. The fight for Raqqa will be far more challenging because in Syria the U.S. doesn't have the government as an ally. Along with its European and Middle East allies, Washington backs what it calls moderate rebels fighting to oust President Bashar al-Assad in the country's civil war.
Despite the complexities, U.S. officials are willing to give a rough timetable on when the Raqqa offensive will begin.
"Weeks -- I can't be more specific than that," Defense Secretary Ash Carter said in Brussels on Wednesday. "This is, as always, a matter when you're positioning forces and so forth, we have a plan to do that and a schedule to do that," he said. "And that plan has us generating those forces in a matter of weeks."
That timetable has raised concern from some corners of the U.S. government. There's the matter of resources -- whether two battles can be waged at once, considering the volume of airstrikes that would be needed in both places and the limited number of troops that Obama has authorized to serve as trainers and advisers in Iraq and Syria.
"I understand the incentive to move quickly, as people are fleeing, ISIS people are fleeing Mosul and moving to Raqqa and people are plotting and planning in Raqqa," Representative Adam Schiff, a California Democrat who serves on the House intelligence committee, told CNN on Wednesday, using an acronym for Islamic State. "There's a lot of work that I think still needs to go into preparing those forces."
— With assistance by Justin Sink
Before it's here, it's on the Bloomberg Terminal.
LEARN MORE