The Border Patrol Wants to Buy American
The agents' union is pushing to replace overseas producers.
By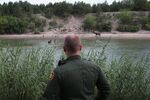 In 2007 the Border Patrol ditched its old straight-legged uniform in favor of more modern, and utilitarian, cargo pants with nylon belts. The shirt, however, wasn't an improvement. "It doesn't breathe, it's too hot, it's uncomfortable, and it chafes," says border agent Alberto Trevino. Oh, one more thing: It's made overseas.
The Border Patrol's trademark green uniform is made by VF, the Greensboro, N.C., company that owns retail brands like North Face, Timberland, and Vans. The company is a leading supplier of government uniforms through its VF Imagewear division. About half are manufactured outside the U.S., including in El Salvador, Honduras, and Mexico. In 2014, VF Imagewear won a $400 million contract with the U.S. Department of Homeland Security, which oversees the Border Patrol.

Border agents say letting foreign factories produce official uniforms creates a security risk. "We don't want our uniforms falling into the wrong hands," says Shawn Moran, vice president of the National Border Patrol Council, the union that represents 18,000 agents. "Cartels will try to do whatever they can. They've gone so far as to try to clone border patrol vehicles and drive across the border. Having the uniform on could complete that."
For the past year, Trevino and other border agents have been helping the union design a better shirt. In mid-October, they presented their bosses in Washington with a prototype by Massif, an Oregon apparel manufacturer that also produces combat gear for the U.S. Army. The upgraded tops have the same sporty epaulets and pointed collar as the current models, but the fabric is more breathable and cut to fit comfortably underneath body armor. The union earlier this year endorsed Republican presidential nominee Donald Trump, who's campaigned to bring manufacturing back to the U.S.
Since World War II, the Department of Defense has been required to source uniforms and other supplies from U.S. manufacturers. In 2009, as part of the federal stimulus package, Congress passed legislation subjecting the Department of Homeland Security to a similar "buy American" rule. But a provision in the law gave precedence to existing trade agreements, allowing the agency, which buys 900,000 Border Patrol uniform items annually, to continue procuring them abroad. Spokesman Gregory Moore says U.S. Customs and Border Protection is compliant with U.S. and international law.
"VF Imagewear is proud of our partnership with the Department of Homeland Security and U.S. Customs and Border Protection," VF spokesman Craig Hodges says. "We carefully follow federal government rules and regulations that are in place." Says David Gallacher, a Washington-based partner at law firm Sheppard Mullin: "I'm not sure there are any alternatives, absent going back to the drawing board and renegotiating these trade agreements."
The bottom line: Border Patrol uniforms are produced in Central America, but the agents' union has proposed a U.S.-made design.
Before it's here, it's on the Bloomberg Terminal.
LEARN MORE