Novo's Diabetes Pain Spares Sanofi in Tale of Two Strategies
By and
Novo shares plunge by most since 2002 as forecasts slashed

Sanofi gains most in more than seven years on raised forecast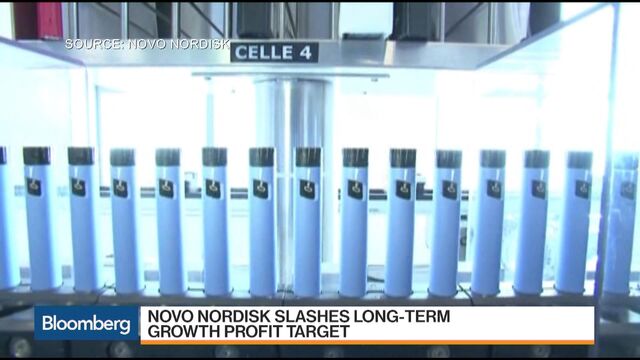 Novo Nordisk A/S, the world's biggest maker of insulin, is experiencing the downside of its relentless focus on diabetes.
The Danish company, which gets 80 percent of its sales from diabetes medicines, plunged the most in more than 14 years Friday after Novo slashed its long-term target for profit growth by half because of pressure on prices in the U.S., its largest market.

On the same day, French rival Sanofi, whose best-selling medicine is Lantus for diabetes, raised its earnings forecast. Like Novo, the company has also seen pressure on its diabetes business, though it gets less than 20 percent of revenue from such products. Soaring sales for a multiple-sclerosis pill as well as vaccines helped offset the decline in diabetes, Sanofi said Friday. Shares surged the most since 2009.
"The size of our diabetes business versus the rest of the group is very different compared to our competitor Novo," Sanofi Chief Financial Officer Jerome Contamine said Friday in a Bloomberg Television interview with anchors Guy Johnson and Caroline Hyde.

The two companies' divergent profit forecasts underscore a long-running debate in the pharmaceutical industry: whether to focus on one or two disease areas, or have a more diverse offering of products. This year AstraZeneca Plc has been selling off assets to narrow its portfolio of promising medicines, and GlaxoSmithKline Plc has faced calls from investors to spin off its consumer-health business to focus on drug development.
Dimmer Prospects
Until recently, Novo had greatly benefited from sticking to diabetes treatments. The stock more than tripled from the end of 2011 through the end of last year. Chief Executive Officer Lars Rebien Sorensen, twice chosen by Harvard Business Review as the best-performing CEO, said in May that he expected diabetes to become an even bigger part of the company's business over the next decade, as the number of people with the condition grows to 650 million within the next 25 years.
Lower prices and escalating competition from biosimilars -- or cheaper copies of complex biologic drugs -- have dimmed prospects for Novo, which controls almost half the global market for insulins, and Sanofi. Both companies have been forced to deepen rebates and discounts on treatments as U.S. pharmacy-benefit managers -- which are intermediaries such as Express Scripts Holding Co. and CVS Health Corp. that negotiate for rebates on behalf of some patient groups -- became more selective in choosing products for their formularies.
Pricing Pressure
"The more entrants you have and the more interchangeable the products are, the worse the pricing will be," said Noushin Turner, a biotech portfolio manager, who helps oversee 1.4 billion euros ($1.5 billion) at Deutsche Asset Management in Frankfurt. "There's room for managed care organizations to really come in and put pressure on the price."
Before Friday, Novo had already dropped 30 percent this year, while Sanofi had declined 12 percent.
The Bagsvaerd, Denmark-based drugmaker on Friday pared its long-term forecast for profit growth to 5 percent from the 10 percent projected in February. Novo also trimmed its 2016 targets for the second time, and said it expects "flat to low single-digit" percentage growth in operating profit in 2017 with "low single-digit" percentage growth in sales, according to a company statement.
The company said it was also ending its research and development projects involving oral insulin treatments. Novo will remain focused on diabetes care, CFO Jesper Brandgaard told Johnson and Hyde in a separate Bloomberg Television interview on Friday.
'Prime Activity'
"That's where we see our prime activity, that's where we can make a real difference," Brandgaard said. "There is a rebalancing where a higher proportion of our growth longer-term is going to come from emerging markets, and that's also where we are going to see the most significant growth."
Meanwhile, Sanofi is benefiting from a more diverse portfolio. While its diabetes franchise dropped in the third quarter, with revenue from Lantus sinking 9.8 percent to 1.39 billion euros, sales got a boost from early shipment of flu vaccines to the U.S., Sanofi said. Vaccine sales climbed 14 percent, and revenue from MS pill Aubagio spiked 50 percent, also driven by U.S. demand. Sales for Fabrazyme, an enzyme-replacement therapy for a rare genetic disease, climbed 20 percent.
The French company said Friday that earnings per share, excluding some items, will probably increase between 3 percent and 5 percent at constant exchange rates, compared with a previous forecast that profit would be broadly stable.
Sanofi confirmed a plan to divest its European generic-drug business, which garners about 800 million euros in annual sales, within the next year or two. The company is ready to "act rather swiftly" should attractive acquisition targets arise, after losing out to Pfizer Inc. in its pursuit of cancer-drug maker Medivation Inc., CEO Olivier Brandicourt told journalists on a conference call Friday.
Sanofi will focus in the meantime on developing the experimental cancer medicines it already has, Brandicourt said.
"We acknowledge that it will take time," he said.
— With assistance by Caroline Hyde, and Guy Johnson
Before it's here, it's on the Bloomberg Terminal.
LEARN MORE