Novo Plunges After Slashing Long-Term Growth Profit Target
by
Drugmaker ends plans to develop oral insulin treatments

Profit and sales targets for 2016 also trimmed by company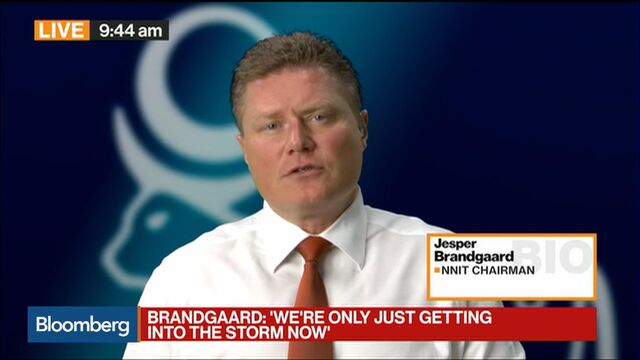 Novo Nordisk A/S plunged by the most in more than 14 years after the world's biggest maker of insulin slashed long-term profit-growth forecasts by half because of pressure on prices in the U.S., its largest market.
The estimate was pared to 5 percent from the 10 percent projected in February, before it lost key contracts, saw some products being excluded from insurance-coverage plans and promised large rebates in the U.S. on 2017 prices. The drugmaker also cut 2016 targets for the second time, and said it expects "flat to low single-digit" percentage growth in operating profit in 2017.
"We're only just getting into the storm now" in the U.S. with the pressure on drug prices, Chief Financial Officer Jesper Brandgaard said in an interview with Bloomberg Television's Caroline Hyde and Guy Johnson. "We can't in any way say that the worst is behind us."
The stock plummeted as much as 20 percent in Copenhagen trading. While Novo controls almost half the global market for insulins, the intermediaries who negotiate prices for insured patients in the U.S. are opting for cheaper alternatives. Over the summer, the company failed to secure 2017 coverage for Victoza, NovoLin, NovoLog from one of the U.S.'s largest such intermediaries, Express Scripts Holding Co.

The pared outlook reflects the "significantly more challenging" environment in the U.S., the Bagsvaerd, Denmark-based company said in a statement on Friday. The drugmaker in recent months has appointed a new chief executive officer and cut about 1,000 jobs to trim costs.
French rival Sanofi on Friday said it's also feeling the pressure, though its more diversified business helped fend off the worst. The drugmaker raised its earnings forecast after soaring sales of vaccines and a multiple-sclerosis pill helped offset the price pressure on its diabetes business. The company's best-selling insulin Lantus, which lost patent protection last year, was excluded for 2017 coverage by benefits manager CVS Health Corp.
On Friday, Novo said its measures to control costs and refocus its research and development efforts would include ending projects to create oral insulin treatments.
Shares of Novo Nordisk dropped almost 15 percent to 238.70 kroner as of 3:44 p.m., after earlier falling by the most since July 2002.
Deeper Rebates
Lower prices and escalating competition from biosimilars -- or cheaper copies of complex biologic drugs -- have dimmed prospects for Novo, Sanofi and Eli Lilly & Co. The drugmakers have been forced to deepen rebates and discounts on treatments as U.S. pharmacy benefits managers -- intermediaries such as Express Scripts and CVS that negotiate for rebates on behalf of employers and insurers -- became more selective in choosing products for their formularies.
To read more about the casualties in the drug-pricing war, click here.
Average 2017 prices will drop in a range from 2 percent to 6 percent in the U.S. following negotiations with payers for insurance coverage in the U.S., Chief Executive Officer Lars Rebien Sorensen told reporters on Friday. "There will be continued pricing pressure in the U.S. following 2017 into 2018, perhaps into 2019."
Payers are no longer willing to pay a premium for convenience, and will only pay for the outcomes of drugs, Brandgaard said on Friday.
Expanded labels that could lead to wider use of Tresiba and Victoza are likely to help revive growth in coming years, Sorensen said in an interview. The drugmaker expects an update on those labels in the middle of next year, he said.
U.S. Probe
Prospects for this year have also weakened. Operating profit is likely to grow as much as 7 percent in 2016, down from its August forecast of a maximum of 8 percent, while sales are likely to expand as much as 6 percent, down from the 7 percent expected earlier, Novo said.
Separately, the drugmaker on Friday said it also received a type of subpoena from the U.S. Attorney's Office for the Southern District of New York requesting information about its contracts and ties to pharmacy benefits managers in regards to certain products including its blockbuster Levemir. Novo is cooperating with authorities and doesn't expect the probe to have a material impact on its financial position, the company said.
In February, the company had also said the operating profit after tax to net operating assets ratio in the long term was likely to remain at about 125 percent, while the cash to earnings ratio would stay at 90 percent. Those goals remain unchanged, Novo said on Friday.
Before it's here, it's on the Bloomberg Terminal.
LEARN MORE