Japan's 'Pineapple Pen' YouTube Star Turns Overseas After Bieber Sends Video Viral
By and
Pikotaro signed with international labels, will release album

The PPAP YouTube video has racked up over 66 million views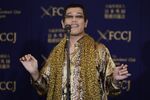 Japan's latest Internet sensation, Pikotaro, is planning to take his viral "Pen-Pineapple-Apple-Pen," or PPAP, to the next level with international record labels.
The 45-second video, uploaded to YouTube in late August, shot to fame after Justin Bieber tweeted to his 88 million followers that it was his "favorite video on the Internet" on Sept. 28th. Pikotaro's hit has racked up over 66 million views on YouTube, ranked No. 1 on 10 music charts and reached the No. 77 spot on the Billboard Hot 100.
At a news conference held in Tokyo Friday the comedian-turned-performer, who is contracted with Avex Group Holdings Inc., announced tie-ups with music labels including Sony Music Entertainment, Ultra Records and CNR Records Belgium. The album will be released in December, according to Yoshiyuki Seki, a spokesman at Avex.
"It originated from a video I made which I spent just 100,000 yen on," he told reporters in Tokyo on Friday where he was also presented with the official Guinness World Record for the shortest song to ever be on the Billboard list.
"The power of the Internet is just amazing," said the performer, wearing his trademark bright yellow, leopard-skin outfit.
Sudden Fame
Pikotaro is the alter ego of Daimaou Kosaka, 43, who has has been a comedian since 1991. Kosaka has appeared in commercials, movies and television shows over the past few decades, but his popularity skyrocketed when his Pikotaro personality went viral in recent months.
He told reporters that a "series of miracles" including the tweet by Bieber took him to where he is today. Pikotaro's song and his story has been featured on Time Magazine, BBC, CNN and the Late Show with Stephen Colbert.
PPAP is the latest viral song from Asia to reach western shores, following in the footsteps of South Korea's Psy, whose "Gangnam Style" song has garnered over 2.6 billion views on YouTube since its release in 2012. While governments and producers in East Asia are vying to promote their artists to break into international markets, Pikotaro and Psy suggest that the unexpected can become the biggest hits for foreign audiences.
At the press conference, he gave his first-ever performance of the two-minute "long-version" of the song -- the original clocked in at about 45 seconds.
Asked about how his life had changed over the past month, Pikotaro said: "It's been less than a month. I haven't received my paycheck yet."
Before it's here, it's on the Bloomberg Terminal.
LEARN MORE