Twitter Beats Revenue, User Estimates and Cuts 9% of Workforce
By
Quarterly earnings, user growth beat analysts' expectations

Twitter says it's working to simplify how it operates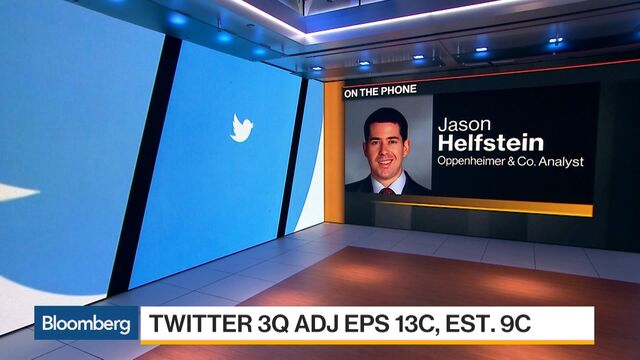 Having failed to find an acquirer, Twitter Inc. has sketched out a restructuring plan aimed at becoming profitable by next year.
The social media company will start by eliminating about 9 percent of its workforce, it said Thursday. Twitter's third-quarter results also showed initial signs of progress, as revenue and user growth beat analysts' expectations, helping Chief Executive Officer Jack Dorsey make a case for staying independent while seeking to restore growth.
The results are a much-needed positive sign compared with the declining trajectory Twitter's been on over the past several quarters and the shares rose, though the report still may not be enough to shake investor skepticism about the company's future. Twitter explored selling itself at the end of last quarter, but all three potential suitors -- Salesforce.com Inc., Walt Disney Co. and Google -- ultimately decided not to bid, people familiar with the matter have said. Now Dorsey, who is also CEO at Square Inc., is laying out plans for an independent turnaround.
"We're going from nearly 60 percent revenue growth last year to 8 percent in the third quarter and uncertainty looking into the fourth quarter," said James Cakmak, an analyst at Monness, Crespi, Hardt & Co. "One must ask if a part-time CEO is allowing Twitter to operate at its maximum potential."

Twitter Priorities
Revenue increased to $616 million in the three months ending Sept. 30, beating analysts' forecasts for $605 million. The company reported 317 million monthly active users, ahead of analysts' average estimate of 315 million, and the net loss narrowed to $102.8 million.
Dorsey began the company's earnings call with investors by declining to comment on any of the reports of a sale process. When the board first made its move to hire bankers and explore options, Dorsey wanted to keep Twitter independent to have more time to prove out his strategy, people familiar with his thinking said at the time. Now, he'll get that chance.
Among Dorsey's priorities is making Twitter, which lets users post 140-character messages and follow others' posts, easier for people to use. He's also focused on the company's issues with harassment on its platform, drawing a larger audience through live video partnerships and capitalizing on those to sell more video ads.
Twitter has struggled to attract attention from advertisers, as marketers are hesitant to spend more on a platform that's not growing as quickly as competitors like Snapchat and Instagram. To address that, Twitter has begun streaming live video, including acquiring the rights to 10 NFL games on Thursday nights. That deal sparked others in sports, entertainment and politics. Bloomberg LP, the parent company of Bloomberg News, has an agreement to stream some televised events, such as the presidential debates.
The videos are meant to give potential Twitter users a new reason to use the service, without requiring them to make an account and follow people. They also help Twitter sell more premium video advertising. The initiatives are likely to boost user numbers and sales, executives said today.
Shares Jump
Twitter gained 1.4 percent to $17.54 at 12:38 p.m. in New York. The stock lost 25 percent of its value so far this year through Wednesday, compared with a 12 percent increase in the Russell 1000 Technology Index.
The reduction in staff compares with the 8 percent cuts Dorsey implemented after he became CEO last year. The eliminations are heavily weighted toward the sales and marketing staff. The company is also shutting down Vine, its app for short videos. Once a popular destination for comedy clips, it has dwindled in popularity over the last year.
Twitter is looking to be more efficient about spending as growth slows, especially as employee compensation becomes more of a burden amid a falling stock price. Analysts don't expect the company to be profitable on a quarterly basis until sometime in 2018.
And with only single-digit revenue growth, investors are still skeptical that Twitter will be able to go it alone for long, said Robert Peck, an analyst at Suntrust Robinson Humphrey.
"If these trends continue, we think that M&A is inevitable," he said.
Before it's here, it's on the Bloomberg Terminal.
LEARN MORE