Qualcomm's NXP Deal Is $47 Billion Wager on Computers You Drive
By
Chip designer's biggest purchase helps in fast-growing market

Challenge will be absorbing company with far-flung factories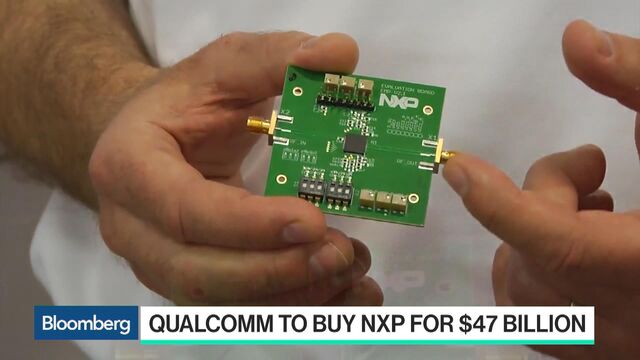 Qualcomm Inc.'s purchase of NXP Semiconductors NV is a bet that the future of mobile computing has four wheels.
The $47 billion acquisition unveiled Thursday -- the biggest ever for Qualcomm, and in the chip industry's history -- marks the company's most significant foray outside its historically narrow focus on cell-phone chips and patents, a strategy that has made it one of the most successful technology companies of the last 20 years. Now, as mobile-phone growth decelerates, Qualcomm's management is buying a leading position in the nascent market for chips that will turn automobiles into smart devices that use sensors to help drivers drive, park, navigate and communicate.
To make the deal pay off, Qualcomm will have to absorb an organization that's very different from itself -- one that actually manufactures chips in factories around the world, rather than just designing them. NXP also has more employees, products and customers than Qualcomm has previously managed, and does business in a market with a broader range of chips that require very different skills to create and produce -- making the acquisition's success far from a sure thing.
"Qualcomm has never done anything big or transformational," said Stacy Rasgon, an analyst at Sanford C. Bernstein & Co. "This is a high reward, high-risk thing."
Last year, the market for chips that go into cars expanded by about 10 percent to $29 billion, according to researcher IDC. Those chips perform a multitude of functions, from managing the engine to warning drivers of a vehicle in their blind spot. NXP, including its acquisition of Freescale last year, accounted for about 11 percent of the total. Qualcomm currently gets about $1.9 billion of sales from automotive and other connected devices outside of the phone market, providing it with 8 percent of revenue. Combined with NXP that number goes up to $10.2 billion or 29 percent of the total, executives said Thursday.
Compared with the 1.5 percent growth in the wireless-chip business that San Diego-based Qualcomm dominates, automotive looks like an attractive place to be. Qualcomm still gets more than 90 percent of its sales from smartphone parts and technology, and has had limited success selling modems and some entertainment systems processors to automakers.
The market for chips that go into vehicles will grow at a compound average rate of 7.7 percent between 2015 and 2020, according to a prediction by IDC.
The car industry is in a similar position to where the phone market was in about 2000, according to Qualcomm Chief Executive Steve Mollenkopf. New technology is poised to flood in and disrupt the business. Mollenkopf believes the majority of that will be borrowed from smartphones.

Still, wireless chip sales were almost three times the size of automotive chip revenue last year. With the cost of semiconductor design and production skyrocketing, companies have to be sure that their investments are aimed at opportunities large enough to provide a return.
The demand for semiconductors for the 80-million-vehicle car market is being fueled by the increasing number of chips being used in each vehicle, not by a mass expansion of drivers or cars on the road. Qualcomm has made a living in the market for digital-phone chips, where everything has been concentrated into very few semiconductors -- reducing the number of chips going into the devices. Meanwhile, the smartphone market is slowing -- shipments rose by 10 percent last year, compared with a gain of more than 60 percent in 2011. In the first quarter of 2016, unit sales shrank for the first time.
By contrast, auto manufacturers use a variety of technologies for so many disparate functions -- from artificial-intelligence calculations to reading the meaning of different push-buttons -- that the number of different components needed is surging.
In many ways, automation and computing in cars is still in its experimental phase. There's no agreement, for example, on the best way to make a vehicle autonomous. Should the car hold a powerful supercomputer and sensors that let it think for itself, or should systems run on a simpler set of technologies controlled by a remote network that centralizes control of traffic?
Every new configurable instrument display, parking sensor and collision-alert warning system added to new vehicles requires more silicon to make that happen. That trend will pick up steam as cars move closer to autonomy, which will require more sensors, electronic brains and communication chips.
"With the move towards autonomous or assisted driving, there promises to be silicon content increases for the foreseeable future," said Cody Acree, an analyst at Drexel Hamilton. "With NXP you're getting the largest player in autos. They touch a lot of different areas."
As the electronics systems mature and become more advanced, the industry is likely to do what it has historically done: integrate components. That means more far-ranging functions are consolidated into a single chip that takes on the role previously done by groups of semiconductors. When that happened in the phone market, a few suppliers -- in this case, primarily Qualcomm -- win the technology race and lock down the majority of the profit even as overall growth stagnates.
"The automotive market is going to be big in terms of semiconductor content, there's no doubt about that," said Michael Walkley, an analyst at Canaccord Genuity. But as there is unlikely to be a surge in the number of cars sold, "the question is, does the content give you an extra few years of growth?"
NXP does bring Qualcomm a faster route into other new opportunities that it was already considering. The Eindhoven, Netherlands-based company gets about a quarter of its sales from semiconductors used in industrial equipment, and it has a strong position in electronic-payment security chips.
That breadth of products and relative diversity in end-markets will provide another challenge for Qualcomm. The company's concentration on mobile, providing the most advanced digital modems and processors used by phones to deal with the increasing flood of digital data smartphone users consume, has given it a very specific skill set.
"The digital guys are specifically poor at remaking themselves because they get such an expertise in a single vertical that just does not translate well into other applications," Acree said. "The analog guys by their nature are less homogeneous. You need power management whether it's a car or computer."
In some respects, Qualcomm is buying a bigger company. NXP's 44,000 employees outnumber Qualcomm's 33,000. The U.S. chipmaker's staff is focused on designing and selling chips and licensing technology. It's always had third-party companies do its manufacturing, and its executives have said that the risk, complexity and expense of chip production was best left to others. A chunk of NXP's workforce are employed by its factory network, plants that can't be adapted to produce Qualcomm's more complex digital chips.
"I would acknowledge the fact this is a deal larger than, I think, anybody's dealt with," Mollenkopf said Thursday. He added that NXP's purchase of Freescale has provided some processes and lessons that will be of value.
In order to preserve the entree into the new businesses it's buying, Qualcomm will have to persuade NXP employees to stay with the new company, Walkley said. Qualcomm's management will need their help to understand and maintain relationships with a much longer customer list and broader set of products.
"On paper it's a good fit," he said. "But it's still very different animals you're putting together."
Before it's here, it's on the Bloomberg Terminal.
LEARN MORE