Democratic Party Takes GOP to Court Over Voter Intimidation
By
Trump's claims of 'rigged' election portrayed as call to arms

Complaint stems from 1981 voter suppression case in New Jersey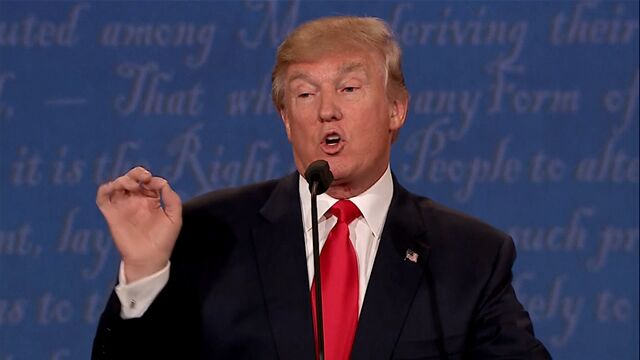 The Democratic National Committee asked a judge to block the Republican Party from supporting efforts to discourage minorities from voting based on Donald Trump's claims that the presidential election is "rigged."
In a preemptive strike against what it called a coordinated effort to intimidate voters, the Democratic Party's governing body alleged Wednesday that the Republican National Committee is violating a court order in a case that started 35 years ago.
The RNC is supporting Trump's recruitment of so-called watchers at polling places, which is in breach of consent decrees going back to 1982 that forbid the group from engaging in ballot-security measures, according to a filing in federal court in Newark, New Jersey. The DNC said the watchers are really intended to deter registered voters from casting ballots.
"The filing is completely meritless," said Lindsay Walters, a spokeswoman for the Republican National Committee. "Just as in all prior elections in which the consent decree was in effect, the RNC strictly abides by the consent decree and does not take part directly or indirectly in any efforts to prevent or remedy vote fraud. Nor do we coordinate with the Trump campaign or any other campaign or party organization in any efforts they may make in this area."
The dispute follows years of court battles over legislation, primarily in Republican-led states, to require voters to present photo identification and curtailing practices such as early voting that tend to increase the turnout of poor and minority voters who tend to favor Democrats.
Voter Fraud
Trump has received direct and tacit support of the RNC in his endeavors to prevent alleged rigging and voter fraud, the Democrats alleged in the filing, citing statements by Trump's running mate, Indiana Governor Mike Pence.
"Trump has falsely and repeatedly told his supporters that the November 8 election will be 'rigged' based upon fabricated claims of voter fraud in 'certain areas,' according to the filing. "Unsurprisingly, those 'certain areas' are exclusively communities in which large minority voting populations reside."
The original consent decree arose from the RNC's efforts in the early 1980s to interrogate and intimidate registered voters in predominantly African-American precincts in New Jersey, according to the filing.
The case is Democratic National Committee v. Republican National Committee, 81-cv-03876, U.S. District Court, District of New Jersey (Newark).
Before it's here, it's on the Bloomberg Terminal.
LEARN MORE