Bridge Jam Judge Delays Closing Arguments Over 'Legal Issue'
By
Wigenton says summations now scheduled for Friday in Newark

Baroni, Kelly deny they created gridlock as political payback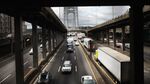 A federal judge delayed closing arguments in the George Washington Bridge lane-closings trial over a "legal issue" that she didn't identify.
After meeting privately with lawyers, U.S. District Judge Susan Wigenton told jurors Thursday to go home and return on Friday. Prosecutors had been scheduled to summarize their case against Bridget Anne Kelly, a former deputy chief of staff for New Jersey Governor Chris Christie, and Bill Baroni, former deputy executive director of the Port Authority of New York & New Jersey.
They're accused of taking part in a plot to close access lanes to the bridge and create gridlock during the first week of school in September 2013 to punish the mayor of Fort Lee, New Jersey, for not endorsing Christie's re-election.
Baroni and Kelly, both 44, testified during the six-week trial in Newark, New Jersey, that they believed the lane closings were part of a legitimate traffic study set up David Wildstein, Baroni's right-hand man at the Port Authority. Wildstein pleaded guilty and testified as a prosecution witness.
The case is U.S. v. Baroni, 15-cr-00193, U.S. District Court, District of New Jersey (Newark).
Before it's here, it's on the Bloomberg Terminal.
LEARN MORE