technology
Samsung Scion's Reign Begins Amid Note 7 Smartphone Crisis
By , , and
Lee gains corporate power with Samsung Electronics board seat

"I think a new era is coming," says CIO at Korean fund manager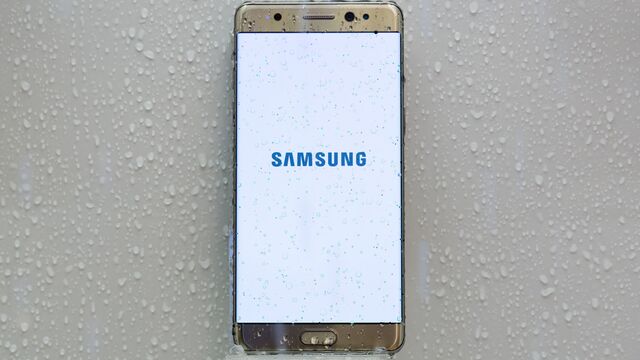 Lee Jae-yong, the crown prince of the founding family that controls Samsung Group, is getting expanded corporate power. Now comes the guessing game about what he'll do with it.
On Thursday, Lee officially joined a nine-person board at Samsung Electronics Co., whose botched roll out of the Galaxy Note 7 smartphone has delivered a blow to a premier tech brand and cost the company billions of dollars in profit. The move gives the low-profile executive, also known as Jay Y., a big say over top management and strategic calls, including restructurings, mergers and asset sales.
His ascension comes on the same day that Samsung reported a sharp decline in profits, as the recall took its toll. Net income fell to 4.41 trillion won ($3.9 billion) in the September quarter; the debacle that may ultimately cost more than $6 billion. Shares in the company rose 0.4 percent at the close of trade in Seoul.
Lee, 48, is already vice chairman of Samsung Electronics and has gained influence since his father, Lee Kun-hee, suffered a heart attack and was hospitalized in 2014. The founding family controls Samsung Group, whose tentacles extend into financial services, hotels, biopharmaceuticals and fashion, through a complex network of cross ownership. So in a way, Lee's elevation to the board of the flagship will be something akin to a coronation.
Samsung's in a Battle to Stop It All Going Up in Flames: Gadfly
"We can now say that Lee's regime has officially begun," said Lee Chaiwon, chief investment officer at Korea Value Asset Management Co. "I think a new era is coming." Lee believes Jay Y.'s enhanced influence will be an adrenaline shot for a company in crisis. "The company will become more market-friendly," he said, predicting the new board member will "quicken its restructuring process."
Samsung Electronics has no shortage of challenges, urgent ones. In addition to mopping up after the Galaxy Note 7 fiasco, the younger Lee faces a threat from activist hedge fund Elliott Management Corp. that's pushing Samsung Electronics to simplify its ownership structure. The New York-based fund, founded by stock picker Paul Singer, also wants the company to add independent directors and dish out a special $27 billion dividend to investors.
"Being a board member means management responsibility," said Heo Pil-seok, chief executive officer of Midas International Asset Management Co. "The market will expect Lee to come up with some follow-up steps to settle the Note 7 problem."
Samsung's management and board are "carefully reviewing" all of Elliott's proposals, senior vice president Robert Yi told a conference call. After buying back more than 11 trillion won of stock since last year, the Suwon-based company plans to shed more light on its shareholder return policy next month, he said.
For a Quicktake on South Korea's chaebols, click here
While about 400 investors attended the meeting to vote on Jay Y.'s appointment, the man himself wasn't there. Instead it was Vice Chairman Kwon Oh-hyun and Co-Chief Executive Officer Shin Jong-kyun who spoke about the crisis and management shortcomings.
Shin said the number of incidents with the Note 7 was in the hundreds and Samsung was continuing to investigate as it revisits every aspect of its hardware, software and production processes.
"It is not acceptable that we did not meet our own quality assurance standards," said Shin, a former head of the phone business. "We know we must work hard to earn back your trust and we are committed to doing just that."
Then there's the broader sales slump at Samsung Electronics, which also makes semiconductors and display panels. The company is coping with a drop in LCD panel prices and lower-cost Chinese rivals in the television market. Total third-quarter sales fell to 47.8 trillion won and the company could record its third straight year of decelerating annual revenue, according to analyst estimates compiled by Bloomberg. For the coming year, Samsung said it's planning to spend a record 27 trillion won on plants and equipment as it boosts production of OLED displays.
"What Samsung needs the most now is the total shake-up of its system and personnel in order to refresh its collapsed brand image following the Note 7 crisis," said Chung Sun-sup, CEO of corporate research firm Chaebul.com. He sees Lee's influence being felt across the entire Samsung empire, starting with group's annual management shake-up at the end of the year. "He will legally play a lead role in the group's key affairs, including making big deals, personnel reshuffle and other financial agendas," he said.
Owing to South Korea's tradition of filial piety, it's been difficult for the younger Lee to take command since his father fell ill. That said, Lee attracted media attention in 2015 when he apologized on live television for a Samsung-owned hospital's failure to contain a Middle Eastern respiratory syndrome.
Franz-Hermann Hirlinger, the first foreign outside director ever to serve at Samsung Electronics, remembers Lee as a young man who always sat in a corner with his back straight and hands neatly folded on his knees, quietly observing board meetings. Everyone in the room, including Hirlinger, knew that it was part of his training to succeed his father one day.
That day has arrived. And Lee is already drawing criticism. Sustinvest Inc., a Seoul-based proxy-advisory firm, said in a letter to shareholders this week that Lee isn't qualified to be on the board because he benefited from "inter-affiliate" transactions at the Samsung group.
"There is a widespread expectation for Vice Chairman Lee to show that he is able to take charge and lead Samsung out of the crisis and usher in change," said Kim Sang-jo, a professor at Hansung University.
People who have worked closely with Jay Y. describe him as a polar opposite of his larger-than-life father. The younger Lee is an affable, approachable man with a global view, who wants to modernize South Korea's largest business group, according to Hirlinger.
In his new and expanded role, Lee's performance will come under even greater scrutiny. "Until now, Lee could just enjoy the good times and avoid the bad times and didn't have to take any legal responsibilities," said Chung with Chaebul.com. "But if things like the Note 7 happens again," he said, "many fingers will point at him."
(
Updates with closing share price in third paragraph.
)
Before it's here, it's on the Bloomberg Terminal.
LEARN MORE