Nintendo Sputters While Seeking to Reignite Growth Engines
By and
Switch, Super Mario Run will have to make up for weaker sales

Hefty boost from Pokemon Go fails to make up for slump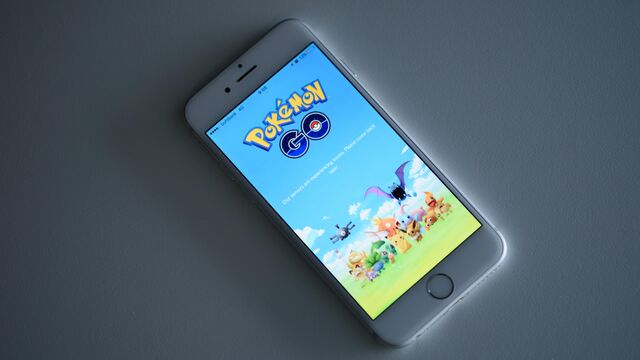 Nintendo Co.'s plan to get its business back on track with mobile games and a new console is coming up against a hard reality: the core business is getting weaker.
Pokemon Go, which gave investors and customers an early indication of the company's potential to carve out a significant share of the smartphone gaming market, delivered a 12 billion yen ($115 million) boost to the bottom line. Still, that wasn't enough to make up for a stronger yen that reduced the income Nintendo earned abroad, as well as big declines in hardware and software sales. Shares fell in Tokyo trading after the Kyoto-based company slashed its operating profit and sales outlook for the fiscal year to March.
Nintendo is betting that Switch, the next-generation gaming platform, will also help drive growth as the Wii U and 3DS approach the end of their product cycles. So far, investors aren't impressed with the new hardware, pushing shares down more than 10 percent since a video was released last week to introduce the device. That means the December debut of Super Mario Run, Nintendo's first in-house mobile game for iPhones, will have to be a blockbuster hit.
"They have the Switch coming out, but nothing else," said Serkan Toto, founder of Tokyo-based consultant Kantan Games Inc. "The software lineup for the the next couple of months on both of their existing consoles is pretty small, and on mobile they only have Super Mario Run."
Shares of Nintendo fell as much as 4.1 percent to 23,515 yen in early trading in Tokyo, their lowest level in more than a month.
Operating profit for the current fiscal year through March will be 30 billion yen, down from the previous outlook of 45 billion yen, the Kyoto-based company said in a statement Wednesday. Revenue will now be 470 billion yen instead of 500 billion yen. The revision is partly due to Nintendo's view that the yen will trade at 100 yen per dollar, compared with the previous outlook of 110 yen. That's a significant dent to earnings from abroad, where the company gets more than three-quarters of its revenue.
For the six months through September, software revenue from Nintendo's gaming platforms dropped 32 percent to 66.7 billion yen, while sales of hardware declined 36 percent 65.9 billion yen as Wii U console sales tanked. For the quarter that ended September, net income was 62.8 billion yen, thanks to Pokemon Go and a gain on the sale of a stake in the Seattle Mariners baseball team.
Pokemon Go, which became available in July, set off a social phenomenon as hundreds of millions of players worldwide ventured outside to hunt for virtual pocket monsters. Still, Nintendo only gets a fraction of the sales of virtual accessories within the game, because it only owns parts of game developer Niantic Inc. and Pokemon Co., which owns the license to the franchise. Nintendo also said Pokemon Go's popularity helped to boost sales of 3DS units. 
"It's still a big game, but the revenue share is what makes or breaks the money that Nintendo gets from that game," said Toto.
One bright spot was that Pokemon Go's popularity boosted sales of 3DS units. Nintendo President Tatsumi Kimishima is optimistic that a successful debut for Super Mario Run will drive purchases of the Switch when its released. He expects to ship 2 million units of the new console in its first month after it goes on sale in March and said the financial impact has already been factored into its revised forecast.
"They'll be looking to Switch, as well as the upcoming release of Super Mario Run and other mobile titles to turn their fortunes around," said Daniel Ahmad, an analyst at Niko Partners. "There are no big titles this holiday season for Wii U in the Americas and nothing that is pushing consumers to buy the console."
Before it's here, it's on the Bloomberg Terminal.
LEARN MORE