For Sweden's Wallenbergs, Turnarounds Are Measured in Decades
by and
No easy answers for Sweden's Ericsson down 46% this year

CEO's horizon: 'Not first three quarters but 5-10 years'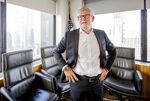 Ericsson AB's incoming chief executive officer says he's taking the long view on fixing the embattled Swedish network-equipment company.
Borje Ekholm, who will assume his new role early next year, said his strengths lie in his ability to see into a distant future rather than providing quick shock-and-awe therapy. While investors said he'll bring stability to Ericsson, Ekholm's outlook also signaled that there are no easy answers for the company, caught in a downward spiral of job cuts, dwindling profit and cut-throat competition.
"What I'm good at is creating a plan not for the first three quarters, but for five to 10 years," Ekholm, 53, said in an interview in Stockholm hours after he was appointed. "Putting that in place and delivering on it is my strength and I think I can do that in this company as well."
The appointment is unorthodox for the Wallenbergs, the Swedish family whose publicly traded Investor AB -- where Ekholm was CEO for a decade -- is Ericsson's biggest shareholder. The family doesn't typically get involved in the day-to-day operations of the companies in which it holds stakes, preferring to supervise rather than dip into the minutiae of management. At the same time, Ekholm's new role signals how the Wallenbergs are bringing a firmer hand to Ericsson by elevating an insider who has spent most of his working life at the service of Sweden's preeminent industrial dynasty.
Investors' first impressions were mixed. While he's considered to be a high-quality executive, Ericsson shares pulled back from early gains on Wednesday after Ekholm's first public remarks as CEO-designee, ending the day up 0.6 percent. The stock is down 46 percent in 2016.

"Ekholm has a great track record at Investor and knows how to manage capital allocation within an organization," Filippa Gerstadt, a portfolio manager at Nordea said in an e-mail. "However, we would have preferred someone with industry knowledge and are a bit surprised the board was unable to find an external successor to Hans Vestberg."
In an interview, Ekholm said Ericsson's dividend will depend on the capital needed for the strategy he's about to chisel out. The company will consider implications of recent downgrades at S&P and Moody's, but the institutions' assessments "may be of subordinate importance" considering the market situation.
"I think we have to put more resources to some areas and that means it's a necessity to pull resources from other areas," said Ekholm, a trained engineer who holds both U.S. and Swedish citizenship. "Those are priorities we have to make. That is something we need to do in the months after I assume my position."
There are other question marks: Ekholm, who has school-age children, will remain based in the U.S. Chairman Leif Johansson brushed off that concern at a press conference, saying "We don't think think of that as a problem given we have a very large presence in the U.S."
For Gadfly columnist Leila Abboud's take on the new CEO, click here.
Johansson also maintained Ekholm was the board's first choice for the job, although local reports suggested otherwise. And as a board member of Ericsson since 2006 and CEO of Investor AB from 2005-2015, Ekholm was intimately involved in the decisions that drove the mobile-network supplier into its current crisis.
"There are many factors that speak to his advantage, but he is also part of the problem," said Carina Lundberg Markow, head of responsible ownership at Folksam, an insurance company with about 30 million Ericsson shares as of mid-October. "He's been a board member for 10 years, and has contributed to Ericsson ending up in the situation it's in today."
Ericsson has been losing sales to competitors like Nokia Oyj, which has broadened its portfolio, and Huawei Technologies Co., which is beating Ericsson on price. Years of stagnant markets culminated in a surprise collapse in sales at Ericsson, revealed in a profit warning two weeks ago. The company had already ousted CEO Vestberg in July after an 18-month plunge in its share price.
In an interview, Johansson tried to dispel any notion that Ekholm would prioritize stability over more radical transformation, saying the new CEO isn't afraid to express "harsh truths" and ask uncomfortable questions.
"I believe that Borje is the right person to make large changes, if needed," Johansson said. "I'm not sure someone from the outside with no knowledge about the company would be better suited to make big changes."
Fierce competition for sales has recently been compounded by slumping demand in countries including Russia and Brazil. In response, the company is cutting costs to reduce its operating expenses by 10 billion kronor ($1.12 billion) by 2017 compared with 2014. Those plans, started under Vestberg and interim CEO Jan Frykhammar, will continue, Ekholm said.
"We have to make adjustments to our cost structure," Ekholm said. "That is something that has to go on. We have to establish profitability first and get the right size of our operations to the demand level that's out there."
During his tenure as CEO, Investor AB's share price tripled in value. Ekholm oversaw the spin-off of Husqvarna AB from appliance maker Electrolux AB in 2006, as well as the sale of Investor's stake in Scania to Volkswagen AG in 2008.
While he's still formulating his strategy, Ekholm said in a Bloomberg Television interview that he believes Ericsson can stay independent. It will be important to invest in coming 5G networks and in digital transformation, he said, without offering specifics.
Success would pay off handsomely. While Ekholm's annual base salary of 14.2 million kronor is comparable to Vestberg's, Investor AB and Ericsson's second-biggest shareholder, Industrivarden AB, have together offered the new CEO 2 million call options. They only pay if the stock almost doubles to 80 kronor after seven years.
The return to a CEO with an engineering background, after two trained economists, during a time of rapid technology changes, also has Ericsson's main union pulling for Ekholm.
"Borje Ekholm satisfies most of our demands, he especially has technical competence," Per Norlander, chief negotiator for Ericsson's engineering union Sveriges Ingenjorer, told Svenska Dagbladet. "There are good reasons to believe this will work out well."
Before it's here, it's on the Bloomberg Terminal.
LEARN MORE