Apple Holiday Forecast Disappoints Given Samsung's Troubles
by
Investors expected a more optimistic forecast for iPhone sales

Shares decline in extended trading after earnings report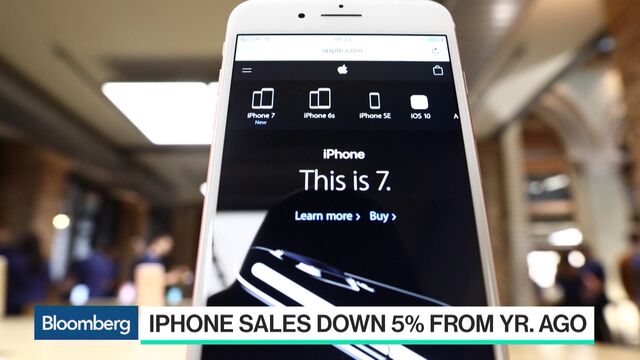 Apple Inc. investors expected the iPhone maker to take advantage of Samsung Electronics Co.'s weakness in the smartphone market and issue a robust holiday sales forecast. After the revenue projection was barely higher than analysts' estimates, shares fell as much as 4.2 percent Wednesday.
"There was expectation for better guidance in the context that Samsung isn't doing so well and these guys should be winning market share," said Abhey Lamba, an analyst at Mizuho Securities in San Francisco.
Faith in Apple's growth prospects -- already rattled by lower-priced competition and saturation in the smartphone market -- was shaken further Tuesday after the world's most valuable company reported its first annual sales decline since 2001. The company's revenue in China, the driving force behind stronger sales in 2015, declined 17 percent in this fiscal year, prompting analysts on a conference call to raise questions about the source of further expansion.
For a quick wrap of the analyst commentary today, click here.
Apple forecast sales of $76 billion to $78 billion for the last three months of 2016, compared with analysts' average estimate of $75.4 billion. The numbers don't seem to account for Samsung's decision earlier this month to stop manufacturing the Galaxy Note 7 after the phones and some replacement models overheated and caught fire. Samsung's most expensive handset was intended to compete with Apple's iPhone 7 for customers' holiday spending.

Apple Chief Financial Officer Luca Maestri embarked on a vigorous defense of the earnings forecast after facing repeated questions on the topic in a conference call with analysts.
Efforts to outperform last year's $75 billion in holiday quarter sales are rendered harder by a $548 million patent infringement payment Apple received from Samsung a year ago as well as the dollar's gains, Maestri said. Pent-up appetite for the larger screened iPhone 6 Plus and 6S Plus had also accounted for much of the demand from China, which has now been at least partially satisfied, he added. Those factors will make it more difficult for a year-to-year comparison, Maestri said in a telephone interview.
International sales accounted for almost two-thirds of Apple's $46.9 billion fiscal fourth-quarter revenue, the company reported.
Apple said its gross margin forecast, a closely watched measure of profitability, will be 38 percent to 38.5 percent in the three months through December. That compares with analysts' forecasts of 38.9 percent.
The guidance implies that profit next quarter will also disappoint, said Toni Sacconaghi, an analyst at Sanford C. Bernstein. The "stock has had a good run, so perhaps some hope the guide would be stronger," he said.
Apple shares gained 22 percent in the past three months, closing Tuesday at $118.25, before the earnings were announced, the highest price since December. The shares were down 2.9 percent to $114.89 at 10:46 a.m. in New York.
The average sales price of the iPhone fell to $619 in the fiscal fourth quarter from $670 a year earlier as some customers opted for the cheaper, smaller iPhone SE over the higher specification 6S and 7, which was introduced Sept. 16. The average price should recover by the end of the holiday quarter, Maestri said.
Even as Apple sold 45.5 million iPhones in the quarter, more than analysts' projected, Maestri and Chief Executive Officer Tim Cook said that the company had been unable to manufacture enough of the new iPhone 7.
"Demand is outstripping supply in the vast majority of places, particularly in the iPhone 7 Plus," Cook said, referring to the larger screen version of the new handset. "We're working very hard to get them into customers' hands as quickly as possible."
Before it's here, it's on the Bloomberg Terminal.
LEARN MORE