markets
Chipotle Plummets After Elusive Comeback Shakes Confidence
By
It's still suffering fallout from foodborne-illness outbreaks

Disappointing sales send the stock tumbling anew on Wednesday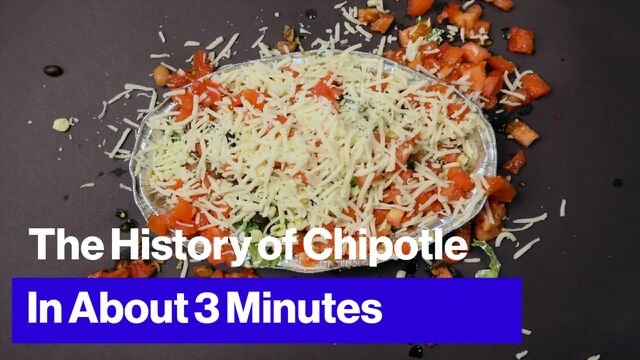 Chipotle Mexican Grill Inc. shares plunged the most in almost a year after disappointing third-quarter sales shook investor confidence that it can recover from the biggest crisis in its history.
The burrito chain posted a same-store sales drop of 21.9 percent in the period, worse than the 18.7 percent decrease projected by analysts. That sent the shares down as much as 10 percent to $364.20 on Wednesday in New York, the biggest intraday decline since November 2015.
Despite the bruising quarter, Chipotle management said on Tuesday that same-store sales will rebound sharply in 2017. The company expects growth in the high single digits as it puts a series of foodborne illnesses in the rearview mirror. But it may be hard for Chipotle's investors, whose ranks include the likes of billionaire Bill Ackman, to accept that outlook without more to go on.
"The outlook seems encouraging, but what's their level of confidence?" said Peter Saleh, an analyst at BTIG Research. "Right now, it's about gaining confidence in what they've given us for next year."

The performance renewed questions over when customers will finally start returning to Chipotle, whose sales and stock price were rocked by the foodborne outbreaks over the past year. The chain has tried to entice diners back by spending more on marketing and ads, establishing different food-safety protocols and introducing a loyalty program.
For a quick wrap of the analyst commentary today, click here.
It's also taking other steps to improve performance, including adding desserts and offloading its ShopHouse Southeast Asian Kitchen chain -- an offshoot that started in 2011. Two different desserts are still in the testing stage, and they aren't available in restaurants yet. To try to placate shareholders, meanwhile, the company will buy back $100 million in shares.
"We are earning back our customers' trust, and our research demonstrates that people are feeling better about our brand, and the quality of our food," co-Chief Executive Officer Steve Ells said in a statement.
Shares Drop
Investors, though, may need more convincing. Even before Wednesday's tumble, the shares had declined about 38 percent over the past 12 months.
Earnings will be $10 a share next year, the company said. Analysts estimated $9.88, on average, according to data compiled by Bloomberg.
Third-quarter net income fell to $7.8 million, or 27 cents a share, from $144.9 million, or $4.59, a year earlier. Revenue dropped to $1.04 billion, missing the $1.09 billion predicted by analysts.
As it plots a comeback, Chipotle remains under pressure from Ackman. His hedge fund, Pershing Square Holdings, now has the second-biggest Chipotle stake -- with 2.88 million shares as of Oct. 20. It isn't yet clear what actions Ackman will take to boost sales at Chipotle, but he's lobbied for operating improvements and profit-margin expansion at foodmaker Mondelez International Inc.
Looking Overseas?
To spur sales, Chipotle may be pushing more overseas. In September, the company named Jim Slater as its new managing director in Europe. Chipotle's international market, though, is still tiny with just a handful of locations in the U.K., France and Germany. In the U.S., it has more than 2,000 restaurants.
The company no longer plans to invest in its ShopHouse brand and will seek strategic alternatives for the 15-location chain, Chipotle said on Tuesday. But it will continue pursuing two other forays into pizza and burgers.
The company earlier this year announced its plan to open a burger chain under the name Tasty Made. The first location is slated to open Thursday in Lancaster, Ohio, and will have a limited menu of hamburgers, fries, milkshakes and soda. The prices will be competitive with fast-food chains, Chipotle said in a statement Wednesday.
"We are beginning to emerge from the most difficult year in our history," Ells said during a conference call. "While we're on the road to recovery, we're not satisfied."
(
Updates with Tasty Made details in second-to-last paragraph.
)
Before it's here, it's on the Bloomberg Terminal.
LEARN MORE