Carney Says Decision on BOE Term Is 'Entirely Personal'
By and
BOE governor testifies to Lords Economic Affairs committee

Comments follow barrage of attacks from U.K. politicians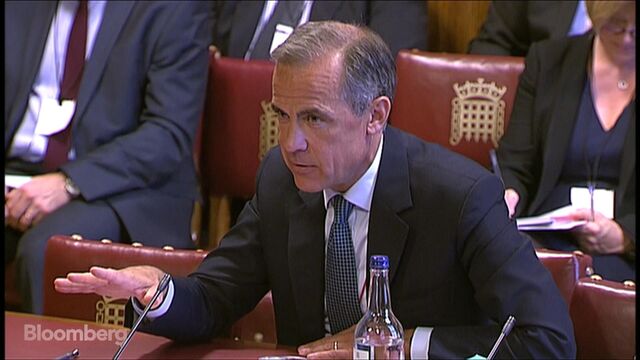 Mark Carney deflected questions on how long he'll stay at the Bank of England, saying his decision on whether to serve a full term as governor won't be a reflection on the U.K. government.
"It's an entirely personal decision," Carney said Tuesday in response to questions from the upper, unelected chamber of Parliament. "No one should read anything" into it in regards of government policy, he said, adding that the role of governor requires "total devotion."
The lead-up to his choice, which he's promised by the end of the year, has been colored by recent criticism from members of Prime Minister Theresa May's Conservative Party. Though his eight-year term runs through 2021, when he took the job three years ago he said he'd serve to 2018. That would be about midway through the two-year EU exit period if May sticks to a plan to trigger the process by March.
Inflation, meanwhile, is set to pick up, with the pound's 18 percent fall against the dollar since the Brexit vote starting to feed through to consumer prices. Carney said earlier this month that he'll tolerate an overshoot of the BOE's 2 percent inflation target in favor of supporting economic growth. Today he said "there are limits to the MPC's willingness to look through an overshoot of inflation."
The pound pared a drop against the dollar during his testimony and traded at $1.2188 as of 5:42 p.m. in London.
Market Perception
The recent move in sterling appears to be "the market's perception of what the potential relationship will be between the United Kingdom and Europe," he said. "It's a bit early to be making that judgment."
On Oct. 5, May said that "there have been some bad side effects" of loose monetary policy. While Chancellor of the Exchequer Philip Hammond has said that Carney is "doing a good job," former Conservative leader William Hague questioned monetary-policy independence and lawmaker Michael Gove, one of the leaders of the Brexit campaign, derided central bankers as experts who fail to acknowledge their mistakes.
"In terms of the comments of the prime minister, I entirely agree with the spirit," and they weren't an attack on the BOE's policies, Carney said. If there were a change to the bank's independence, "one would expect to see the emergence of a risk premium around U.K. assets," he said.
May's remarks about the bad effects of monetary policy mainly refer concerns that loose policy doesn't benefit all sectors of society equally. European Central Bank President Mario Draghi, speaking separately in Berlin on Tuesday, also addressed those concerns. While low rates aren't "costless," central banks are actually protecting savers when they support the economy, Draghi said.
"We are mindful of the side effects, we did look at and discuss with the financial policy committee impacts on pension funds, impacts on insurance companies," Carney told the House of Lords.
The BOE's nine-member Monetary Policy Committee starts its next round of meetings Wednesday, and will announce its monetary policy decision on Nov. 3, when it also publishes new forecasts on growth and inflation. Traders are barely pricing in further easing in the coming months, and HSBC dropped its prediction Tuesday for a rate cut in November.