Augmented Reality Startup Daqri Said to Seek Up to $200 Million
by and
Daqri makes augmented reality headsets for industrial workers

Secretive startup to use funds to expand in new tech field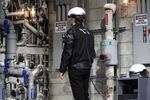 Daqri, a Los Angeles-based maker of augmented reality systems for workplaces, is seeking to raise as much as $200 million in private funding, according to people familiar with the matter.
The company plans to use the money to develop its augmented reality helmets, said the people, who asked not to be identified because the information is private.
Daqri sells an astronaut-like safety helmet packed with sensors and display technology that retails for $15,000, including customer service. It's marketed for industrial workers as a tool to improve productivity and safety by allowing wearers to see and manipulate digital images, such as guided work instructions. Those images are superimposed on top of their real-life surroundings.
A representative for Daqri declined to comment.
If it hits $200 million, the funding round would be one of the largest cash injections into a young field. Virtual and augmented reality -- technology that displays interactive digital images over the physical world -- has piqued interest from technology companies and investors but is yet to find a proven market.
Facebook Inc.'s Oculus Rift, Sony Corp. and Alphabet Inc. have all made forays into developing technology for mainstream users. Microsoft Corp. is making a similar product to Daqri's helmet: its HoloLens headset device is expected to ship for $3,000 later this year.
Daqri, which was founded in 2010, has only publicly acknowledged raising $15 million in private equity so far, in a round from 2013. 
Magic Leap, another secretive startup based in Florida, has raised more than $1.3 billion in private financing to work on building an augmented reality head device. Its latest cash injection -- $793.5 million from the likes of Alibaba Group Holding Ltd., Alphabet's Google and Qualcomm Inc. -- valued the company at $4.5 billion.
Before it's here, it's on the Bloomberg Terminal.
LEARN MORE