markets
Turkey's First IPO in Six Months Derailed by Cyber Attacks, Fed
By
Share sale was poised to be the nation's biggest in 3 years

Phone company had planned to start trading on Thursday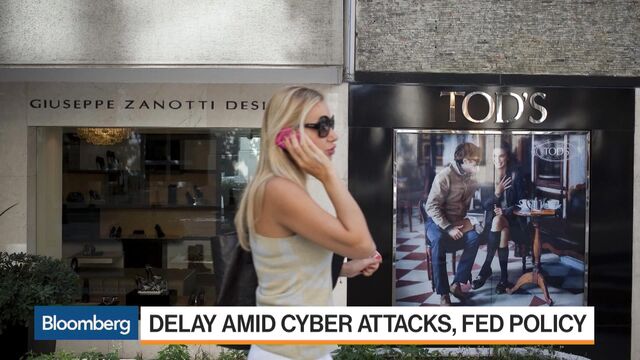 Turkey's biggest initial public offering in three years has been postponed just days before shares were due to start trading.
Turkcell Iletisim Hizmetleri AS, the country's largest wireless operator, said it would wait for "a time when markets come to a more secure and stable state" before selling a stake in Global Tower, citing cyber attacks targeting popular websites last week, risks related to the U.S. elections and Federal Reserve rate policy.
Global Tower was due to complete book-building to raise as much as 385 million liras ($125 million) on Friday, with trading to start on Oct. 27. Citigroup Inc. and the Istanbul-based brokerage, Is Investment, were due to manage the share sale.
The delay in what would have been Turkey's first IPO in six months underscores how investor confidence in the nation's assets remains impaired following an attempted coup on July 15, as well as security risks related to the war in neighboring Syria. The benchmark Borsa Istanbul 100 Index has fallen about 9 percent in dollar terms since mid-July, making it one of the six worst-performing stock markets worldwide.

"The market is really jittery ahead of the U.S. elections and the Fed, and investors really demand a discount," said Anastasia Levashova, a fund manager at Blackfriars Asset Management Ltd. in London, who has met with executives at the company. "It seems Turkcell wasn't willing to sell it for a huge" discount, she said.
The number of companies following through on IPOs in Turkey has dwindled. Two sales have been completed so far this year, the least since 2009. That compares with 26 five years ago.
Real estate fund Via GYO, one of the two companies to begin trading in 2016, was delisted by the Capital Markets Board within three months of its IPO for alleged ties with a movement inspired by Islamic preacher Fethullah Gulen, whom President Recep Tayyip Erdogan blames for the failed coup. Via denied the allegations.
U.S. Demand
Global Tower, formally known as Kule Hizmet ve Isletmecilik AS, said the demand from the international institutional investors was "satisfactory," though relatively lower interest from the U.S. led to the decision to hold back the offering.
"Overall, the level of interest from U.K., Europe and Turkey was comparatively higher than that of the United States," Global Tower's Chief Executive Officer Nihat Narin said by phone Monday. "Our understanding is that the cyber-attacks have negatively impacted our process, limiting access to the Internet."
The cyber attack coincided with the last day of book-building. Millions of internet users lost access to some of the world's most popular websites Friday as hackers hammered servers along the U.S. East Coast with phony traffic until they crashed, then moved westward. Among the affected sites were Twitter, Spotify, Reddit, CNN, Etsy and The New York Times.
Global Tower will restart the IPO once the markets become more "stable and reliable," Narin said. 
"We will wait until after the U.S. presidential elections and Fed interest rate decision, both of which have an impact on the global financial markets."
(
Adds comment from the CEO, details of cyber attacks in the U.S. last week.
)
Before it's here, it's on the Bloomberg Terminal.
LEARN MORE