Peter Thiel's Politics Become a Deal-Killer in Silicon Valley
By
Seed fund Backstage Capital rejects investor citing Thiel ties

Tech diversity group also disassociates with Trump supporters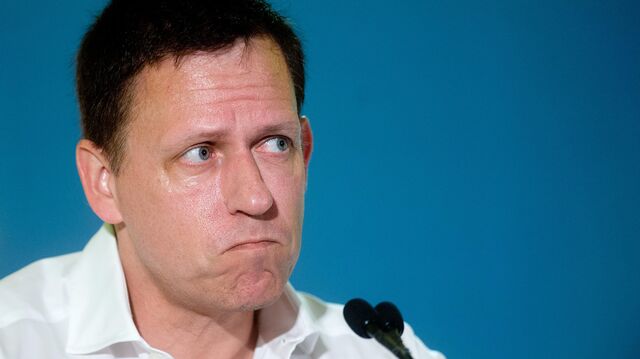 The divisions over Peter Thiel and his support for Donald Trump are deepening in Silicon Valley.
Dismay over the billionaire venture capitalist's stance on the Republican candidate has been showing up all across the technology landscape -- from a startup founder saying he regrets taking a Trump backer's money to a prominent diversity group refusing to work with any company associated with Thiel. In one recent case, it also throttled the flow of cash into a fledgling VC fund.
Arlan Hamilton, managing partner at Backstage Capital, said she rejected a potential investor because the person refused to disavow and sever ties with Thiel, a co-founder of PayPal and Palantir Technologies Inc. She declined to name the investor, saying the person offered to put $500,000 in her Los Angeles-based technology seed fund.
While the amount is tiny by industry standards, it is significant to Hamilton's year-old seed fund, which has about $5 million in commitments, according to a report by Inc. The stymied deal reflects the growing divisiveness in the run up to the U.S. presidential election, which is spilling into everyday business. Hamilton took to Twitter to air her political protest.
"Because of my Peter Thiel stance, my company just lost half a million $ in new funding," Hamilton wrote on Twitter. "Couldn't have Thiel money flowing through our company. Hard problem. Easy decision."
Thiel has become one of the Valley's most controversial figures this year after backing the Republican presidential nominee. He has steadily increased his support for Trump since May, when he signed on as a delegate. Thiel endorsed Trump at the Republican National Convention, is making a campaign donation of $1.25 million and will give a speech in Washington on Oct. 31 to address the election. A spokesman for Thiel didn't respond to a request for comment.
Thiel's political views put him in the minority among tech leaders and venture investors. A letter signed by more than 100 tech professionals called a Trump presidency a "disaster for innovation." Ryan Petersen, CEO of freight software provider Flexport, said at a conference in June that he would have "probably not" taken cash from Thiel's Founders Fund if he knew of the investor's political affiliation at the time. Bloomberg Beta, the venture capital arm of Bloomberg LP, is also an investor in Flexport.
As Thiel remains steadfast in his support for Trump even as the candidate drops in the polls, the VC has become a target of scorn from many of his tech peers. Ellen Pao, a former Kleiner Perkins Caufield & Byers partner, said her diversity group Project Include would sever all ties with tech incubator Y Combinator because Thiel is a part-time partner there. Y Combinator President Sam Altman said while he disagrees with Thiel and will vote for Hillary Clinton, he stands by Thiel's right to hold opposing political views.
Silicon Valley has disavowed Trump for his comments about women and his stance on immigration, two hot-button issues in the tech industry. VC firm Charles River Ventures recently condemned Trump when it created a program designed to help immigrant entrepreneurs. Hamilton's Backstage Capital invests in entrepreneurs who are underrepresented in the Valley, including women, minorities and lesbian, gay, bisexual and transgender. The firm has backed 20 startups, including makers of background noise reduction software and wearable tech jewelry, Hamilton said.
Backstage Capital's investors include Marc Andreessen, Swati Mylavarapu of Kleiner Perkins, Chris Sacca of Lowercase Capital and his wife Crystal English, David Rose of Rose Tech Ventures and Box Inc. Chief Executive Officer Aaron Levie, Hamilton said.
(A previous version corrected the spelling of Thiel in the seventh paragraph.)
Before it's here, it's on the Bloomberg Terminal.
LEARN MORE