Obama Popularity, Clinton Muscle Lift Democrats' Senate Hopes in North Carolina
Former state lawmaker Deborah Ross is gaining on Senator Richard Burr in a race that's very much about Donald Trump.
By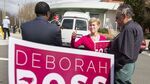 Democrats in North Carolina are betting that the conditions are right to retake a crucial Senate seat. 
Deborah Ross, looking to unseat Republican Richard Burr, is reaping the benefits of a presidential election year that Kay Hagan lacked when she lost narrowly to Republican Thom Tillis in the 2014 mid-term—a well-organized candidate at the top of the ticket, increased turnout, and the resurgent popularity of President Barack Obama.
"He's always done all he could do to expand opportunities for students, for workers, and for our families," Ross, a former state legislator, said earlier this month at a rally with Obama. "He's worked hard to lift people up, and that's exactly what I want to do for you as your U.S. senator."
Ross, 53, trails Burr by an average of 2.8 percent points, according to RealClearPolitics. The race is considered a toss-up and is likely to remain deadlocked up until Election Day. But in a battleground state where presidential nominee Hillary Clinton's campaign has invested heavily in television advertising and coordinated with local party operatives, the Democratic organizational advantage and dominance on the airwaves may tip the scales. 
A Rising Tide
"The Hillary Clinton team has been a tide that is raising all the boats for every candidate up and down the ballot," said Brad Crone, a Raleigh-based Democratic strategist. "The turnout mechanism that she has run is unprecedented, I think more sophisticated than President Obama ran in 2008." Crone said the difference is Clinton's use of data, and that the campaign has targeted "soft Republican" voters, including registered Republicans who live in the same household as an unaffiliated voter.

North Carolina two years ago staged the most expensive Senate race of the cycle as outside groups poured tens of millions of dollars into the fight between Hagan, a first-term incumbent, and Tillis, speaker of the state House of Representatives. The cycle's focus on national security and the glitch-riddled rollout of Obamacare created a toxic environment for Democrats like Hagan, who avoided the president on the trail. 
Democrats tend to do better in presidential election years, when turnout is higher. But even with a record-breaking midterm turnout in North Carolina in 2014, when 2.7 million votes were cast, Hagan lost by 45,000 votes. In 2008, when 4.3 million ballots were cast in the state, Hagan, then a little-known local politician, like Ross, was buoyed by Obama's narrow victory in the state, and beat Republican Senator Elizabeth Dole by 360,000 votes. 
History could repeat in November. Ross and other Democratic challengers like gubernatorial candidate Roy Cooper are benefiting from Obama's improved popularity, and Clinton currently leads Republican presidential nominee Donald Trump in the state by an average of 2.5 percentage points in a three-way race that also includes Libertarian Gary Johnson. While Clinton isn't popular in North Carolina, she's less unpopular than Trump, has a better organized ground game, and has spent more on television advertisements.
Burr's re-election campaign has relied on the Republican National Committee to supplement its efforts, while Ross and other Democratic candidates are part of a coordinated campaign run by the Clinton campaign, which has 33 offices and 300 paid staffers in the state. 
Clinton personally stumped for Ross at her rallies in Raleigh and Charlotte on Sunday, saying Ross has spent her career opening opportunities for people and that unlike Burr, she has not been afraid to stand up to Trump.
"She knows he's wrong for North Carolina, wrong for America," Clinton said in Charlotte. "And people of courage and principle of both parties have stood up to reject his dangerous, divisive agenda."
The Trump Effect
In a bit of bad timing, Burr, 60, was named as a national security adviser to Trump on Oct. 7, minutes before the release of the now infamous Access Hollywood video. Burr's been forced to defend his support for Trump in the face of the video, in which Trump brags about being able to grope women, as well as given Trump's stance on Vladimir Putin and Russia. 
During this month's candidates' debate, the only one between the pair, Burr, chair of the Senate Intelligence Committee, struggled to explain why the Republican nominee refuses to say that Russia is responsible for the WikiLeaks hacks of Democrats, despite reports to that effect from the intelligence community. "I'm not in a position that I could make a comment on it," Burr said. 
Critics also note that Burr waited until late August to begin airing ads in the race, and didn't really begin campaigning until October.
"I am surprised that Senator Burr had the opportunity to define the race early and really didn't take advantage of that," Crone said, adding that Burr went into June and July with a significant cash-on-hand advantage over Ross. 
Burr's slow start gave Ross time to prove to outside groups like the Democratic Senatorial Campaign Committee that she was worthy of their investment. The DSCC went on the air in North Carolina in September, as did Women Vote!, the independent expenditure arm of EMILY's List. In early October, AFSCME and SEIU started running ads as well, and the League of Conservation Voters announced last week that it would spend $3 million on TV ads. Two-thirds of of all ads in the North Carolina Senate race have come from Democrats, according to data from Kantar Media/CMAG. That spending has been complemented by Clinton's own efforts. As of Oct. 11, Clinton has spent $14.3 million on television ads in the state, at least twice as much as Trump. 
The Democratic groups supporting Ross have focused on the same message: tying Burr to special interests and accusing him of using his two decades in Washington, in the Senate and the House, to grow his own personal wealth. "You don't have a lot to run on when you've spent 20 years making Washington work for you, so Senator Burr is resorting to the worst-of-politics attacks to save his own career," said DSCC national press secretary Lauren Passalacqua. 
Late last week, after multiple accusations surfaced of inappropriate sexual conduct against Trump (which he denies), Ross' campaign aired its first ad tying Burr to Trump in which a narrator characterizes that alliance as Burr putting "politics and himself" ahead of the the interests of North Carolina voters.
Paul Shumaker, a North Carolina GOP strategist and Burr adviser, says neither candidate is eager to discuss their own party's presidential nominee. 
"It's clear that there are problems with both candidates, but that's where he is, just like he's not seen Deborah Ross defend Hillary Clinton," Shumaker said. "She's still highly unfavorable, but the Ross people prefer not to talk about Hillary Clinton, they would prefer to talk about Donald Trump." 
—With assistance from Mark Niquette.
Before it's here, it's on the Bloomberg Terminal.
LEARN MORE