AT&T Chief Who Gives Republican May Need Democrats for Deal
By and
AT&T's Stephenson gives 281-to-1 to Republican campaigns

Stephenson giving ramped up after T-Mobile disappointment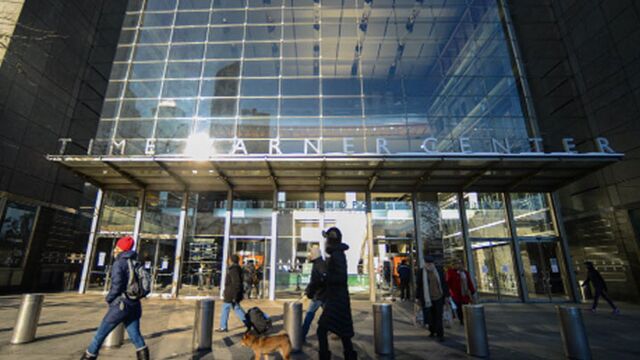 After Democrats scotched his planned merger with a smaller wireless carrier in 2011, AT&T Inc. Chief Executive Officer Randall Stephenson made his largest political donation in decades -- to Republicans.
That $30,800 check marked the flowering of a prolific donor. Since then, Stephenson has given $281,100 of his own money to Republicans, including three big payments that netted $94,800 for the party's national groups, according to campaign disclosure data compiled by the Center for Responsive Politics. Democrats got one contribution: $1,000 to a Kentucky party group.
Now, AT&T needs Washington's approval for its proposed purchase of Time Warner Inc. With the regulatory review expected to extend into next year and Hillary Clinton leading in polls, the fate of the $85.4 billion deal could lie with Democrats she appoints as agency leaders.
"If a CEO needs Democrats' help on an issue, it would be pretty stupid to fund Republicans by a 281-to-1 margin," Lee Drutman, a senior fellow in the political reform program at the New America policy group, said in an e-mail.
Bloomberg Intelligence on FCC's role in review of proposed merger
While AT&T and Time Warner don't directly compete with each other, critics of the deal say it would concentrate too much power over the media industry, since AT&T is already the biggest provider of pay-TV service in the country. Republican presidential candidate Donald Trump said over the weekend he'd try to block the deal if elected.
Democrats added a commitment to toughen antitrust enforcement in their party platform this year for the first time since 1988, while Clinton in campaign literature calls for "reinvigorating" antitrust enforcement. Clinton "certainly thinks regulators should look at it," spokesman Brian Fallon told reporters.
Senior senators of both parties called for regulatory scrutiny of the deal, with the Judiciary Committee chairman, Republican Senator Chuck Grassley, calling for a "robust review" and the panel's top Democrat, Vermont Senator Patrick Leahy, saying "this proposed massive consolidation of distribution and content raises potentially serious questions about competition, consumer choice, and privacy." Senators Mike Lee, a Republican from Utah, and Amy Klobuchar, a Minnesota Democrat, said in a joint statement Sunday that the deal raised "significant antitrust issues." They lead the Senate antitrust panel, which plans to hold a hearing on the proposed merger some time next month.
'Guided by Facts'
"We are looking forward to the regulatory process which is going to be guided by facts and guided by the law," AT&T's General Counsel David McAtee told investors Monday.
Stephenson's not alone among AT&T workers in favoring Republicans. Company employees, individually and through the company's political action committee, and their family members have given $19.6 million to federal Republican candidates and groups since 2009, nearly twice as much as the $10.1 million they gave to Democrats over the same period, according to data from the Center for Responsive Politics.
In the presidential race, AT&T employees have given $197,000 to Clinton, the Democrat. Time Warner workers have given her $391,760. Trump has gotten $17,000 from AT&T employees and $850 from Time Warner.
Time Warner Deal Skeptics Keep Shares 19% Below AT&T's Proposal
Stephenson didn't donate to either current presidential candidate.
Michael Balmoris, a Washington-based spokesman for AT&T, didn't return a telephone call and e-mail seeking comment on the campaign donations.
AT&T abandoned its $39 billion bid to acquire wireless provider T-Mobile US Inc. in December 2011 following opposition from the Obama administration's Justice Department and the Federal Communications Commission. Stephenson's $30,800 contribution to the Republican National Committee was made in February 2012.
Stephenson's counterpart at Time Warner, Jeffrey Bewkes,  hasn't contributed to a campaign since 2008, but when he did contribute, he favored Democrats, giving them $39,000 compared to $2,500 for Republicans.
Time Warner's employees and their family members have favored Democrats, giving on average 81 percent of their contributions to the party's candidates and committees since 2009.
"You'd have to be a real innocent to think those contributions don't influence folks--of both parties," said Michael Copps, a former FCC commissioner and special adviser to Common Cause, which opposes the merger. "But realize the tremendous money, exceeding even campaign funds, that go into AT&T's lobbying and legal work. The time the company can spend with regulators and the legal resources they can deploy give them a huge advantage."
Stephenson's Criticism
For Stephenson, the scrutiny is one more sign that Washington has more effect on his business than he would like. Speaking to investors last month, he cited the FCC's decision to regulate internet service providers under so-called net neutrality rules.
"There has been something profound happened this year that causes us to think more about who the chairman of the FCC or any bureaucracy is than probably a business person should be thinking," Stephenson said Sept. 21.
It's hard to say what motives lie behind CEOs' political contributions, said Meredith McGehee, chief of policy for the group Issue One, which works to reduce the power of money in politics.
As for broader political spending by the company, such as lobbying expenses, she said, "It's not buying a result. But if you're not in there, they're not hearing your side."
Donations' Role
Some analysts said Stephenson's donations won't play a role.
"It shows us that he exercises his right to participate in donating to political parties," said Roger Entner, an analyst with Recon Analytics LLC. "I don't think that will make a difference. There are much bigger things at play."
A Bloomberg database of congressional periodic financial transaction reports shows that 31 current legislators bought AT&T or Time Warner stock since June 2011. Of these 17, still held a position in one of the companies as of their most recent annual financial disclosure.
Two lawmakers, Democrat Senator Sheldon Whitehouse and Democrat Representative Lois Frankel, owned between $1 and $15,000 worth of Time Warner shares. Whitehouse and 15 others are invested in AT&T. Republican Representative Jim Sensenbrenner held the most shares of AT&T among current congressmen and women owning between 250,001 and 500,000 dollars worth of the company's stock, according to the disclosures, which call for holdings to be expressed in a range of values.
— With assistance by Brandon Kochkodin
Before it's here, it's on the Bloomberg Terminal.
LEARN MORE