U.S. ELECTION WRAP: Rubio's Hold on Florida Senate Seat in Question
Republican candidates across the country are nervous about what a possible big Clinton victory could mean for their own electoral fates.
By and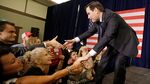 Florida Sen. Marco Rubio's drive to win a second term was gaining ground in the early fall, a bright spot for Republicans increasingly at risk of losing control of the chamber.
But with less than three weeks before Election Day, Rubio's chances have dimmed a bit, according to Larry Sabato's Crystal Ball analysis from University of Virginia's Center for Politics
The Florida Senate race is now rated "Leans Republican" instead of "Likely Republican," Sabato wrote on Thursday, citing "positive signs" for Hillary Clinton in the state and a new poll showing Rubio only up by 2 percentage points

"If we see a surprise in the Senate on election night, it could come in Florida," Sabato said while emphasizing that that Rubio is still favored to beat his Democratic challenger, Rep. Patrick Murphy

Rubio and Murphy are in a statistical tie, according to a Quinnipiac University poll released earlier this week

Florida's Senate race is too close to predict as 49% of likely voters back Rubio and 47% Murphy, a difference within the survey's 3.8-point margin of error: Quinnipiac

Cook Political Report has the Rubio-Murphy contest as one of the seven "toss up" states that could determine which party will lead a new Senate
Clinton is leading Trump by 4 points in Florida, according to latest Quinnipiac poll; while the same poll had Clinton ahead by 5 points two weeks ago, Clinton has seen a notable improvement among crucial independent voters, who now favor the Democratic nominee by 46% to Trump's 38%; in the same poll earlier this month, Trump led among independents 42% to Clinton's 39%

FLORIDA IN FOCUS
About one-quarter of Florida's registered voters are independents, according to Susan MacManus, a political science professor at Tampa-based University of South Florida
Republican candidates across the country are nervous about what a possible big Clinton victory could mean for their own electoral fates
The more Trump loses ground, the more Rubio should be nervous, Tampa Bay Times' political editor Adam C. Smith wrote

Rubio, a failed 2016 GOP presidential candidate, could probably survive Clinton carrying Florida by 2 points, but not necessarily 5, according to Smith
The Democratic Senatorial Campaign Committee and the Democrats' Senate Majority PAC, which pulled money out of the race, may wake up on Nov. 9 to a slim Rubio victory and regret giving up on Murphy: Smith

President Obama's campaign appearance for Clinton and Murphy in South Florida on Thursday underscored the state's importance
Obama during rally urged voters to back Murphy and attacked Rubio for still supporting Trump

"How can you call him a con artist and dangerous and object to all the controversial things he says" but still say you will vote for him?: Obama
Meanwhile, Florida Democrats are trolling Rubio with a new website for what they call the GOP senator's "inevitable 2020 presidential campaign," Miami Herald reported

The mock site comes as Rubio this week said he would serve his entire Senate term if re-elected
Rubio's camp called the jab a "desperate gimmick after the national Democratic Party abandoned Patrick Murphy and canceled tens of millions of (dollars in) ads it planned to run on his behalf"
Rubio has been the target of jokes and criticism for previously promising not to seek Senate re-election and complaining about the job; after he lost his bid for the GOP presidential nomination to Trump, Rubio reversed course

'TRUMP TV' SPECULATION
Trump's ear for compelling television was on display during the third debate as he said he'll keep Americans in "suspense" about whether or not he will accept Election Day results

Trump has since clarified that he would accept a "clear" outcome

For some observers, Trump's comment—reminiscent of a "stay tuned" TV-show teaser—added to speculation that the former reality-television star has big media aspirations should he lose on Nov. 8

"Donald Trump I'm sure wants to have a powerful media presence after this is over," Robert Thompson, director of Syracuse University's Bleier Center for Television and Popular Culture, said in a phone interview
As far as speculation that Trump and his allies—notably campaign CEO Steve Bannon, formerly chairman of the far-right Breitbart News—want to launch a Trump-branded TV channel, that would pose a tough challenge in an already-crowded TV news market, Thompson said

Speculation about the creation of a Trump TV network after the election was fueled earlier this week by a Financial Times report that Trump son-in-law and adviser Jared Kushner had held informal talks about the idea

Bannon responded to CNN's question on Wednesday about the possibility this way: "Trump is an entrepreneur"

The Trump campaign streamed the debate live and produced post-debate coverage on its Facebook page; the production could be the first glimpse of a Trump-branded TV-network, NPR reported

DEBATE FALLOUT
Trump on Thursday clarified his stance on accepting results on Election Day, saying he would acknowledge a "clear" outcome; he also appeared to poke fun at the uproar he caused after saying during Wednesday night's debate that he would keep the country in "suspense"

"I will totally accept the results of this great and historic presidential election—if I win," Trump said with a smirk, prompting a huge cheer from an Ohio crowd of about 600 people at a local fairground
Obama, at a campaign rally for Clinton in Florida, blasted Trump's remark, saying the issue of the legitimacy of U.S. elections is not a "joking matter"

Trump's initial refusal to say he would accept the outcome in Nov. 8, a position Clinton called "horrifying," dominated post-debate commentary

Amazon.com CEO Jeff Bezos said Trump is "eroding our democracy around the edges" by threatening retribution against those critical of him and hinting that he wouldn't gracefully accept a loss on election day
Bezos, the world's third-wealthiest man and owner of the Washington Post, said at a Vanity Fair event in San Francisco that he mistakenly took Trump's candidacy lightly late last year when he sent a tweet that joked about sending Trump to space; the two have been feuding on Twitter since last December; see full Bloomberg story here

The 2008 GOP presidential nominee, Sen. John McCain, weighed in by saying respecting election integrity is the "American way"
Republican Sens. Jeff Flake and Lindsey Graham also decried Trump's remarks, while Trump supporter Sen. Jeff Sessions said "much too much" is being made out of what Trump said
Director of National Intelligence James Clapper said it would be "very difficult" to alter election ballots 
Former Republican congressman Joe Scarborough, host of MSNBC's "Morning Joe," also said Trump critics are overreacting, saying any candidate would wait to concede if there were evidence of voting problems
For a look at the overall debate by the numbers, see a Bloomberg Politics analysis of all three debates here

ON THE TRAIL
Trump stumped in Ohio as a new Suffolk University Poll found him tied with Clinton at 45%
Clinton gets back on the trail Friday with an appearance in Cleveland
First lady Michelle Obama headlines an early vote rally in Phoenix as the Clinton campaign seeks to make further gains in Arizona

The state, typically a safe bet for Republicans now "Leans Democratic" in the presidential race, a shift from previous rating of  "Leans Republican," according to Sabato's Crystal Ball

ETC
Fox News Channel drew the largest audience among broadcast and cable TV networks for Wednesday's third and final presidential debate between Donald Trump and Hillary Clinton, attracting about 11.3m viewers
Neither Trump nor Clinton met expectations they'd target Wall Street and bash banks during their three presidential debates, pointing to relative victory for financial cos., analysts said
Russian President Vladimir Putin is "weaponizing" WikiLeaks to help Trump, Clinton senior policy adviser Jake Sullivan said
The foreign exchange market no longer sees the U.S. election as an issue as Trump did not secure the "urgently required, spectacular turn in fate" during the last presidential debate, Commerzbank analysts including Lutz Karpowitz wrote in a note to clients
David Axelrod, chief strategist for the Obama 2008 and 2012 campaigns, joins this week's "Culture Caucus" podcast by Bloomberg Politics; click here for more

CONGRESSIONAL ELECTIONS
SENATE RACES (Republicans hold 54-46 majority)
MO: End Citizens United, which supports more campaign-finance regulation, released TV ad referring to Republican Sen. Roy Blunt as "the worst of Washington"

Ad cites Blunt's close ties to lobbyists and his unsuccessful effort to insert language aiding tobacco industry into law creating Homeland Security Department
Blunt opposed by Democratic Sec. of State Jason Kander in race that political analysis organizations say has no clear favorite
NC: Democratic Senatorial Campaign Cmte, which supports ex-state legislator Deborah Ross, aired TV ad saying Republican Sen. Richard Burr has spent "20 years in Washington serving himself"

Ad says Burr "wrote a plan to privatize Medicare;" it refers to his co-authorship of 2012 proposal to turn Medicare into a premium support system and make other changes
Ad notes Burr was among just three senators who voted against 2012 law banning Congress from insider stock trading; Burr said the law was unnecessary
Ex-UN Ambassador John Bolton's super-PAC spent $250k in Sept. to aid Burr and also raised $500k from billionaire Robert Mercer and $100k from Uline CEO Richard Uihlein, according to FEC filing
NH: Senate Majority PAC, a Democratic super-PAC aiding Gov. Maggie Hassan, released TV ad linking Republican Sen. Kelly Ayotte to Trump and alleging she's been "playing politics and flip flopping around" after repudiating Trump a few days after she said he "absolutely" could be a role model for children

Priorities USA Action, a pro-Clinton super-PAC that's now helping Democratic Senate candidates, released similar ad linking Ayotte to Trump as narrator says she's "all politics, no principles"
Granite State Solutions, a super-PAC backing Ayotte, raised $7.35m in Sept., according to FEC filing; almost all of it, $7.3m, came from Senate Leadership Fund, a super-PAC aligned with GOP leaders
Related: Clinton-Backing Group to Air Senate Ads in Pa., N.H.: Politico
PA: Priorities USA Action released TV ad attacking the anti-abortion positions of Trump and Republican Sen. Pat Toomey, saying they're "just wrong for the women of Pennsylvania"

Ad first aired this AM on Philadelphia's NBC affiliate, according to ad-tracker Kantar Media/CMAG; Toomey in tight race with Democrat Katie McGinty
WI: Republican Sen. Ron Johnson's campaign released TV ad alleging Democratic ex-Sen. Russ Feingold "voted to increase taxes on Social Security"

Johnson's ad cites Feingold's 1993 vote for President Bill Clinton's economic recovery package, which increased level of income subject to Social Security taxes
HOUSE RACES (Republicans hold 246-186 majority)
RATINGS CHANGES: Larry Sabato's Crystal Ball changed ratings in 11 districts, 9 in favor of Democrats and 2 in favor of Republicans

CA-10, CA-25, CA-49, ME-02, VA-10 moved to "Toss-up" from "Leans Republican"
PA-16, an open Republican-held district, now rated "Leans Republican" vs. "Likely Republican"
IN-02 and MI-08 moved to "Likely Republican" from "Safe Republican"
CA-31, the only Democratic-held district among the 11, shifted to "Safe Democratic" from "Likely Democratic"
NY-01 and NY-24 shifted to "Leans Republican" from "Toss-up" meaning GOP incumbents there now favored to win
CO-06: Democratic state Sen. Morgan Carroll and the Democratic Congressional Campaign Cmte released TV ad attacking Republican Rep. Mike Coffman's votes against increasing the minimum wage and Trump mocking the mannerisms of disabled reporter

"Unlike Mike Coffman and Donald Trump, I'll fight for decent and fair wages" and "these guys gotta go," Carroll says in the ad
Coffman and Carroll will debate tonight at 9pm eastern time/7pm local time on KUSA-TV
FL-13: Democrat Charlie Crist's campaign released TV ad highlighting endorsement from Obama, who says Crist will "fight to protect Social Security and Medicare, defend women's health care and Planned Parenthood, and take care of our veterans"

Crist, Fla.'s Republican governor from 2007 to 2011, became an independent in 2010 and then a Democrat in 2012, when he backed Obama for re-election
Crist opposing Republican Rep. David Jolly in redrawn Pinellas County district where Obama would have won 55% in 2012 election, compared with 50% in district where Jolly won in 2014
League of Conservation Voters will spend $200k on anti-Jolly mail, according to release
IN-09: Democrat Shelli Yoder and DCCC released TV ad referring to Republican businessman Trey Hollingsworth as "Tennessee Trey" in effort to portray him as a carpetbagger

Hollingsworth's campaign released TV ad attacking Yoder's record on taxes on Monroe County Council while also linking her to Clinton and House Minority Leader Nancy Pelosi
Yoder and Hollingsworth are seeking Republican-leaning southern Indiana district of Republican Rep. Todd Young, who's running for Senate
NY-25: Democratic Rep. Louise Slaughter's campaign aired TV ad linking Republican Mark Assini to Trump and invoking Trump's lewd 2005 comments about women

Slaughter and Assini in rematch of 2014 race that Slaughter won by <1 ppt in Rochester-area district
Before it's here, it's on the Bloomberg Terminal.
LEARN MORE