Trump Vows Election-Day Suspense Without Seeking Voters He Needs to Win
The answer may have been less about engineering a White House win than jolting his loyal following one last time.
By and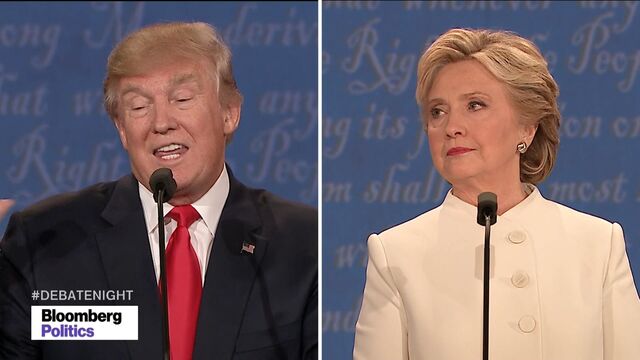 "I'll keep you in suspense."
Donald Trump offered those words in response to a question at Wednesday's third and final presidential debate about whether he planned to honor the results of the Nov. 8 election. The answer, and his performance as a whole, may have been less about engineering a White House win than jolting his loyal following one last time before Election Day with an unprecedented anti-establishment move.
Trump twice refused to say he would honor the election results if he is not declared the winner, fomenting the idea of a rigged system in a way sure to further isolate him from many fellow Republicans who could help him close the significant gap with Democratic rival Hillary Clinton.
"I will tell you at the time," he told moderator Chris Wallace, an answer premised on his view that voter fraud might skew the results against him, despite scant evidence supporting such a belief.
As the debate wrapped, several of Trump's closest advisers rushed to contradict him to reporters in the spin room, a recognition of the potential damage of Trump's words. Meanwhile, his Facebook page offered its own live newscast pitched as an alternative to "biased, mainstream media reporting."
The dual scenes—taking place in the same room at the University of Las Vegas Wednesday night—mirrored the profoundly ambiguous signals sent by the GOP nominee: Is he trying to beat Clinton or prolong his political power in defeat?
If Trump loses, said surrogate Ben Carson, "I think he'll still have influence" over the party. A senior campaign adviser said recently that Trump wants to maximize support among hardcore Republican voters to help maintain his grip over the party regardless of the outcome of the election. And a pre-debate poll by Bloomberg Politics found that likely voters who are Republican or lean toward the GOP are more aligned with Trump's vision of the party than House Speaker Paul Ryan's, even as other data from the poll cast doubt on whether the party would embrace Trump's leadership if Clinton wins.

Even as polls have showed Clinton widening her lead in the national horse race in recent weeks, Trump has spent most of the debates defending himself while using rhetoric that may further alienate college-educated whites, Hispanics, and women. The strategy has strengthened his support among Republicans at the expense of voters he needs for a victory.
Early signs indicate Trump didn't help his already perilous standing in the race. A CNN poll of registered voters who watched the debate found that Clinton won by a margin of 52 percent to 39 percent; a YouGov poll said she won 49 percent to 39 percent. Mexico's peso traded in line with emerging-market peers after the debate, signaling traders saw nothing that changed their view of who is likely to win the election.
On Thursday, Trump appeared to call those wins into question, tweeting that "she was inappropriately given the debate questions." It was not immediately clear if Trump was referring to Wednesday's debate or a CNN town hall during the Democratic primary, before which Clinton's campaign appeared to receive advance notice of questions, according to allegedly leaked documents from her campaign which have not been authenticated. Donna Brazile, a onetime CNN contributor who seemed to pass along a question that would be asked and has since become Democratic National Committee chair, has denied she even had access to them.
Struggling with female voters, Trump called Clinton "such a nasty woman" and expressed confidence that abortion-rights decision Roe v. Wade would be overturned as a result of his administration. Struggling with Hispanics, he said of undocumented immigrants, "We have some bad hombres here, and we're going to get them out."
Struggling with college-educated voters concerned with his temperament, Trump repeatedly interjected "wrong!" as Clinton spoke. He also denied saying and doing things that have been well documented, from mocking a disabled reporter to previously supporting the invasion of Iraq to using contributions to his foundation to cover legal fees.
Asked about multiple women's allegations of groping, Trump denied them as "lies and fiction" arranged by the Clinton campaign, and inaccurately said they've been "debunked." A Bloomberg Politics national poll completed before the debate found that 56 percent of likely voters are casting their ballots with concerns about the allegations and about Trump's lewd remarks on a 2005 hot-mic video.
While insisting "I truly don't think" Clinton will win, Trump went on to suggest Clinton would reap a domestic crisis in the White House as a result of her support for allowing Syrian refugees into the U.S., which he said would be "the great Trojan Horse," before adding, "Lots of luck, Hillary."
Clinton expressed similarly grave concerns about a potential Trump administration, emphasizing her argument that he's unfit to be president. From the first question of the debate to her closing remarks, Clinton appealed to the broad coalition of American voters who back gay marriage, abortion rights, equal pay, and immigrant rights.
She also repeatedly tried to isolate Trump from independents, who have moved in her direction in recent weeks, by focusing on issues ranging from women's reproductive rights to Russian interference in U.S. elections and declaring his lack of faith in the electoral process "horrifying."
"He is denigrating—he's talking down our democracy," Clinton said. "And I, for one, am appalled that somebody who is the nominee of one of our two major parties would take that kind of position."
Some of Trump's own top allies appeared uneasy with his potential refusal to accept the results of the ballot box. After the debate, several of his supporters, including 2008 Republican vice presidential nominee Sarah Palin, said they expect him to concede if he loses the election fairly.
"I think he'll accept the results of the election," said Trump surrogate Michael Flynn, former director of the U.S. Defense Intelligence Agency. "Yeah, I'm sure he will," said Georgia businessman Bruce LeVell.
Clinton communications director Jennifer Palmieri went so far as to say it could be a bluff. 
"We'll have to see what he actually does," she said. "Sometimes he talks a big game."
—With assistance from Jennifer Jacobs.
Before it's here, it's on the Bloomberg Terminal.
LEARN MORE