Trump Says He'd Accept 'Clear' Result After Stoking Doubts
By
Republican reserves right to legal challenge of Nov. 8 outcome

In Wednesday debate, Trump declined to say he'd honor election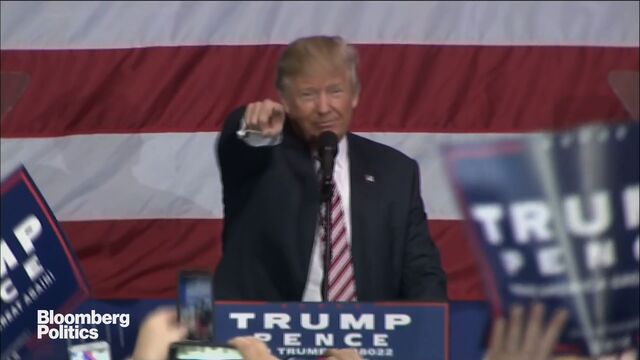 Donald Trump said Thursday he would accept a "clear election result" in November, but he also basked in the speculation he stoked during the final presidential debate about whether he would honor the outcome.
"I would accept a clear election result but I would also reserve my right to contest or file a legal challenge in the case of a questionable result," Trump told a campaign rally in Delaware, Ohio.
But first, he opened up the rally by playing off the uncertainty created by his refusal during Wednesday night's debate to declare that he would concede if he was defeated by Hillary Clinton. "I will totally accept the results of this great and historic presidential election -- if I win," Trump said with a smirk, prompting a huge cheer from a crowd of about 600 people at a local fairground.
Trump has been alleging for weeks that the media and Democrats are "rigging" the presidential election. When Fox News' debate moderator Chris Wallace asked Trump whether he will accept the results, the Republican nominee demurred.
"I'll keep you in suspense," Trump said.
'Legal Precedent'
On Thursday, Trump made reference to the need to protect his legal rights, equating it to the 2000 Supreme Court decision in Bush v. Gore, regarding the Florida recount.
"I'm being asked to waive centuries of legal precedent designed to protect the voters," Trump said.
Cases of vote fraud are rare in the U.S. and Trump has offered no evidence of widespread irregularities. Less than an hour before the debate, Trump's running mate, Indiana Governor Mike Pence, said in a Bloomberg Politics interview that he and Trump had "made it clear that we'll accept the will of the American people" and expressed confidence that they would win.
After the debate, several Republican senators issued statements defending the integrity of the U.S. voting system.
"I don't know who's going to win the presidential election. I do know that in every previous election, the loser congratulates the winner and calls them, 'my president,'" Arizona Senator John McCain, the 2008 Republican presidential nominee, said Thursday in a statement. "That's not just the Republican way or the Democratic way. It's the American way. This election must not be any different."
'Beyond the Pale'
Arizona Senator Jeff Flake, a vehement Trump opponent, on Wednesday called Trump's assertion "beyond the pale."
President Barack Obama, speaking at a Clinton campaign rally in Miami on Thursday, chastised Trump for his remarks suggesting the integrity of the U.S. election system is in question.
"That is not a joking matter. That is dangerous. Because when you try to sow the seeds of doubt" in the nation's election process, "then you're doing the work of our adversaries for them," Obama said.
The debate came after a tumultuous few weeks for Trump. His slide in state and national polls started with a lackluster performance in the first debate on Sept. 26 and continued with the release of a 2005 recording of Trump making lewd comments about women and subsequent allegations from several women that he inappropriately touched them. Trump denied those allegations.
At his rally Thursday, Trump still confidently predicted victory next month.
He also offered two new policy prescriptions. He vowed to create an "American desk" within the U.S. Department of Commerce charged with being in charge of all the government's trade negotiation tasks. 
"We're going to call it the American desk and it will be located inside the Department of Commerce," Trump said, saying that it would "protect the interests of the American people." It was unclear from his remarks how that office would differ from the Office of the U.S. Trade Representative.
Trump also said that he would end funding to so-called sanctuary cities, where local officials won't cooperate with the federal government on immigration laws.
On the Issues
In Wednesday's debate, Trump and Clinton offered sharply differing views on immigration, the Supreme Court, gun control, and abortion. 
Although much of the debate dealt with substantive issues, it quickly got personal and combative when it turned to women's groping accusations against Trump and to questions of whether he tolerated Russia's interference in the U.S. election.
The candidates repeatedly talked over each other, with Trump interjecting "wrong" several times as Clinton spoke. At one point, as she made a jab about his taxes while talking about the Social Security Trust Fund, he proclaimed: "Such a nasty woman."
Trump accused Clinton of pushing the stories of the women who came forward to allege sexual misconduct, and he again denied behaving inappropriately.
"I didn't even apologize to my wife, who's sitting right here, because I didn't do anything," Trump said. Of his accusers, he said, "I think they want either fame or her campaign did it."
'Belittling Women'
Clinton criticized Trump over the allegations and his general treatment of women, a voting bloc that has been central to her lead in the polls.
"Donald thinks belittling women makes him bigger," she said. "He goes after their dignity, their self-worth, and I don't think there is a woman anywhere who doesn't know what that feels like."
A snap poll conducted immediately after the debate by CNN found 52 percent of registered voters who watched thought Clinton won, compared with 39 percent who said Trump was the winner. Mexico's peso traded in line with emerging-market peers after the debate, signaling traders saw nothing that changed their view of who is likely to win the election.
The candidates also clashed over Russia and the hacking of Democratic Party e-mails that U.S. officials have blamed on President Vladimir Putin's government.
Clinton deflected questions about the leaking of hacked e-mails from her campaign by criticizing Trump for failing to denounce Russian interference in the U.S. election. Trump shot back by saying the U.S. has no idea who was behind the hacking.
— With assistance by John McCormick, Mike Dorning, and Mark Niquette
Before it's here, it's on the Bloomberg Terminal.
LEARN MORE