Thiel to Speak in Washington Oct. 31 to Address Election
by and
Billionaire PayPal co-founder is a prominent Trump supporter

His plan to give $1.25 million to Trump angered Silicon Valley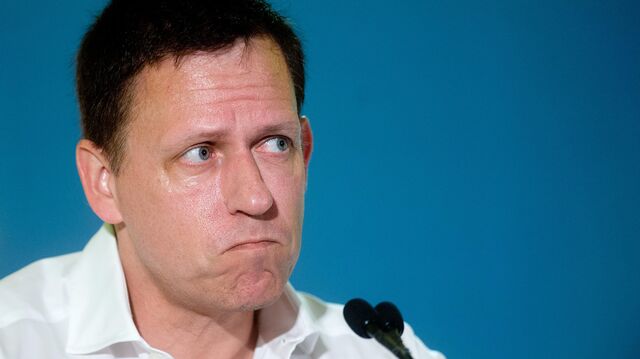 Peter Thiel, the Silicon Valley entrepreneur and Donald Trump supporter, will give a speech in Washington on Oct. 31 to address the election, spokesman Jeremiah Hall said.
Thiel, a PayPal co-founder, venture capitalist and Facebook Inc. board member, is a Trump delegate, endorsed him at the Republican National Convention and is planning to donate $1.25 million to Trump's campaign. His support for Trump has stirred controversy in an industry that has been outspoken in its antipathy for the Republican presidential candidate.
Ellen Pao, co-founder of Project Include and a former Kleiner Perkins Caufield & Byers partner, said her diversity group would sever all ties with Thiel and any groups that associate with him. This includes Y Combinator, the Silicon Valley business incubator that helped hatch companies, including Airbnb Inc., Dropbox Inc. and Reddit Inc., and where Thiel is a part-time partner. Y Combinator President Sam Altman said that while he opposes Trump, he supports Thiel's right to express his political beliefs and said shutting down such conversations is counterproductive.
The tension between those who oppose Trump and the few who publicly support him in the technology and venture capital industries has been building. In July, more than 100 tech professionals wrote an open letter, calling a Trump presidency a "disaster for innovation." A few weeks later, venture firm Charles River Ventures wrote a blog post with antagonizing messages toward Trump and said the firm would start a fellowship program in support of immigrant entrepreneurs.
Before it's here, it's on the Bloomberg Terminal.
LEARN MORE