Trump Refuses to Say He'll Accept Election Results If He Loses
By and
Republicans offer mixed reactions to nominee's statement

Candidates likely in same room just once more before election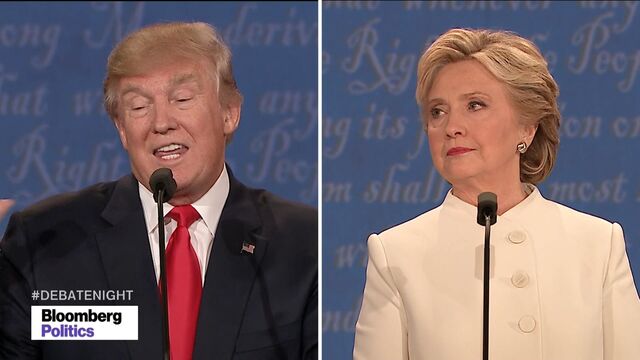 Donald Trump refused to say he'd accept the U.S. election's results if he loses, an extraordinary statement on one of the underpinnings of American democracy, as one of the most unconventional presidential campaigns entered its final stretch.
Democrat Hillary Clinton called the Republican nominee's remark "horrifying" in one of the most dramatic moments Wednesday night in Las Vegas during their final debate before the Nov. 8 election.
"I will look at it, at the time," Trump said, as he accused the media of being dishonest and helping rig the election against him. "They've poisoned the minds of the voters, but unfortunately for them I think the voters are seeing through it."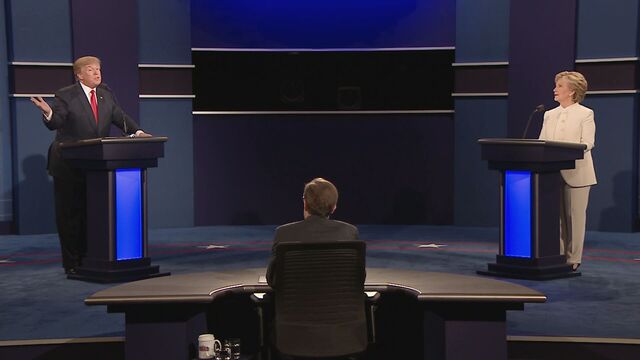 Always the showman, Trump said he'd let Americans know his decision about accepting the results after the election. "I will tell you at the time," he said. "I'll keep you in suspense."
Clinton expressed shock, echoing comments made earlier this week by President Barack Obama on the importance of a peaceful transfer of power in the U.S.
"Let's be clear about what he is saying and what that means," Clinton said. "He is denigrating, he's talking down our democracy, and I, for one, am appalled that somebody who is the nominee of one of our two major parties would take that kind of position."
Running Mate
Cases of vote fraud are rare in the U.S. and Trump has offered no evidence of widespread irregularities. Less than an hour before the debate, Trump's running mate, Indiana Governor Mike Pence, said in a Bloomberg Politics interview that he and Trump had "made it clear that we'll accept the will of the American people" and expressed confidence that they would win.
But after the debate Pence shifted. He told reporters that there is fraud in some polling locations and so the nominee will "take a wait-and-see approach."
Some of Trump's allies also tried to frame his refusal to say he would concede by suggesting it won't matter, because he'll win or that a challenge to the results may be required.
Trump's Allies
Senator Jeff Sessions of Alabama told reporters that Trump will accept the results "if they're fair and he's had the opportunity to challenge them if need be." Republican National Committee Chairman Reince Priebus said he thinks there can be widespread voter fraud and Trump "isn't willing to carte blanche concede it isn't possible." Former Alaska Governor Sarah Palin, the party's 2008 vice presidential nominee, said she has no reason to believe the election is rigged.
"I can't say the election is rigged because it hasn't taken place yet, but let us hope that these are legitimate votes taken and of course the results will be accepted," said Palin, who endorsed Trump during the primary race. "We'll live with it if it's legit."
'Great Disservice'
Other Republicans expressed alarm. Senator Lindsey Graham of South Carolina said Trump is doing the party and the country "a great disservice" by suggesting the outcome of the election is out of his hands. "If he loses, it will not be because the system is 'rigged' but because he failed as a candidate," Graham said on Twitter.
Arizona Senator Jeff Flake, a vehement Trump opponent, called Trump's assertion "beyond the pale."
With 19 days left in the campaign, the nominees are scheduled to be in the same room just one more time before the election, at Thursday night's annual Al Smith charity dinner in New York.
The debate, moderated by Chris Wallace of Fox News, came after a tumultuous few weeks for Trump. His slide in state and national polls started with a lackluster performance in the first debate on Sept. 26 and continued with the release of a 2005 recording of Trump making lewd comments about women and subsequent allegations from several women that he inappropriately touched them. Trump denied those allegations.
Substantive Issues
At the start of the debate, the candidates offered sharply differing views on the Supreme Court, gun control, and abortion. Although much of the debate dealt with substantive issues, it quickly got personal and combative when it turned to women's groping accusations against Trump and to questions of whether he tolerated Russia's interference in the U.S. election.
The candidates repeatedly talked over each other, with Trump interjecting "wrong" several times as Clinton spoke. At one point, as she made a jab about his taxes while talking about the Social Security Trust Fund, he proclaimed: "Such a nasty woman."
Trump accused Clinton of pushing the stories of the women who came forward to allege sexual misconduct, and he again denied behaving inappropriately.
"I didn't even apologize to my wife, who's sitting right here, because I didn't do anything," Trump said. Of his accusers, he said, "I think they want either fame or her campaign did it."
Clinton's Criticism
Clinton criticized Trump over the allegations and his general treatment of women, a voting bloc that has been central to her lead in the polls.
"Donald thinks belittling women makes him bigger," she said. "He goes after their dignity, their self-worth, and I don't think there is a woman anywhere who doesn't know what that feels like."
A snap poll conducted immediately after the debate by CNN found 52 percent of registered voters who watched thought Clinton won, compared with 39 percent who said Trump was the winner. Mexico's peso traded in line with emerging-market peers after the debate, signaling traders saw nothing that changed their view of who is likely to win the election.
The candidates also clashed over Russia and the hacking of Democratic Party e-mails that U.S. officials have blamed on President Vladimir Putin's government.
Clinton deflected questions about the leaking of hacked e-mails from her campaign by criticizing Trump for failing to denounce Russian interference in the U.S. election. Trump shot back by saying the U.S. has no idea who was behind the hacking.
Putin's Role
"Hillary, you have no idea," he said. "She doesn't like Putin because Putin has outsmarted her at every step of the way."
Trump has repeatedly praised Putin as a strong leader and refused to put the blame on Russia for hacking Democratic Party and Clinton campaign files even though U.S. security and intelligence officials have done so. "I've never met Putin. This is not my best friend, but if the United States got along with Russia it wouldn't be so bad."
Clinton suggested that Putin prefers Trump because "he'd rather have a puppet as president."
Wallace asked Clinton whether she kept the pledge during her 2009 confirmation hearing as secretary of state to avoid any conflict of interest with the Clinton Foundation, especially with questions about whether those seeking grants involving Haiti relief were considered separately from non-donors.
Clinton said everything she did as secretary of state was proper, and the foundation was a "world-renowned charity." Trump called it "a criminal enterprise."
Supreme Court
The candidates agreed that the Supreme Court is one of the central issues in the campaign, one that both parties have used to motivate voters to get to the polls on Election Day. Trump said he would support seeing the landmark Roe v. Wade ruling that made abortion legal overturned.
"That will happen," he said, noting the type of "pro-life" justices that he would plan to appoint. "It will go back to the states and then the states will make the determination."
Clinton gave an emotional defense of her stance on allowing termination of pregnancies late-term, citing forced abortions in China and other practices that she saw while secretary of state.
One of their most vigorous clashes came over immigration and trade, although neither candidate offered any new details on their plans.
The fight over immigration policy has been a central issue in the race, with Trump arguing for construction of a wall along the U.S.-Mexico border and demanding that Mexico pay for it. He's also vowed to increase deportations. "We have some bad hombres here, and we're going to get them out."
Clinton and others have questioned the feasibility of that proposal and she's promised to introduce comprehensive immigration reform with a pathway to full and equal citizenship within her first 100 days in office. Clinton said Trump's plan to deport all undocumented immigrants is not in keeping with the nation's ideals and would "rip our country apart."
"I don't want to rip families apart," she said. "I don't want to see the deportation force that Donald has talked about in action."
The two also battled over their tax and spending plans, with Clinton saying she wanted to see the "biggest jobs program since World War II." Trump pointed to former President Bill Clinton, as he presented himself as an expert negotiator.
"Our jobs are being taken out by the deal that her husband signed," Trump said in a reference to the North American Free Trade Agreement. "I'm going to renegotiate NAFTA."
While Clinton has said her proposals wouldn't add to the federal debt, the Committee for a Responsible Federal Budget has estimated they would likely add $200 billion to the debt during the next decade, while Trump's policies would add $5.3 trillion.
Trump said that while Clinton has an advantage of governmental experience, she's not used it effectively. "She's been doing this for 30 years. Why the hell didn't you do it over the last 15, 20 years?" he asked. "The one thing you have over me is experience, but it's bad experience."
Before it's here, it's on the Bloomberg Terminal.
LEARN MORE