Amazon CEO Jeff Bezos Says Trump Is 'Eroding Our Democracy'
by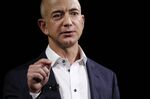 Amazon.com Inc. Chief Executive Officer Jeff Bezos said Republican presidential nominee Donald Trump is "eroding our democracy around the edges" by threatening retribution against those critical of him and hinting that he wouldn't gracefully accept a loss on election day.
Speaking at the Vanity Fair New Establishment Summit in San Francisco on Thursday, Bezos said he mistakenly took Trump's candidacy lightly late last year when he sent a tweet that joked about sending Trump to space. The two have been feuding on Twitter since last December.
Bezos, the world's third-wealthiest man, owns the Washington Post newspaper, which first revealed video footage of Trump making lewd comments about women, disrupting his campaign and helping his Democrat opponent Hillary Clinton gain in polls. Trump, who has refused to release his own tax returns, has singled out Bezos in campaign speeches, saying he bought the newspaper in order to reap tax benefits and curry political favor for Amazon.
Bezos also said Trump supporter Peter Thiel, a Facebook Inc. board member, is a contrarian and "contrarians are usually wrong." Still, he said people with opposing political views should be able to work together.
Before it's here, it's on the Bloomberg Terminal.
LEARN MORE