Hotel Chocolat CEO Counting on U.K. Cafe Culture to Spur Growth
by
Company will open more cafes as Brits spend on experiences

Shares rise after company reports annual sales growth of 12%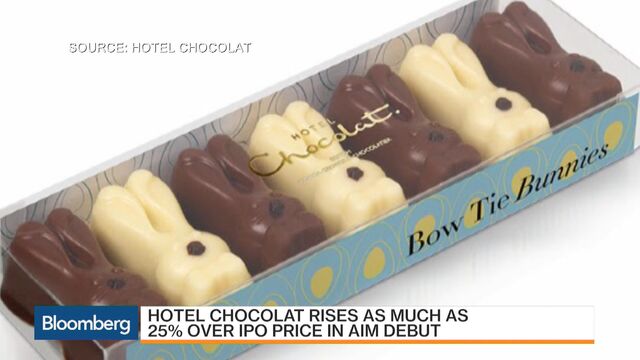 Hotel Chocolat Group Ltd., the British luxury chocolate retailer, wants to expand its line of cafes to serve up indulgent treats to a broader audience of U.K. shoppers.
Chief Executive Officer Angus Thirlwell plans to devote more of the company's resources to developing the Hotel Chocolat brand and consumer experiences, such as cafes, rather than into the chain's retail stores. The company currently operates seven cafes, with two more scheduled to open next week, and so far their performance has surpassed expectations.
"We expect people to plan their shopping trip around a pit stop at a Hotel Chocolat cafe," Thirwell said in a phone interview after the company reported a 12 percent gain in sales for the year ended June 26. "It's a major opportunity for us in the years ahead."
Thirlwell wants to tap into the trend of Britons spending a greater share of their disposable income on eating out. By opening cafes serving coffee, sandwiches, cakes and flavored hot chocolate drinks, the CEO aims to attract a broader range of customers with affordable fare. Hotel Chocolat has a flagship restaurant in London's Borough Market neighborhood and a school of chocolate in Covent Garden for tastings. It also operates a luxury hotel on a St. Lucian cocoa plantation.
Some of the cafes adjoin a Hotel Chocolat retail shop, while others are standalone. "When you put shops and cafes together it means customers come back to the site more frequently, they often bring friends and stay longer," Thirlwell said. A salted caramel chocolate drink at the cafe costs 3.50 pounds ($4.31).

Thirlwell, who co-founded the company in 1993, declined to say how many cafes the company seeks to open, but said this year's stock market flotation had raised its profile and enabled it to secure better sites.
The shares were up 7.7 percent to 245 pence at 10:48 a.m. in London, the biggest increase since their London debut, and taking their gain since the IPO to 66 percent.
Before it's here, it's on the Bloomberg Terminal.
LEARN MORE