Blankfein Rejects Trump Rhetoric, Says There's No Banking Cabal
By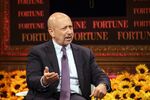 Lloyd Blankfein called it fruitless to try responding to remarks made by Republican presidential candidate Donald Trump about Hillary Clinton's ties to Wall Street.
"To go out and argue in a rational way some of the things that are being said is a waste of time," Blankfein, Goldman Sachs Group Inc.'s chief executive officer, said Wednesday in an interview on CNBC, responding to a question about Trump's rhetoric.
Trump in recent days has alleged his Democratic opponent is at the center of a worldwide conspiracy. "Hillary Clinton meets in secret with international banks to plot the destruction of U.S. sovereignty in order to enrich these global financial powers, her special interest friends and her donors," Trump said last week in West Palm Beach, Florida.
Clinton received $675,000 for three appearances in 2013 at Goldman Sachs events in South Carolina, Arizona and New York. They became a lightning rod for criticism during her campaign as opponents demanded she release the full transcripts. WikiLeaks released what it purported to be transcripts of the events on Saturday.
Blankfein, 62, said the next president shouldn't exclude Wall Street executives from top government positions if they're suited for the role. The CEO's predecessor, Hank Paulson, left the firm to become U.S. Treasury Secretary under President George W. Bush.
Blankfein brushed off the claim of any conspiracy.
"If there is an international cabal, once again I'm left out of the party," the CEO said.
In the wide-ranging interview, Blankfein also said the company's growth will be propelled by a recovery in markets. The firm's new online consumer-lending platform, Marcus by Goldman Sachs, could become a big business, Blankfein said, adding that it draws on the firm's existing strength in risk management, data analysis and technology.
Before it's here, it's on the Bloomberg Terminal.
LEARN MORE