U.S. Embassy in London Delayed as Security Said to Slow Work
by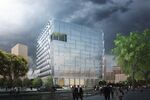 The opening of the new U.S. Embassy in London has been delayed and the project will not be completed before the end of President Barack Obama's term in office, according to a person familiar with the project.
Heightened security checks on workers and materials mean progress on the 11-story cube-shaped building has been slower than planned, the person said, asking not to be identified because the details are private. Work, which was due to finish in late 2016 according to the embassy's website, is now scheduled to be completed around spring 2017, the person said.
Delays on such large projects are not unusual and presidential terms play no part in determining when a building should be completed, a spokeswoman for the U.S. embassy said by e-mail, declining to be identified. Spokeswomen for BL Harbert International LLC and Sir Robert McAlpine Ltd., the construction companies building the embassy, declined to comment.
"Generally, construction projects that are delayed inevitably incur higher costs," Mark Cleverly, head of commercial development at building consultant Arcadis NV, said in an e-mail. The project budget includes a contingency that allows the State Department to manage unforeseen circumstances, a spokeswoman for the U.S. embassy said by e-mail.
Embassies are planning to move out of central London's most expensive districts to the Nine Elms area on the south bank of the river Thames, where lower land values and fewer historical building restrictions make it easier to construct secure offices. The Dutch government also plans to move from offices on the south side of Hyde Park to Nine Elms, according to Ballymore Group which is developing the new building.
The U.S. State Department agreed to sell the existing embassy building on Grosvenor Square, Mayfair, to Qatari Diar Real Estate Investment Co. in 2009 to fund the relocation. The investors have sought approval to turn the building into a hotel, according to the project's website.
The new U.S. president is due to be inaugurated in January following the election next month.
Before it's here, it's on the Bloomberg Terminal.
LEARN MORE