Trump, Clinton, Fox News and the Final Debate: QuickTake Q&A
By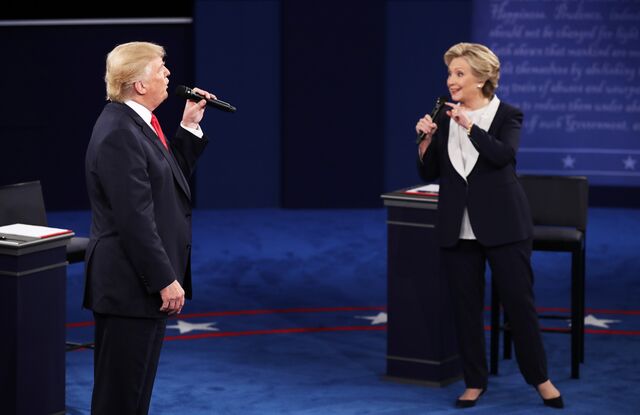 Like Frazier and Ali, Donald Trump and Hillary Clinton will go at it a third time, in what figures to be the final debate of an increasingly vituperative presidential campaign. While an estimated 84 million people watched the first Trump-Clinton debate, viewership dropped to a more typical 66.5 million people for the second debate, with its town-hall format. The next debate, Wednesday night at the University of Nevada-Las Vegas, will be moderated by Chris Wallace of Fox News, who may or may not manage to steer the candidates away from personal invective and onto policy differences.
1. Isn't Fox News Trump's favored network?
In recent months, it's been Trump's go-to station for nationally televised interviews. Its longtime head, Roger Ailes, is a Trump friend and has advised him in the months since being ousted from the network amid complaints about sexual harassment. Some Fox News personalities, especially Sean Hannity, have been Trump cheerleaders. On the other hand, Trump has sparred with some of the journalists at Fox, including Megyn Kelly during the Republican primaries, and Clinton gave Wallace, host of "Fox News Sunday," her first interview after the Democratic National Convention.
2. So Trump must be looking forward to this debate, right?
He didn't initially sound like it. "I'm done," he declared last week, complaining that the Commission on Presidential Debates is "rigged" in part because Mike McCurry, former press secretary to President Bill Clinton, is its "head guy." (McCurry is actually co-chairman of the nonpartisan commission, along with Frank Fahrenkopf, who led the Republican National Committee under President Ronald Reagan.) Trump has aired complaints about each of the first two debates -- about audio issues, moderator issues, even audience seating arrangements.
3. What might Trump's strategy be?
Trump brought up Bill Clinton's history with women before and during the second debate and has given all indications that he's going to up the ante. "We're going to turn him into Bill Cosby," Trump campaign CEO Stephen Bannon was quoted as saying of Bill Clinton. Trump has also been talking about the election being "rigged" by "corrupt media" and "global special interests" and predicting "large-scale voter fraud." This may not be a way to build a winning coalition, but it could galvanize his existing supporters to stick with him now, as well as after the election, even if he loses.
4. What might Clinton's strategy be?
As Trump has suffered one self-inflicted wound after another, Clinton has mostly played it safe in the debates, deflecting rather than engaging in direct confrontations. In the second debate, she reiterated the advice of first lady Michelle Obama: "When they go low, we go high." Still, Clinton might want to grab the chance to make a closing argument to Americans who dislike and distrust her and are thinking about voting for a third-party candidate, staying home on Election Day, or opposing everything she might do as president.
5. What subjects are supposed to come up?

Wallace says he plans to ask questions on debt and entitlements, immigration, the economy, the Supreme Court, "foreign hot spots" and "fitness to be president," with each getting 15 minutes.
6. Hasn't that all been debated already?
When immigration came up at the second debate, it was in the context of refugees from Syria. Trump's signature promise -- to build a wall that would stop the flow of undocumented immigrants from Mexico -- hasn't had its moment yet. Trump and Clinton were asked about Supreme Court appointments during their second debate, and about taxes and economic prosperity in the first debate. Spending on entitlements -- Social Security and Medicare, specifically -- hasn't come up, to the dismay of deficit hawks. (The topic was raised at the vice presidential debate, however.)
7. So where do they stand on entitlements?
Trump has rejected any notion of entitlement reform, vowing not to cut Social Security, Medicare or Medicaid. Clinton says she would expand Social Security benefits to unpaid family caregivers and widows without raising the retirement age or reducing cost-of-living adjustments. She indicated she would raise the annual cap, currently $118,500, on wages subject to the payroll taxes that fund Social Security.
8. What about personal charges and counter-charges?
Like the moderators of the first two debates, Wallace will likely feel it's his role to broach the character issues that are raging between the two campaigns. Since the last debate, when Trump declared he never actually accosted women the way he said he did in an "Access Hollywood" outtake from 2005, at least nine women have come forward to accuse him of doing so. The Clinton campaign, meanwhile, has had to respond to release by WikiLeaks of e-mails that it says were hacked from the Gmail account of John Podesta, who is now Clinton's campaign chairman.
9. What do the WikiLeak-ed e-mails show?
Assuming they are authentic -- the Clinton campaign hasn't confirmed or denied that -- the e-mails show Clinton praising banks in speeches to bankers and dismissing climate activists behind their backs, and Clinton aides deliberating how to defend her use of a private e-mail system, whether to accept bundled donations from lobbyists for foreign governments, and the possible fallout from a scheduled (and ultimately canceled) paid speech by Bill Clinton to Morgan Stanley. The Clinton camp says the real news stemming from the leaked e-mails is that hackers, perhaps guided by Russia's government, are trying to help Trump defeat her.
Not likely, since they'll be standing behind lecterns.
The Reference Shelf
Before it's here, it's on the Bloomberg Terminal.
LEARN MORE