Taiwan Global Lure Ebbs as Bonds Sink, Currency Outlook Dims
by
Ten-year government bond yield jumps most in three years

Taiwan dollar projected to fall 2.7 percent by end-March
Global investors' love for Taiwan assets is starting to look brittle.
The island's sovereign debt slumped on Tuesday, sending the 10-year yield up by the most since September 2013, while analysts are bearish on the outlook for Taiwan's dollar amid speculation inflows into the local stock market will reverse, according to data compiled by Bloomberg.
Taiwan equities lured $14.3 billion from overseas funds this year, the most among nine Asian markets, as investors bet Apple Inc.'s iPhone 7 would boost profits at the island's suppliers and the U.S. held off raising interest rates. That makes Taiwan more vulnerable to outflows once the Federal Reserve does tighten policy, according to Australia & New Zealand Banking Group Ltd., while Mizuho Bank Ltd. points to China's slowdown and weakening currency as potential hazards for the island.
"The biggest risks will be resurgent yuan depreciation pressure and worries over China's economy," said Ken Cheung, a foreign-exchange strategist at Mizuho Bank Ltd. in Hong Kong. The size of flows "will much depend on the pace of U.S. rate hikes and China's outlook," he said.
The yield on Taiwanese government securities due in a decade surged eight basis points on Tuesday to 0.9 percent, its steepest climb in three years and the highest close since February, exchange data show. As recently as August, the debt yielded a record-low 0.625 percent. Bonds fell on speculation that policy makers will refrain from adding to easing and as concern about an uptick in inflation spurs a global bond selloff.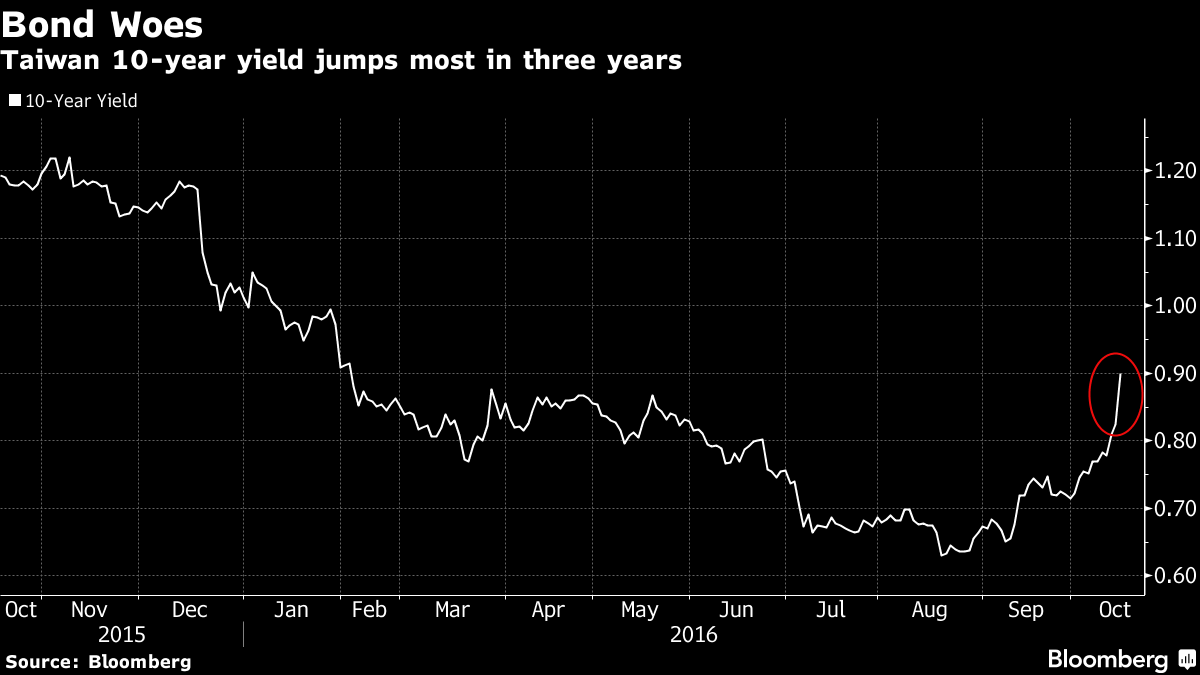 The island's monetary authority held the policy rate in September following four straight quarters of reductions, while the finance ministry missed its target at a sale of two-year notes last week as investors asked for higher yields than the government was prepared to offer. Global yields have surged this month as the odds of a interest-rate hike in December implied by Fed fund futures climbed to 63 percent.
The Taiwanese dollar is forecast to weaken 2.7 percent to NT$32.4 per dollar by the end of March and fall a further 1.5 percent to NT$32.9 by the end of 2017, according to the median estimate of 26 strategists tracked by Bloomberg. The currency has rallied 4.5 percent this year, the third-best gain in Asia, as the island's stocks climbed.
Ten-year yields fell three basis points on Wednesday, while the Taiwan dollar gained 0.5 percent.
While the benchmark Taiex equity index is trading near highest level since July 2015, the gauge has been treading water in the past month.
Outflows Predicted
"Taiwan's stock market has peaked and it's not going up further," said Irene Cheung, a foreign-exchange strategist at ANZ in Singapore, which sees the Taiwan currency falling 4.3 percent by the end of next year. "The Apple story has been around for quite a while so I wouldn't expect that to continue running around. There'd be some outflows from the equity market."
The faster pace of depreciation by the yuan and signs of a deeper slowdown in China's economy are adding pressure on Taiwan's currency to weaken.
The yuan traded near a six-year low against the dollar on Wednesday after falling 3.6 percent this year. China and Hong Kong combined accounted for about 40 percent of the island's exports in the first nine months of the year, according to Taiwan's finance ministry data.
China and the island's economies have "deep linkages," leaving Taiwan more vulnerable than other regional peers, said Michael Every, head of financial markets research at Rabobank in Hong Kong. He forecast the yuan will weaken 13 percent by the end of 2017 and the Taiwan dollar will slide 6.2 percent in the span.
"China is Taiwan's biggest trading partner and the Taiwanese dollar is a kind of a proxy to the yuan," said Gao Qi, a Singapore-based foreign-exchange strategist at Scotiabank. "Taiwan's currency is susceptible to global events including the Fed hike."
Before it's here, it's on the Bloomberg Terminal.
LEARN MORE