Since Iowa, Donald Trump Has Cried 'Rigged' When He's Losing
His claims have struck a chord with his passionate base of disaffected white voters no matter how the charges are answered by his fellow Republicans and rival Democrats.
By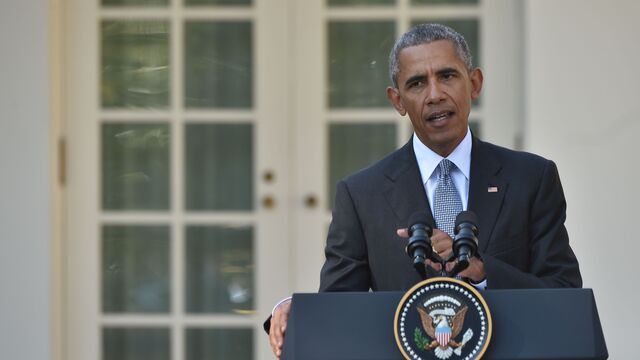 When Donald Trump lost Iowa to Ted Cruz, he claimed the caucuses were stolen from him.
When Trump hit a rough patch in the Republican primary in April, he said the rules were rigged against him and labeled the process a "scam" perpetrated by party bosses.
When he sank in the polls after the July conventions, he fretted the Nov. 8 election would be fixed: "I'm afraid the election's gonna be rigged, I have to be honest."
Now, as the brash Republican underdog faces the roughest stretch of his campaign and slips in the polls amid accusations of unwanted sexual advances from numerous women, he's sounding the alarm again.
"Hillary Clinton should have been prosecuted and should be in jail. Instead she is running for president in what looks like a rigged election," Trump tweeted on Saturday. The following day, he wrote that the election is "absolutely being rigged" by the media and "at many polling places - SAD," in one of eight tweets since the weekend positing a "rigged" or "stolen" election.

Trump has demonstrated a knack for crying foul about a fixed election when he's facing a serious threat to his prospects. At each turn, his unsubstantiated claims have struck a chord with his passionate base of disaffected white voters no matter how the charges are answered by his fellow Republicans and rival Democrats.
In February, Cruz's campaign spokesman, Rick Tyler, dismissed the real-estate developer's claims of cheating as a "Trumpertantrum" and argued he was merely "angry with the people of Iowa" for picking somebody else.
More recently, Democrats have been similarly unsympathetic to Trump's complaints. "This is what losers do," Clinton campaign manager Robby Mook said Monday.
"I'd advise Mr. Trump to stop whining and go try to make his case to get votes," President Barack Obama said Tuesday.
Along the way, Trump has offered up a diverse array of conspirators. During the primary, it was Republican leaders. In August, it was a "Clinton machine" hit job that brought about damaging headlines. Now, it's a multilayered plot orchestrated by the news media, the Clinton campaign, "large-scale voter fraud" enabled by polling workers, Mexican billionaire (and New York Times part owner) Carlos Slim and global elites to deny him and his supporters the White House.
"I've been saying this for a long time. The whole thing is one big fix," Trump told followers at a Friday rally in Greensboro, North Carolina.
Trump's warnings are having an impact. A Politico-Morning Consult survey released Monday found that 41 percent of voters believe the election could be "stolen" from Trump due to rampant voter fraud—among Republicans, the number was 73 percent.
Former New York City Mayor Rudy Giuliani amplified Trump's message Sunday on CNN. "They leave dead people on the rolls, and then they pay people to vote those dead people four, five, six, seven, eight, nine times," he said, adding that "dead people generally vote for Democrats."
Meanwhile, other Republicans who support Trump said Monday he went too far. Ohio Secretary of State Jon Husted said on CNN, "I can reassure Donald Trump, I am in charge of elections in Ohio and they're not going to be rigged." Representative Peter King of New York said the election isn't rigged: "Whoever wins, wins," he said on "Imus in the Morning."
Senator Marco Rubio of Florida there's "no evidence" of Trump's claim: "We have 67 counties in this state, each of which conduct their own elections. I promise you there is not a 67-county conspiracy to rig this election," he said in a debate.
House Speaker Paul Ryan, a Trump supporter, also disagreed. "Our democracy relies on confidence in election results, and the speaker is fully confident the states will carry out this election with integrity," Ryan spokeswoman AshLee Strong said in an e-mail.
Voter impersonation fraud is rare: One study by a Loyola Law School professor found 31 credible instances out of one billion ballots cast between 2000 and 2014.
Democrats worry Trump's claims lay the groundwork for a refusal to concede the election if he loses, and potentially delegitimize a hypothetical Clinton presidency in the minds of many Republicans.
When Trump campaign manager Kellyanne Conway was asked Monday on MSNBC if Trump will accept the results of the 2016 election, she hedged.
"Absent evidence of wrongdoing, of irregularities and voter fraud, of course we'll accept it," she said.
Before it's here, it's on the Bloomberg Terminal.
LEARN MORE