Obama Calls Trump a Whiner Over 'Rigged' Election Complaints
By
President advises Republican nominee to 'get more votes'

Obama calls suggestions of impropriety unprecedented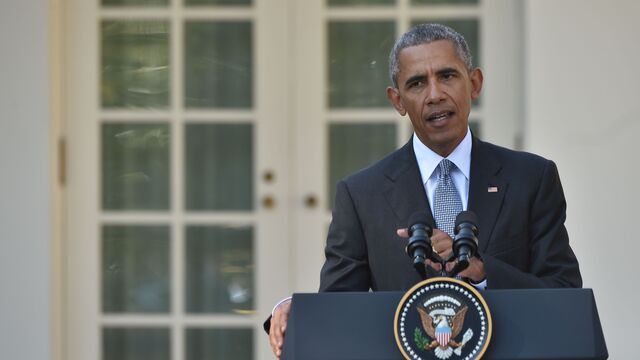 President Barack Obama called the Republican presidential nominee, Donald Trump, a whiner for repeatedly claiming that the U.S. election is being "rigged" against him and said his complaints about the integrity of the electoral system are unprecedented in modern history.
"You start whining before the game's even over? If whenever things are going badly for you and you lose, you start blaming somebody else? Then you don't have what it takes to be in this job," Obama said Tuesday during a joint news conference with Italian Prime Minister Matteo Renzi. "I'd advise Mr. Trump to stop whining and go try to make his case to get votes."
Trump has used increasingly hyperbolic rhetoric to question the U.S. electoral system's integrity, asserting on Monday on Twitter that "there is large-scale voter fraud happening" in the weeks leading up to the Nov. 8 election. Early voting has begun in many states, and state officials who run elections say there is no sign of widespread fraud.
"I want to reassure Donald Trump as a Republican that this is not happening across the country," John Husted, Ohio's secretary of State and a Republican, told NPR on Monday. "He may have heard reports of it, but we need facts. And right now, there are no facts that support his claims."
Trump has called on his supporters to monitor polling locations in "certain locations" to prevent cheating. Without evidence, he has suggested that urban precincts such as those in Philadelphia are most susceptible to fraud.
Obama called Trump's complaints and allegations "unprecedented."
"I have never seen in my lifetime or in modern political history any presidential candidate trying to discredit the elections and the election process before votes have even taken place," he said. "It happens to be based on no facts."
Experts say voter fraud is rare in the U.S., and several top Republicans have tried to distance themselves from Trump's comments about the election. House Speaker Paul Ryan is "fully confident" the election will be carried out with integrity, spokeswoman AshLee Strong said in a statement. Republican vice presidential nominee Mike Pence said he will accept the results of the election.
Obama noted that elections are run by state and local officials, and in Florida, for example, the top battleground state, governor Rick Scott and his appointees are members of Trump's party.
"The notion that somehow if Mr. Trump loses Florida, it's because of those people that you have to watch out for, that is both irresponsible and by the way doesn't really show the kind of leadership and toughness you'd want out of a president," Obama said.
Hillary Clinton's campaign said Trump's warnings about a rigged election signal desperation by a candidate falling behind in the polls.
"He knows he's losing and he's trying to blame that on the system. This is what losers do," Clinton campaign manager Robby Mook told reporters on Monday. "The system is not rigged."
Trump and Clinton will meet for their third and final debate Wednesday in Las Vegas.
— With assistance by Ben Brody, Jennifer Epstein, and Justin Sink
Before it's here, it's on the Bloomberg Terminal.
LEARN MORE