Iberdrola Engineers Find WW1 German U-Boat off Scottish Coast
by
Engineers working on subsea power cable find 100-year old boat

Submarine is one of two known to have been sunk in the area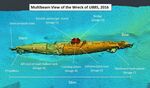 Marine engineers working on a 1 billion-pound ($1.2 billion) subsea power cable off the west coast of Scotland have found the wreck of a German submarine from World War One.
Experts have identified the 100-year-old vessel as UB-85 using sonar images, Scottish Power, the U.K. unit of Iberdrola SA, said in a statement. Scottish Power, with National Grid Plc, are building the 2,200-megawatt cable to carry electricity from wind farms in Scotland to England.
"In the waters of the Irish Sea there are at least 12 British and German submarines known to have sunk," said Innes McCartney, an historian and nautical archaeologist who has been working with Scottish Power to identify the submarine. "The features of this particular wreck, which is largely intact, confirm it as a UB III-Class submarine, of which we know of two which were lost in the area – the more famous UB-85 and its sister boat UB-82."
Official reports from the time show that the 45-meter (148-foot) long UB-85 was caught on the sea surface on April 30, 1918, and sunk by a British patrol boat, according to the statement.
The Western Link interconnector cable will be 385 kilometers long and run from Ardneil Bay in North Ayrshire in Scotland to the Wirral peninsula in northwest England.
"The images we get back from the subsea scans are incredibly detailed, but we obviously need to be aware of what lies beneath before we can start laying a power cable," said Peter Roper, a project manager for Western Link at Scottish Power.
Before it's here, it's on the Bloomberg Terminal.
LEARN MORE