Central Bankers Rejoice: There Are Signs That Inflation Is Actually Arriving
Welcome signs after years of meager price pressures.
by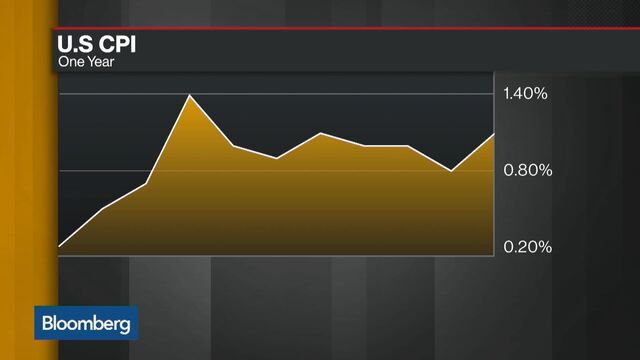 Christmas may have come early for central bankers in some advanced economies.
Deflationary forces have abated amid firming commodity prices and a sustained labor-market improvements, contributing to a recent sell-off in many developed-market sovereign bonds. Calls for expansionary fiscal policy to buoy growth going forward have also helped shift the mood.
Market-based measures of inflation compensation in the U.S., euro area, and U.K. may be in the nascent stages of reversing a downwards trend accentuated by the collapse in crude prices from 2014 onwards, and have in recent weeks recovered toward levels that prevailed at the time of the Brexit referendum.
A rise in commodity prices – best evidenced by China's factory gate prices rising for the first time in nearly five years – has quelled fears of an imminent global deflationary spiral.

As energy prices contribute a great deal to the volatility of consumer prices, the decision by members of the Organization of Petroleum Exporting Countries to lower their production targets has been an essential component behind the rebound in measures of inflation compensation like the swap contracts charted above.
Front-month Brent and West Texas Intermediate futures contracts have gained by more than 12 percent since Sept. 27, the day before the deal.
Meanwhile, unemployment rates in the euro zone and U.K. continue to trend downwards, a testament to tightening labor markets that forewarn of inflationary pressures in the pipeline, while the U.S. has added an average of over 200,000 jobs per month over its past 12 non-farm payroll reports.
This ebbing of deflationary forces has prompted traders to pare some of their more pessimistic calls for persistently below-target inflation in the U.S.
"Interestingly, in the last few months, the increase in breakeven inflation mostly reflects a decline in the probability of below-target inflation," writes Goldman Sachs Group Inc. Analyst Daan Struyven. "We estimate that market-implied odds of inflation falling below 1.25 percent have dropped by roughly 10 percentage points since mid-June."
Of course in the case of the U.K., the move higher in inflation compensation is accentuated by the depreciation in the pound. In September, data released today show that core inflation in the U.K. spiked to 1.5 percent, its highest level in almost two years.
Strategists at Societe Generale SA led by Head of Global Asset Allocation Alain Bokobza also observe that the hope of a more supportive fiscal policy has captured the imagination of journalists and market participants alike, with the bank's proprietary newsflow indicator showing that the number of news articles related to fiscal easing has been trending higher.

"Speculation about the end of austerity and a great rotation from monetary into fiscal support has overwhelmed the newsflow," writes Bokobza. "The consensus seems to be building on the limits of negative interest rates and liquidity injections, and we believe that the combination of easy monetary and fiscal policies could boost confidence among households and companies and contribute to the reduction of the output gap – which would be supportive for core inflation."
The timing of this uptick in market-based measures of inflation expectations is curious in the U.S., as it has occurred amid the resurgence of dollar strength and the slide in the University of Michigan's survey of longer-term inflation expectations to a new all-time low. However, according to Goldman's Struyven, the latter factor isn't necessarily signaling that inflation expectations have become unanchored.
"The latest share of respondents expecting prices to rise by exactly 2 percent is the highest on record," he notes.
While the Federal Reserve's preferred gauge of inflationary pressures (core PCE) continues to run below its 2 percent target, a host of metrics are signaling that price pressures in the U.S. economy are mounting.

September's CPI report, released at 8:30 a.m. on Tuesday morning, is expected to show that headline inflation jumped to an annual rate of 1.5 percent while the core measure holds steady at 2.3 percent year-over-year.
According to Deutsche Bank AG Chief International Economist Torsten Slok, the Cleveland Fed's nowcast for October's core PCE inflation reading has the indicator inching up to an annual rate of 1.8 percent. That would match its highest reading since 2012.
Federal Reserve Chair Janet Yellen recently suggested the source of inflation is somewhat of a mystery, and cast doubts on the strength of the relationship between a healing job market and price pressures.
However, other analysts still see plenty of reason to believe that these textbooks relationships hold true, even though some – like the Phillips Curve – hasn't been as responsive as in previous cycles.
"Unemployment still leads wage growth, but in this cycle, it's taken a 2.5 percent fall in the unemployment rate for each 1 percent pick up in wage growth," writes SocGen Global Strategist Kit Juckes. "In the 1990s, each 1 percent fall in the unemployment rate boosted wage growth by 1.7 percent."
"Please stop telling me that the labor market does not have any relevance for the inflation outlook," writes Neil Dutta, head of U.S. Economics at Renaissance Macro Research. "Here is a chart: individuals with zero wage change vs. the percent of PCE components weighted by their shares in total spending growing less than 2 percent SAAR. I wonder what happens when more people get raises and fewer individuals are counted as not having their wages change."

Yellen also spoke of the benefits of allowing the economy to run hot, which in practical terms implies seeing the unemployment rate falling below its estimated sustainable longer-term rate while tolerating above-target inflation in response.
In light of to labor market improvements, commodity-price increases, and the prospects for a more expansionary U.S. fiscal policy after the election, this potential willingness to overshoot on the Fed's inflation target – perhaps first seen as a pipe dream after years of persistently sluggish inflation – may become a matter of practical importance before too long.
"The Fed may decide to ignore the uptrend in inflation to 'run the economy hot' but the question is if markets will," concludes Deutsche Bank's Slok.
Before it's here, it's on the Bloomberg Terminal.
LEARN MORE