Brexit Talks Seen Risking Almost $600 Billion in U.S. Investment
By
U.S. Chamber of Commerce urges 'unfettered' trade with Europe

Lobbying group presses for continued free movement of labor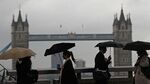 The largest U.S. business lobbying group has warned the British government that it must maintain full "unfettered" access to the European market in Brexit negotiations if it is to retain almost $600 billion that U.S. companies have invested in the U.K.
The U.S. Chamber of Commerce dismissed as "nonsense" claims by some Brexit supporters that the relatively low tariffs the European Union charges on imports wouldn't discourage investment in Britain.
"In the real world of business, margins for tradeable goods are razor thin, and even a so-called 'nuisance' tariff of 3 percent can make or break a sale," the chamber concluded in a report released Tuesday.
The report also urged British Prime Minister Theresa May to maintain free movement of labor in and out of Britain, "pass-porting" arrangements that permit banks chartered in Britain to operate throughout the EU and common regulatory arrangements in key areas such as aviation, pharmaceuticals, intellectual property, data privacy, health and safety, environmental protection and consumer goods.
The priorities the group urged for Brexit arrangements highlight May's dilemma as she balances business interests against popular discontent that surfaced in the referendum campaign over immigration and the power of European regulators.
The report asserted that Britain has been among "the biggest beneficiaries" of EU rules allowing residents to move in and out of member states to establish a common market in labor.
"In today's highly competitive global economy, British firms and British affiliates of U.S. companies are often hard pressed to find the skilled labor they need," the chamber said in the report.
Before it's here, it's on the Bloomberg Terminal.
LEARN MORE