Rebel Warlord Killed by Bomb in Ukraine as Fighting Intensifies
By and
Fighter nicknamed Motorola dies in Donetsk apartment building

Ukraine sees separatists ramping up attacks in nation's east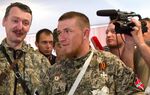 A notorious rebel warlord linked with multiple executions of hostages in eastern Ukraine was assassinated, further unraveling the latest attempt at a truce in the two-year conflict between Russian-backed separatists and the army.
Russian-born Arsen Pavlov, 33, known as Motorola, was killed Sunday by an explosive device in the elevator of his apartment building. The separatist authorities in the city of Donetsk accused Ukrainian commandos of the hit, with leader Alexander Zakharchenko saying there'd be "no mercy" in pursuing those responsible. Ukraine blamed the death on fighting within the rebel groups, who've lost other members in assassinations and whose leaders have also been targeted.
"Death saved Pavlov from an inevitable life sentence -- he just got lucky," Ukrainian military spokesman Andriy Lysenko told a briefing Monday. Lysenko reported a further increase in rebel fire in the conflict zone during the past day, accusing the separatists of "scorched earth" tactics. The rebels say Ukraine is responsible for cease-fire breaches.
Ukrainian President Petro Poroshenko warned last week that the situation in his nation's easternmost regions was deteriorating, complicating efforts to bring a lasting settlement with almost 10,000 people dead. Most of a stalled 2015 peace accord signed in the Belarusian capital of Minsk remains unresolved. While Germany and France have sought to accelerate diplomacy, their efforts so far haven't led to a breakthrough.
Pavlov was probably killed by Ukraine, according to Igor Girkin, a Russian who previously commanded the rebels under the nom de guerre Igor Strelkov. He said Pavlov was loyal to the local authorities and that his killing would make the situation more volatile.
— With assistance by Daryna Krasnolutska, and Aliaksandr Kudrytski
Before it's here, it's on the Bloomberg Terminal.
LEARN MORE