JPMorgan CEO Dimon Signals He Expects Clinton to Beat Trump
By and
'I hope the next president, she reaches across the aisle'

Says lawmakers need to work together on budget, other issues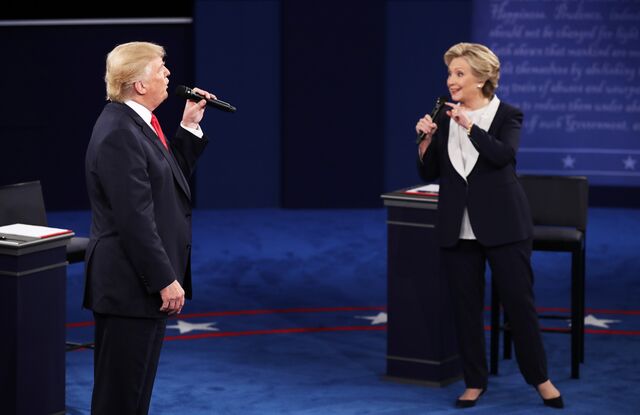 JPMorgan Chase & Co. Chief Executive Officer Jamie Dimon offered a read-between-the-lines prediction that the next U.S. president will be Democratic nominee Hillary Clinton.
"I hope the next president, she reaches across the aisle," Dimon, 60, said Monday at a conference sponsored by the New York-based bank, when asked what advice he'd give an incoming U.S. leader. The remark was met with loud applause. Partisan lawmakers haven't been able to pass budgets or tackle issues including immigration and trade, he said. "We're not acknowledging all these problems. We're not getting that stuff done."
While Dimon's comment was largely predictive, and stopped short of an endorsement, it makes him one of few heads of a large bank to publicly wade into the election. He prefaced the remark with a poke at Republican nominee Donald Trump, who has proposed "extreme vetting" of people entering the U.S. and vowed to build a wall along the border with Mexico, labeling some immigrants from that country "rapists."
"First of all, I want to say if you are Muslim, African American, an immigrant, a Mexican, you are completely welcome at JPMorgan Chase," Dimon said. "Three of my grandparents immigrated from Greece, and you know, I don't think any of them graduated high school to tell you the truth. How proud would they be to see their grandson run JPMorgan Chase."
With three weeks to go before election day, Clinton is leading Trump by an average of 6.9 percentage points in national polls, according to RealClearPolitics. In 2008, Barack Obama won the presidency by 7.2 points, a margin that narrowed to 3.9 points when he was re-elected in 2012.
Blankfein's Reluctance
Most Wall Street leaders have shied this year from indicating which candidate they want to see in the highest U.S. office. Such an endorsement risks backfiring at a time when the industry faces populist anger across the political spectrum.
Goldman Sachs Group Inc. CEO Lloyd C. Blankfein declined in February to take sides, saying his imprimatur could harm that person's chances. "I don't want to help or hurt anybody by giving them an endorsement," he told CNBC.
In the U.K., bankers were ineffective in persuading Britons to vote against leaving the European Union. A roster of financial industry leaders including Dimon backed then-Chancellor of the Exchequer George Osborne in warning of economic fallout. The measure known as Brexit passed in June.
During this year's contentious U.S. campaign, Dimon has repeatedly emphasized the need for bipartisan collaboration. In 2012, he said he was still "barely" a Democrat and criticized the economic views of some politicians in Clinton's party.
Moelis's Prediction
Ken Moelis, the veteran dealmaker who runs his own investment bank, predicted in late September that Trump would win because voters are eager for a new approach. But that was before a 2005 video surfaced in which Trump bragged about being able to do anything to women because of his fame. Several women soon went public with accusations he sexually assaulted them. Trump has slid in polls while denying the allegations.
There is a "desperate desire to change," Moelis said of his prediction at the time. Still, he added, "either one of them can blow it."