Christie Loyalist Denies Plotting to Punish Fort Lee Mayor
By and
Baroni takes the witness stand in fifth week of bridge trial

Jurors to decide which of Christie's loyalists is truthful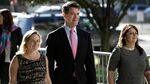 A former ally of New Jersey Governor Chris Christie took the witness stand in his defense at the George Washington Bridge trial to deny he took part in a plot to punish a local mayor by tying up traffic, and to deflect blame to the government's star witness.

Bill Baroni, former deputy executive director of the Port Authority of New York & New Jersey, also refuted testimony from the prosecution's star witness that they
bragged to Christie about the traffic jams as they occurred, and that the governor responded with a laugh.
Baroni, 44, insisted time and again Monday that he believed the gridlock that paralyzed Fort Lee in September 2013 was the result of a legitimate traffic study -- not a vendetta against the borough's mayor, who refused to endorse the governor's re-election bid. 
Testifying in federal court in Newark, Baroni said his former aide, David Wildstein, told him to ignore the increasingly frantic calls during the gridlock from Fort Lee Mayor Mark Sokolich, who said the traffic was endangering public safety. The mayor sought an explanation for why the Port Authority, which owns the bridge, narrowed local access from three lanes to one. 

Wildstein, who pleaded guilty to orchestrating the plot, has testified that he counseled Baroni to respond with "radio silence." Baroni, looking directly at jurors, said he had cultivated a strong rapport with Sokolich, a Democrat courted by Christie's office for his endorsement. But Baroni said he didn't dare to disobey Wildstein because he viewed him as speaking directly for Christie. 
Wildstein "said to me if I called the mayor back because of my relationship, I would wimp out and give in and stop and ruin the study, which was very important," Baroni said. "David said, 'Let me call him.' I listened to him."
Baroni and Bridget Anne Kelly, Christie's former deputy chief of staff, are accused of conspiracy, fraud and civil rights charges. Kelly is expected to testify later this week.
Under questioning by his attorney, Baroni, who has taught law at Seton Hall University, adopted a professorial air in rebutting Wildstein's testimony point-by-point. He portrayed himself as a relatively powerless leader of a powerful bi-state agency who sought to avoid conflict and let himself be manipulated by Wildstein and cowed by the governor's office. Baroni said Christie directed him to hire Wildstein in early 2010. He said he had no control over Wildstein nor any ability to fire him.
He recounted the tension between former Port Authority Chairman David Samson, a Christie appointee, and Executive Director Pat Foye, who ended the gridlock on the fifth day. Baroni said Samson yelled at him that day to go into Foye's office and "punch him in the face." Baroni said he asked Foye twice to close the lanes again but didn't punch him. Samson pleaded guilty this year in a separate corruption case.
Memorial Service
Baroni denied Wildstein's testimony that they joked with Christie about the traffic jams during a Sept. 11 memorial service at the World Trade Center. Baroni said he recalled Wildstein discussing the study so Christie "could announce he fixed traffic problems at the bridge." 
 
When asked by his attorney, Jennifer Mara, whether there was any mention of retribution, punishment or a request for an endorsement, Baroni said each time: "Absolutely not." 
 
Mara showed him a photo of the three laughing at the ceremony. Baroni said that while he couldn't recall what they were joking about, it wasn't about the traffic. He suggested it may have been about New York Governor Andrew Cuomo's arrival with singer Billy Joel.
"I remember we had a short conversation about Governor Cuomo arriving on a motorcycle with Billy Joel," he said. 
Baroni's testimony carries considerable risk at a trial where prosecutors made a powerful presentation in the previous four weeks. Baroni's defense is similar to his widely-derided testimony in November 2013 to state lawmakers investigating the matter. Near the close of their case last week, prosecutors showed jurors a videotape of Baroni's combative performance.
On Monday, Baroni started with a sympathetic portrayal of his life, saying he was abandoned by his mother in Ireland and adopted by U.S. parents who raised him in New Jersey, and that he fought a lifelong battle with obesity. After attending law school at the University of Virginia, he was elected to the state legislature in 2003 and secretly worked as an informant helping the Federal Bureau of Investigation try to root out corruption in the state capital of Trenton.
To support his claims that he believed there was a legitimate traffic study, he showed reports from Port Authority engineers in the weeks before and after the lanes were closed.
Close Friends?
He also contradicted Wildstein's testimony that the two men were the closest of friends. 
"I don't define a friend as someone who would lie to me over and over and over," Baroni said.
Assistant U.S. Attorney Lee Cortes objected, and U.S. District Judge Susan Wigenton ordered jurors to disregard the comment.
Mara then asked: "Do you consider Mr. Wildstein one of the closest friends you've ever had?" Baroni said no. 
In his last hour on the stand Monday, Baroni withstood a testy cross-examination by Cortes. The prosecutor asked about his many friendly interactions with Sokolich, including touring the World Trade Center. Jurors again saw a photo of the two men smiling at the site. Given that, Cortes asked repeatedly, why he didn't respond when Sokolich tried to reach him about an "urgent matter of public safety."
"I didn't, and I've regretted it ever since," Baroni said.
The case is U.S. v. Baroni, 15-cr-00193, U.S. District Court, District of New Jersey (Newark).