China Foreign Currency Shares Plunge in Sudden Afternoon Selloff
by and
B-share index falls as much as 6.7%, most since January

Investors are 'deeply concerned' about falling yuan, Pang says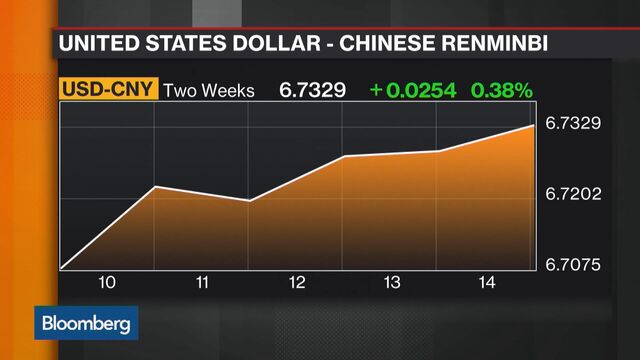 China's foreign currency shares plunged the most since January in late trading, sending traders scrambling for reasons to explain the sudden volatility in a largely moribund market.
The Shanghai B-share index of dollar-denominated stocks tumbled as much as 6.7 percent, with virtually all the losses coming in the last 90 minutes of trading, before closing down 6.2 percent. Kama Co. and Shanghai Lingyun Industries Development Co. were among companies falling by the 10 percent daily limit. A gauge of 10-day volatility on the 52-member index jumped to its highest level in six months, after falling in September to its lowest in at least a decade.

B-share markets, where foreign institutions and Chinese individuals are allowed to trade, were set up in 1992 to give local companies a way to raise funds from global investors banned from buying securities denominated in yuan. Interest in B shares has waned as the government allowed qualified overseas investors to access the larger, more liquid A-share market and eased limits on foreign exchange. Monday's drop came as the yuan extended a slide against the dollar to a six-year low.
"There's no clear explanation on the sudden drop," said Castor Pang, head of research at Core-Pacific Yamaichi Hong Kong. "But most investors are deeply concerned about the yuan's depreciation and capital outflows as the yuan approaches 6.8. Overall market sentiment is very poor and selling in the B-shares index is spreading."
Stock Valuations
The Shanghai B-share gauge trades at about 30 times reported earnings, almost double the 18 multiple for the Shanghai Composite Index. The Shanghai Composite, comprising both yuan-denominated A and foreign-currency B shares, slid 0.7 percent, erasing an earlier 0.2 percent advance.
The selloff comes amid a period of stability for Chinese equities after last year's $5 trillion rout, with turnover on the Shanghai exchange near two-year lows and the benchmark gauge treading water.
Mainland investors have been looking at ways to protect against a weakening yuan, with net buying of Hong Kong stocks via a Shanghai link swelling to a record last month. The Chinese currency slid 0.2 percent to 6.74 per dollar at 3:49 p.m., after sinking 0.8 percent last week.
Hedging Tool
"There is market speculation that B shares can no longer be used as a tool to hedge against the yuan," said Jackson Wong, associate director at Huarong International Securities Ltd. in Hong Kong.
The State Administration of Taxation last week published rules requiring banks to perform due diligence on non-resident financial accounts from 2017.
"We saw some unknown institutions' heavy selling around 2 p.m.," said William Wong, Hong Kong-based head of sales trading at Shenwan Hongyuan Securities Ltd. "It is very likely that some overseas investors want to move money out" after the new rules.
Shanghai Huili Building Materials Co. and Huangshi Dongbei Electrical Appliance Co. also tumbled by the 10 percent daily limit.
Some of the largest companies with B shares shifted their listings to Hong Kong to tap a wider pool of international investors. China Vanke Co. converted its B shares to H shares in June 2014, following China International Marine Containers Group Co.
Before it's here, it's on the Bloomberg Terminal.
LEARN MORE