Trump Lashes Out at Accusers, Bemoans Election 'Rigged' by Media
By and
Republican candidate keeps issue alive as poll numbers sink

Campaign promises, but hasn't delivered, counter-evidence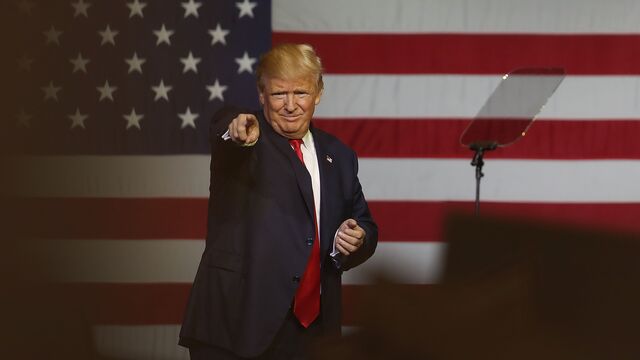 Donald Trump lashed out against what he called "phony" accusations of inappropriate sexual contact leveled by several women, two more of whom came forward on Friday, and said the election is being "rigged by the media."
Trump kicked off his defense at a rally Friday afternoon in Greensboro, North Carolina, saying he is being attacked with lies and slander. He later put out a statement saying he would bypass the national media to address the country "in a more personal way" about his plans, and pursued that strategy in a series of tweets early Saturday.
Trump, whose campaign has been roiled by the accusations and a 2005 recording in which he bragged about kissing and groping women without their consent, indicated he welcomed the chance to respond. He even suggested that one of the women wasn't attractive enough to draw his attention. "She would not be my first choice, that I can tell you. You don't know, that would not be my first choice."

"My people always say, don't talk about it, talk about jobs," Trump said. "But I feel I have to talk about it because you have to dispute when somebody says something."
By addressing the accusations at a rally with just 25 days left in the campaign, and with early voting under way in many states, Trump is keeping attention on an issue that has caused his poll numbers to nosedive. His support turned down sharply after his first debate with Democratic nominee Hillary Clinton on Sept. 26. Then, on Oct. 7, the Washington Post unearthed a recording of Trump talking on an open microphone in 2005 about being able to "do anything" to women because of his fame.
Debate Topic
That recording prompted several high-profile Republican officials to distance themselves from Trump and became a major topic at his second debate with Clinton. In an attempt at counter-programming, Trump held an event with three women who've accused Clinton's husband, former president Bill Clinton, of sexual misconduct, and then brought them to the debate venue as his guests.
Since then his poll numbers have weakened to show an 8 percentage-point deficit against Clinton in a Fox News survey conducted Oct. 10-12. The Democrat has gained in crucial battleground states such as Pennsylvania and Florida as well.
Clinton said Friday she takes no pleasure in the controversies surrounding Trump.
"This election is incredibly painful," Clinton told volunteers at a Democratic campaign office in Seattle. "I take absolutely no satisfaction in what is happening on the other side with my opponent. I am not at all happy about that because it hurts our country, it hurts our democracy, it sends terrible messages to so many people here at home and around the world.''
Trump's running mate, Indiana Governor Mike Pence, said Friday morning that the campaign would release evidence that "calls into question these allegations." That came later in the day in the form of an interview given to the New York Post by a British man who claimed he was on the flight where one of Trump's accusers said he accosted her.
The man, identified as Anthony Gilberthorpe, said that Trump didn't grope the woman and "it was she that was the one being flirtatious," according to the Post. He provided no evidence to back up his account other than his memory, the newspaper said.
The Post story noted that Gilberthorpe made headlines in the U.K. in 2014 when he claimed that as a teenager he had solicited boys, some possibly under age, for sex parties with British politicians.
In a series of tweets on Saturday, Trump railed against "100% fabricated and made-up charges, pushed strongly by the media and the Clinton Campaign [which] may poison the minds of the American Voter." This year's contest "looks like a rigged election," Trump said on Twitter.
New Accuser
While Trump spoke in Greensboro, another woman was making allegations against the Republican nominee at a news conference in Los Angeles called by activist lawyer Gloria Allred. Summer Zervos, a contestant on season five of Trump's show, "The Apprentice," said Trump repeatedly tried to kiss her and grab her breasts during a private dinner when she was seeking a job with his company. She said that she continued to seek employment with Trump after she rebuffed his attempts but that he "gave me the run around."
Allred, who's been a supporter of Clinton, said Zervos and other women are coming forward now because of the release of the 2005 recording of Trump bragging that he could do anything he wanted to women and his denial at the second presidential debate that he had acted in that manner.
"After hearing the released audiotapes and your denials during the debates, I felt I had to speak out about your behavior," Zervos, who said she was a Republican, said as if addressing Trump. "You do not have the right to treat women as sexual objects just because you're a star."
Trump released a statement later denying her account. "To be clear, I never met her at a hotel or greeted her inappropriately a decade ago," Trump said in the written statement. "Hillary Clinton can spend all of her time and money pushing complete lies against our campaign, but I refuse to fall victim to this vicious cycle of personal attacks."
His campaign also issued a statement from Zervos's cousin, John Barry of Mission Viejo, California, questioning her story. Barry said Zervos had praised Trump for years -- until she invited him to her restaurant during the Republican primary, and he declined.
"I think Summer wishes she could still be on reality TV, and in an effort to get that back she's saying all of these negative things about Mr. Trump," Barry said in the statement.
Manhattan Nightspot
In another case made public Friday, Kristin Anderson, now 46 and a photographer living in Southern California, told the Washington Post that Trump groped her at a crowded Manhattan nightspot during the 1990s.
Anderson, at the time a model in her early 20s, said she was seated on a couch in conversation with acquaintances when Trump, who she hadn't noticed was seated beside her, slid his fingers under her miniskirt and touched her genitals through her underwear. She said she shoved his hand aside and fled.
Allegations by other women have been published by the New York Times, People magazine and the Palm Beach Post. And CNN published a 2005 radio interview in which Trump said that owning beauty pageants meant he could go backstage to see women naked under the auspices of "inspecting" things.
In Greensboro, Trump, 70, said he had "no idea" who the accusers are and that some are making the allegations "for a little fame." He again called the accusations lies pushed by the media and the Clinton campaign in the final weeks of the presidential election.
"They are all false. They're totally invented," Trump said. "They have no witnesses, there's nobody around."
At a rally later in Charlotte, Trump vowed to "stick to the issues," moments before he referenced his sex life. "You would be very impressed, actually, with my life in so many regards, including that regard," he said.
Clinton and her allies have seized on Trump's bragging about being able to make unwanted advances on women to question his fitness to serve in the nation's highest office. First lady Michelle Obama delivered an emotional address on Thursday, saying, "It has shaken me to my core in a way that I couldn't have predicted."
The first lady, an important surrogate for Clinton among women and young voters, denounced Trump's remarks and said voters must send him a message that "enough is enough."
Clinton's campaign on Friday said in a statement that her top female allies are being dispatched to battleground states in a concentrated effort "to emphasize the troubling accusations against Donald Trump and his degrading comments about women to women voters. "
House Speaker Paul Ryan, a Wisconsin Republican, ignored Trump entirely during remarks Friday in which he argued instead why Clinton shouldn't be elected president. Ryan earlier this week ignited a civil war within his party when he told rank-and-file House Republicans that he wouldn't be campaigning for the party's presidential nominee or defending him.
— With assistance by Terrence Dopp, and Mark Niquette
Before it's here, it's on the Bloomberg Terminal.
LEARN MORE