Ryan Ignores Trump Entirely as He Makes Case Against Clinton
By
Trump has accused Ryan and Republican leaders of disloyalty

Some conservatives are angry at Ryan for not defending Trump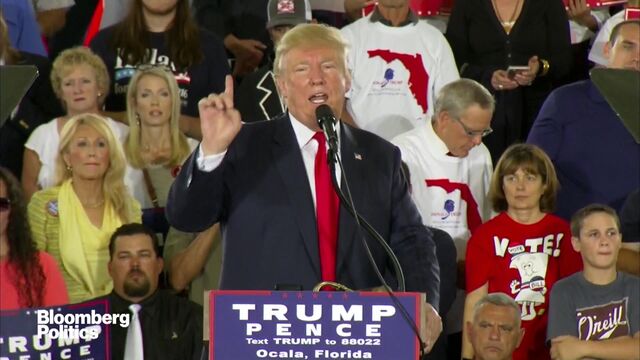 House Speaker Paul Ryan on Friday outlined his case against the candidacy of Hillary Clinton -- without mentioning Donald Trump a single time.
Ryan's first extensive public remarks since effectively abandoning Trump's candidacy earlier this week provided a glimpse into the challenge the speaker will face in the closing weeks of the campaign in trying to push for Republican candidates up and down the ballot without becoming tainted by the controversies swirling around Trump.
"We are at risk of losing the spirit and the initiative that makes America exceptional," he said. "And if Hillary Clinton wins and if she is given control of Washington, it will not be long before we come to that precipice. But that does not have to happen."
Ryan referred to Trump only indirectly in a question-and-answer session.
Asked for his advice on how to handle challenges in an election, he said, "Don't get involved in the latest Twitter storm," adding, "Don't walk yourself into some bizarre personality contest, but get into an ideas contest."
Later, responding to a question about how to learn more about the Republican ideas being pushed in the election, his response was, "Turn the TV off."
Civil War
Ryan's remarks Friday came amid a burgeoning GOP civil war ignited after Ryan told rank-and-file House Republicans that he wouldn't be campaigning for the party's presidential nominee or defending him.
Trump, in turn, blasted Ryan and other House leaders for being disloyal and wrote on Twitter that he would "teach them!"
The acrimony between Trump and Ryan has complicated electoral prospects for both the presidential nominee, who is also denying accusations that he groped multiple women, and for congressional Republicans, who are worried that Trump's unpopularity could endanger their control of the House and Senate.
Ryan is trying to find his way forward to reassure Republicans he isn't undermining their chances -- or Trump's -- without making an affirmative case for the GOP nominee.
"Look, I know this election has taken some dark -- sometimes very dark -- turns," he said. "Beneath all the ugliness lies a long-running debate between two governing philosophies: one that is in keeping with our nation's founding principles -- like freedom and equality --and another that seeks to replace them."
He focused on the House Republican agenda -- and why a Clinton victory would damage Republican aims.
Discussing Clinton's policy agenda, he added, "And if Congress does not stand for this -- and a Republican Congress will not stand for this -- they will hire unelected bureaucrats to do their bidding, and appoint activist judges to rubber-stamp their designs."
Clinton spokeswoman Jennifer Palmieri called Ryan's remarks "disappointing'' and said "he's running a pretty political campaign himself right now.''
"Speaker Ryan and Republican leaders have a lot to answer for'' by allowing Trump to offer conspiracy theories and helping him win the nomination, Palmieri said.
Conference Call
On Monday, Ryan told fellow Republicans on a conference call that they should make their own decisions on whether to keep backing Trump, based on their campaigns for re-election to their congressional seats. But the speaker said his focus would shift entirely to protecting the GOP's House and Senate Republican majorities
Ryan's decision to distance himself from Trump -- without formally retracting his endorsement -- comes as Democrats have been seizing on the New York billionaire's lurid taped comments about groping women. Some Republicans have rejected Trump, saying they can no longer stand by the New York billionaire and his comments and actions.
But others are angry at Ryan for, in their view, aiding the Democrats by so publicly abandoning Trump -- and some have lashed out publicly. "Given the stakes of this election, if Paul Ryan isn't for Trump, then I'm not for Paul Ryan," said Representative Jim Bridenstine, an Oklahoma Republican, in a tweet earlier this week.
Other House conservatives warn privately that they could blame Ryan if Trump loses by only a slight margin, something that could complicate his prospects for getting re-elected as speaker next year.
Friday's remarks came as Ryan spoke to college students in Madison, Wisconsin, on why he believes "liberal progressivism simply does not work." The bulk of the speech was tied to what Ryan says are more "positive" approaches to restoring free enterprise and tackling the country's economic and other problems.