business
Nevada Approves Record $750 Million Subsidy for NFL Stadium
By
Construction would pave way for Oakland Raiders' move to Vegas

Project backed by billionaire Adelson needs league's signoff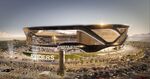 Nevada lawmakers authorized a $750 million tax incentive to entice the National Football League's Oakland Raiders to move to Las Vegas, a record subsidy for a stadium.
The bill's passage gets the Raiders a step closer to a move, though there are still hurdles to surmount, including approval by the league. Las Vegas Sands Corp. founder Sheldon Adelson proposed the stadium, which will have a total cost of $1.9 billion. He's said he'll invest $650 million of his family's money in the project. The Raiders, controlled by Mark Davis, will contribute $500 million. The public portion of the funding will come from a dedicated tax on hotel room stays.
Nevada Governor Brian Sandoval, whose approval is also needed for the bill, praised its passage in a tweet Friday.
The site of the proposed 65,000-seat stadium is still undecided. California-based Majestic Realty Co., which was to be a partner, dropped out last week, saying Adelson saw it more as a legacy project for his family. The Sands board had earlier in the year rejected investing company money in the stadium.
The 83-year-old billionaire built the world's largest gambling company, largely due to his big bets in Macau and Singapore. Adelson has been deepening his ties to Las Vegas, however. Last year his family acquired local newspaper the Las Vegas Review-Journal for a reported $140 million. He told the paper in August that he didn't expect to see a return from his investment in the stadium.
"I discussed it with my wife and my kids, my family, and we agreed that we would do it as a benefit to the community," he said.
The Raiders' move will still require approval from the NFL. A move by the team would represent the second major professional sports franchise this year to locate in Las Vegas, which has had none. In June, Fidelity National Finance Inc. Chairman Bill Foley announced a National Hockey League expansion team, which will begin playing at the newly built T-Mobile Arena next year.
The city has been trying to diversify its entertainment offerings as its historic draw, casino gambling, becomes more prevalent around the U.S.
"Las Vegas needs to constantly provide new rides at the amusement park," said Bo Bernhard, executive director of the International Gaming Institute at the University of Nevada in Las Vegas. "This will add another ride."
Before it's here, it's on the Bloomberg Terminal.
LEARN MORE