Macron Vows Decision on Bid, Warns No Brexit Favors for May
By , , and
Ex-minister to decide on presidential bid by January at latest

U.K. can't be allowed to have best of both worlds after exit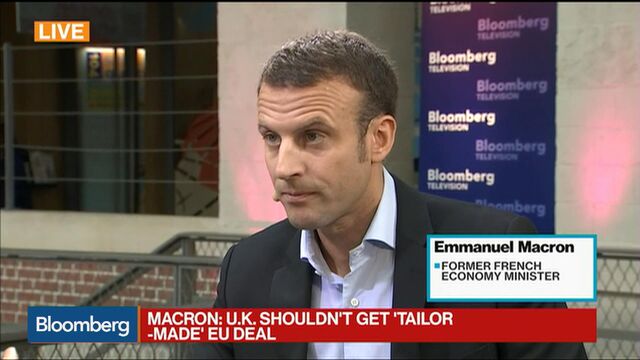 Emmanuel Macron, who quit the French cabinet to campaign for change, said the U.K. cannot expect to negotiate special privileges on exiting the European Union as he pledged to say whether he's running for president by January.
"The critical question will be decided by year end, probably by December or January," Macron said in a Bloomberg Television interview in Paris Friday, setting a deadline on his decision-making for the first time.
Since creating his own political movement in April, the 38-year-old former minister and his team have knocked on 300,000 doors in an effort to take the pulse of the nation. He has begun setting out his philosophy in a series of rallies around the country though he has stopped short of declaring his own bid.
"What I want to do now is build this vision, to finalize this platform," he said. "My party has 88,000 members. That rivals the Socialist Party."
Polls currently show Macron garnering about 12 percent of the vote in the first round of a presidential election -- ahead of President Francois Hollande but behind former Prime Minister Alain Juppe and former President Nicolas Sarkozy, who are competing for the nomination of France's Republican party. National Front leader Marine Le Pen consistently leads in polls for the first round of voting, with support of between 25 percent and 30 percent.
Follow @Brexit for the latest news, and sign up to our Brexit Bulletin for a daily roundup.
Blair, Podemos
Macron wasn't a member of the Socialist Party during his time as minister and has cited Spain's Podemos and Britain's Tony Blair as examples he would like to emulate. The presidential election will be held in two rounds on April 23 and May 7.
Consistently pushing for more federalism to solve Europe's problem, Macron said today that British voters' choice to leave the 28-nation EU must be respected, but that the U.K. can't be offered special treatment.
"I am attached to a strict approach to Brexit: I respect the British vote but the worst thing would be a sort of weak EU vis-a-vis the British," Macron said. "I don't want a tailor-made approach where the British have the best of two worlds. That will be too big an incentive for others to leave and kill the European idea, which is based on shared responsibilities."
The thinking fits broadly within the French mainstream alongside Hollande and Juppe, the front-runner for the 2017 election. Macron varies slightly by being more outspoken in his calls for faster European integration.
"We need to restore democracy and sovereignty in Europe," he said. "Sovereignty is not just at the national level, that's the mistake of Brexit that other people make. During six-to-eight months let's organize democratic debates in the member countries. Which type of Europe do you want?"
Before it's here, it's on the Bloomberg Terminal.
LEARN MORE